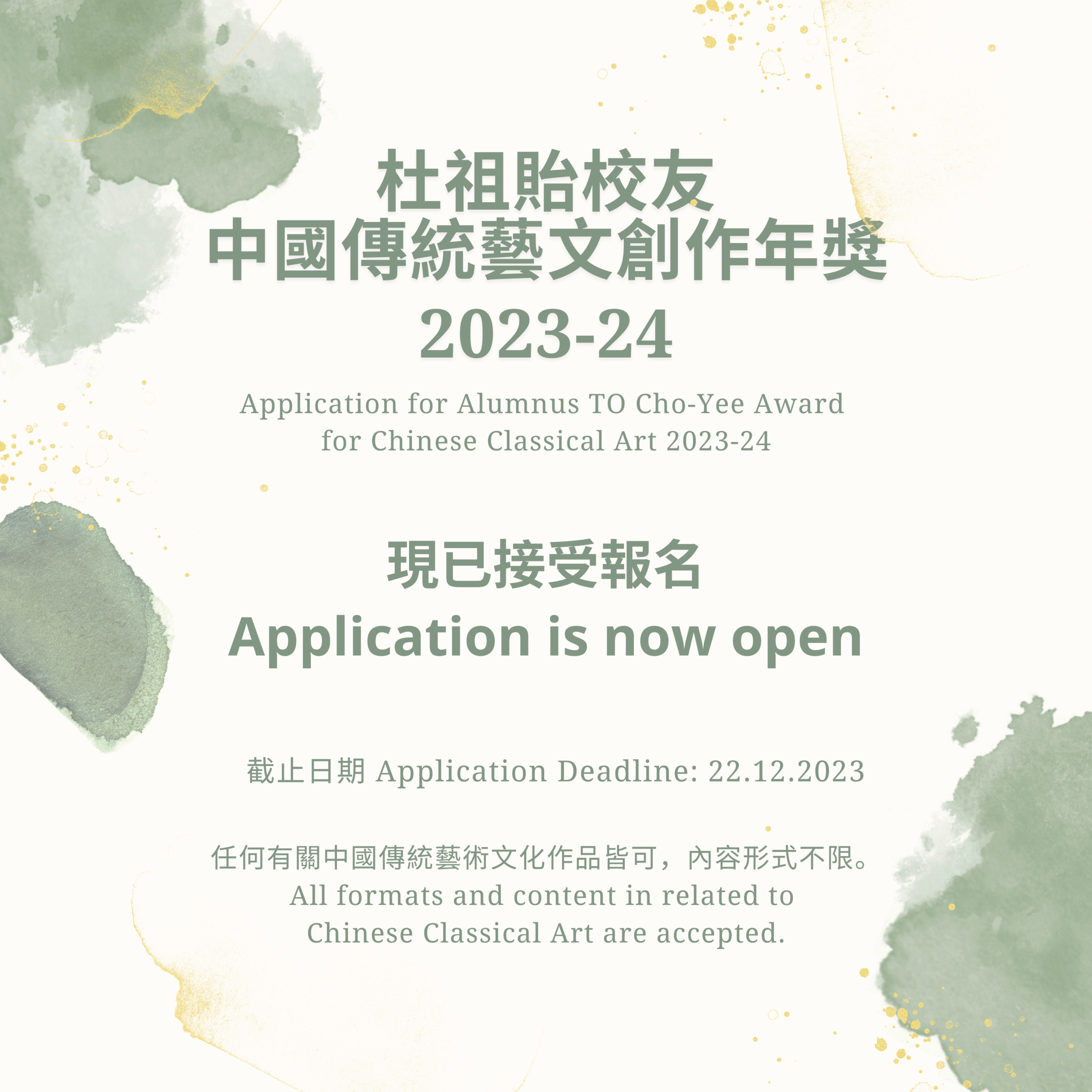 Application for Alumnus TO Cho-Yee Award for Chinese Classical Art
The award is established for encouraging students to participate in the Chinese classical art activities during leisure time, discovering and cultivating talents in this field. Details of application are as follows.
Entry Submission
Submit an entry related to traditional Chinese art and culture with an interpretation in 200 words, including suggestions on how the College should promote this type of Chinese art.
The content and format of the entry shall include but not limited to Chinese calligraphy, literature, paper-cutting, painting, opera, dance, Guoshu, music, etc. For performance (such as dance, music, Guoshu etc.), participants must submit a performance video not longer than 20 minutes.
Yearly Awards
Grand Award: 2 (Cash prize of HK$ 3,000 each)
Finalists: 10 (Cash prize of HK$ 200 each)
Application
The Competition will only accept entries submitted from 24 October 2023 to 22 December 2023 (both days inclusive, Hong Kong time). The entry submission time will be based on the server's record. Late submission will not be accepted. Students should fill in  the Web form and upload their art-works. A hardcopy of entry should be submitted to the Dean of Students' Office by 22 December 2023 (not applicable to performance art entries).
Guidelines to Participants
Participants must be full-time students of United College and could participate as individuals OR as a team. Each unit should only submit ONE entry only.
There should be at least half of the team members come from United College.
If a participant has submitted an entry on team basis, he/she could submit one more personal entry. By the act of entering the submission, eligible participants are assigning the rights of unlimited and unconditional use of his/her submission(s) to the College.
The College may invite winner(s) to present the award-winning entry in College activities.
All entries must not have been submitted for any other competition or provided to any party for any purpose before submitting to us.
The decision of the College in all matters relating to this award is final.
Contact Information