You are cordially invited to the United College Distinguished Visiting Scholar Lectures and a night talk to be delivered by Professor Shui-yan Tang, Frances R. and John J. Duggan Professor in Public Administration, Sol Price School of Public Policy, University of Southern California, USA. He will visit our College on 26 March to 2 April 2023.  
Professor Tang, an alumnus of United College, received his B. Soc. Sc in 1982 and M. Phil in 1984 from the Department of Government and Public Administration at CUHK. He completed his doctoral work at Indiana University, U.S.A. Professor Tang's dissertation "Institutions and Collective Action in Irrigation" was awarded the Leonard D. White Award for the best doctoral dissertation in public administration by the American Political Science Association in 1990. The dissertation was later published as Institutions and Collective Action: Self-Governance in Irrigation, one of the most cited books on irrigation management.
Professor Tang joined the faculty at the University of Southern California in 1989 and has built a distinguished scholarly record. He has continued his work on common-pool resource governance, with scholarly publications on land conservation, water resources, endangered species preservation, and local fisheries in multiple countries. Professor Tang has also published articles extensively on environmental politics and policy. In the 1990s, he published several articles detailing how the environmental movement in Taiwan and South Korea helped promote democratization in both places. Since the late 1990s, he has published many articles in top public policy and administration journals examining China's regulatory enforcement and environmental NGO advocacy. He is one of the pioneers introducing China's environmental governance issues to public policy and administration scholars worldwide.
During his visit to United College, Professor Tang will deliver two public lectures and a night talk:
Lecture one
How to Think about Institutions, Behavior, and Governance
Tuesday, 28 March 2023; 4:30 pm
Sir Run Run Shaw Hall, CUHK
Lecture Two
How Macro-Institutional Contexts Constrain Environmental Governance: Comparing the United States and China
Friday, 31 March 2023; 4:30 pm
Lau Chor Tak Lecture Theatre, Yasumoto International Academic Park, CUHK
*Night Talk: My Days in United College
Date:  Wednesday, 29 March 2023
Time:  7:30 pm
Venue: Si Yuan Amenities Centre, Lower Ground Floor, T C Cheng Building, United College
Language: English/Cantonese
*For CUHK students only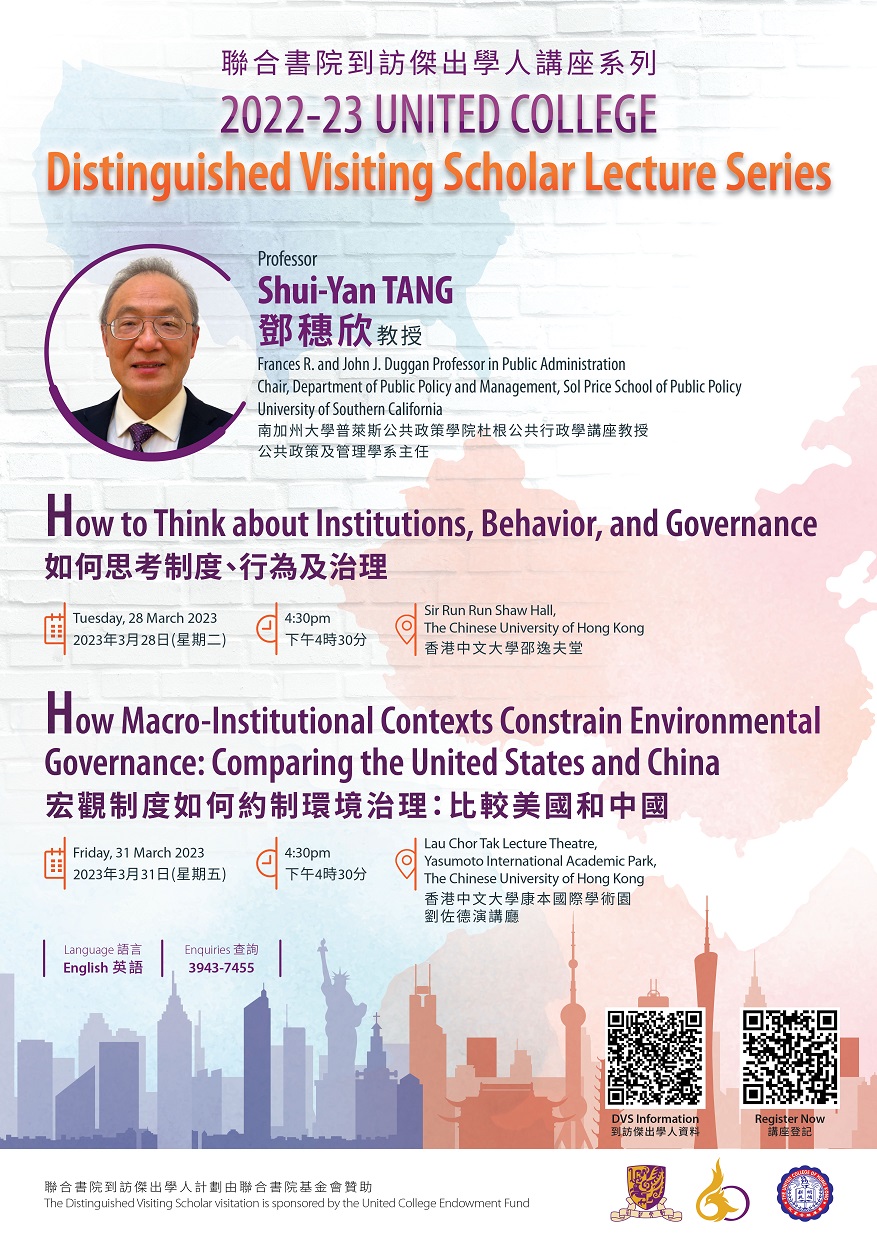 Contact Information