Carry on the Spirit of Helping Others to Help Themselves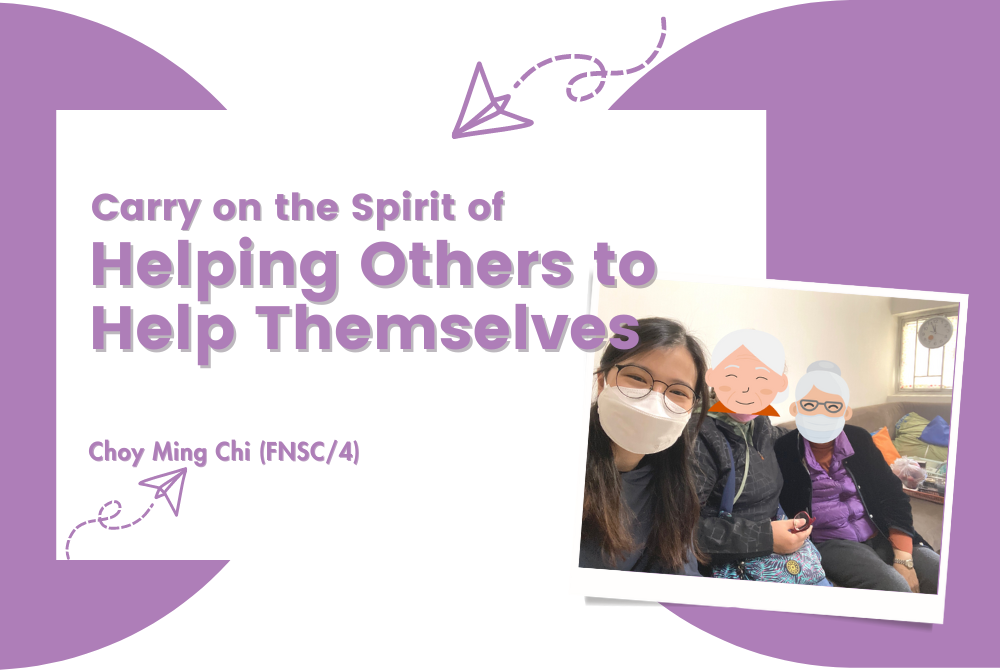 Choy Ming Chi (FNSC/4)
I have a wide range of interests, and have volunteered with various organisations, from the frontline, assisting social workers to reach out to hidden elderlies, to more backend works, such as assisting with a nutrition consultation as a dietitian assistant or preparing educational materials. All experiences has enabled me to broaden my knowledge, both within and outside my own discipline. The vulnerable groups I have served as a volunteer include children, families of subdivided flats, cleaning workers, patients, etc. The group I served the most is the elderly. The most profound experience I have learned from serving as a volunteer in organisations of different scales and backgrounds is the principle of "helping people to help themselves", which means helping the needy to find support themselves in times of need.
There were times when I felt that I was not a significant part of the community when I volunteered. Volunteers often uphold a mentality of helping others, but as soon as I evaluate my ability, I realised that I am not capable to make a huge difference to the lives of others. Even some seniors shared with me the inconveniences in their daily lives, for instance, feeling sick or experiencing discomfort, or the support they received from the government was not insufficient, my only possible work was to listen to them and passed their feedbacks to the social workers, who would arrange meal delivery, household cleaning or home visits for them. In particular, an elderly who has cancer told me that the financial support from the government could merely cover his additional daily expenses due to medical treatments. This was because he could only receive the old age living allowance or the disability allowance. Among many elderlies that I encountered, the subsidy provided by the government could barely cover their daily expenses. There were also elderly people who were estranged from their children and relatives, leaving them with no one to turn to when they lived alone. When I heard it, I lamented my limited ability in the community because, at that moment, I could not do anything to help them directly. Later I soon realised that it was true that volunteer service could not directly help the needy or change their status quo. However, I should not underestimate my power as a volunteer. Most of the time, the beneficiaries just need a listener, some recognition, encouragement, or hope. We may not be able to change the status quo, but we can improve their way of coping. It is important to deal with the mood first, then the matter.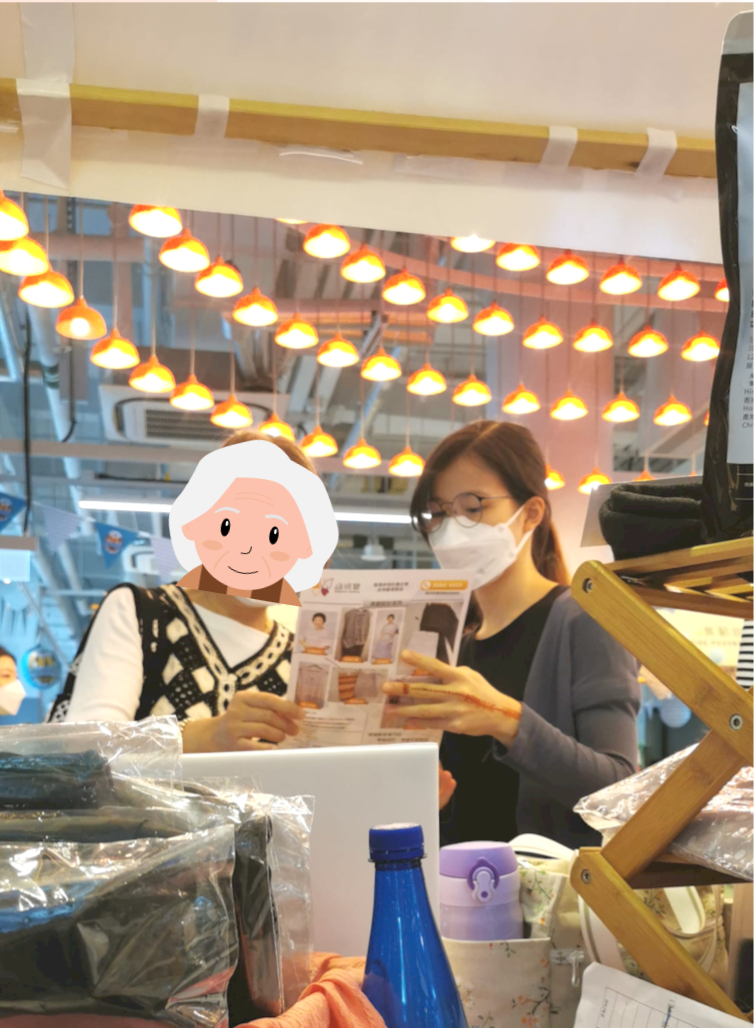 Social services are indeed beneficial mutually. In the process doing community services, I retrieved my own "identity". When I first entered university, I thought I had a wide range of options for my undergraduate studies and I felt lost in the future. However, volunteering helped me to locate my position, increase my understanding of different disadvantage groups in society and in particularly, increase my contact with the elderly, which helped me to understand the service target I would serve during my Social Enterprise internship offered by United College. I had a good understanding of their needs and concerns before my internship, so that I could contribute to the development of a Social Enterprise that specialised in the design and production of healthcare apparel. In the future, I would like to devote myself to people-oriented work, such as a healthcare professional and help more people in need in society.
Furthermore, social services also allow me to experience lives from other's perspectives. I used to always focus on maximising efficiency and productivity. However, my mindset changed completely when I went on an outing with the elderly, especially when some participants needed to use crutches. I reminded myself to slow down or take the lift instead of the stairs, which was different from my habit. I had built up patience as well, allowing me to listen carefully to the stories or experiences the elderly told me. I learnt the most natural and appropriate way to communicate with elderlies that would make them feel most natural and comfortable and ask them about the needs and feelings that they were uncertain how to express.
In addition, volunteer work could bring me a sense of satisfaction. It might be just one of the people I came into contact within a day, but it was a conversation that meant a lot to them. The hidden elderlies lived lonely life even though they were used to it, they sometimes still hoped to be cared for and to have someone to listen to them. Even in a short 15-minute conversation, one could feel how delighted the elderly was. Hearing their laughter gave me great satisfaction.
However, not every volunteer activity could be completed smoothly. Some older adults would be wary of me because they were wary of strangers. Some seniors with cognitive disabilities might be affected by drugs, become logically disordered, and said some phrases that were not very friendly. However, during the event, I came across other volunteers who were more passionate than I was. Some of them had full-time jobs or are caregivers at home, they were still willing to devote their personal time in their busy schedule, which motivated me to strive for excellence in my voluntary work.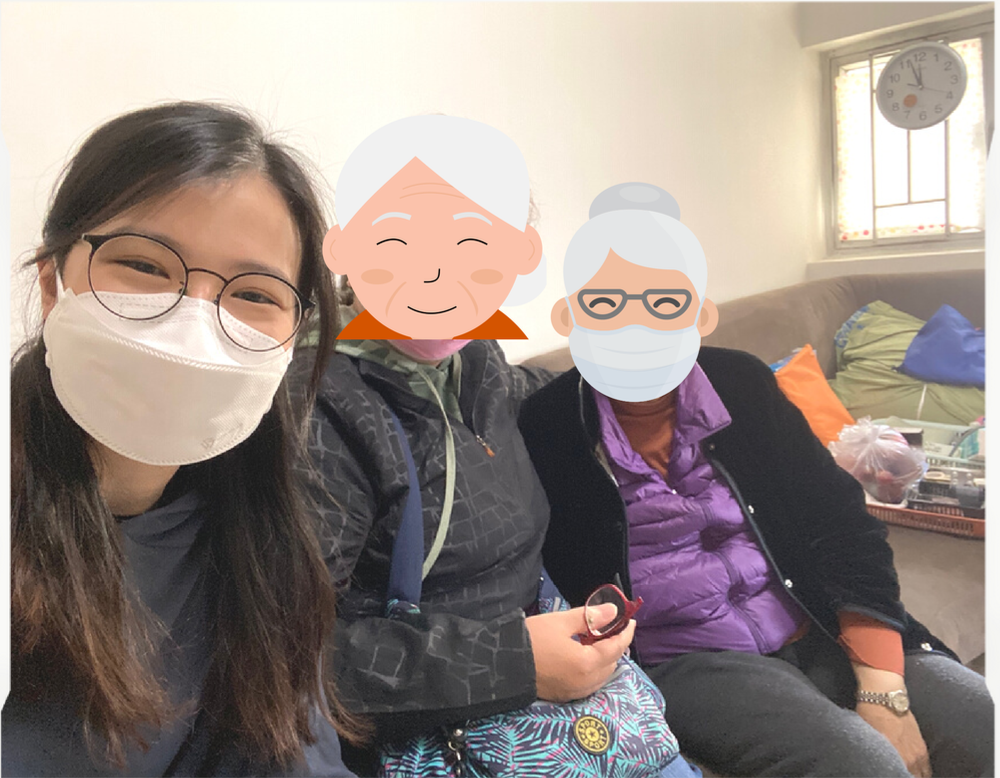 In the past, I had no confidence in volunteering as I felt it was very difficult and found no way to start. I strongly encourage my fellows that even a volunteering event unrelated to one's major field of study is still worth joining as long as you are interested in it. Students studying social work will definitely be more qualified than me to volunteer in an elderly centre. Nevertheless, never look down on one's power. No matter it is working as a frontline or support, everyone's unique strengths can be utilised to alleviate the workload of social workers and medical staff, allowing them to spend more time on coordination or making professional advice. Therefore, the contribution of volunteers is ultimately helpful to the operation of the entire team.
Last but not least, I would like to express my wholehearted gratitude to Ms Sam Pang of United College, who encouraged me to persist and further participate in volunteering events last year. Completing the United College Social Service Award Scheme is only a milestone. After the completion of the scheme, I will still maintain this habit of devoting myself to social services and being passionate about carrying on the spirit of "helping others to help themselves".