Service in Watchdog Early Education Centre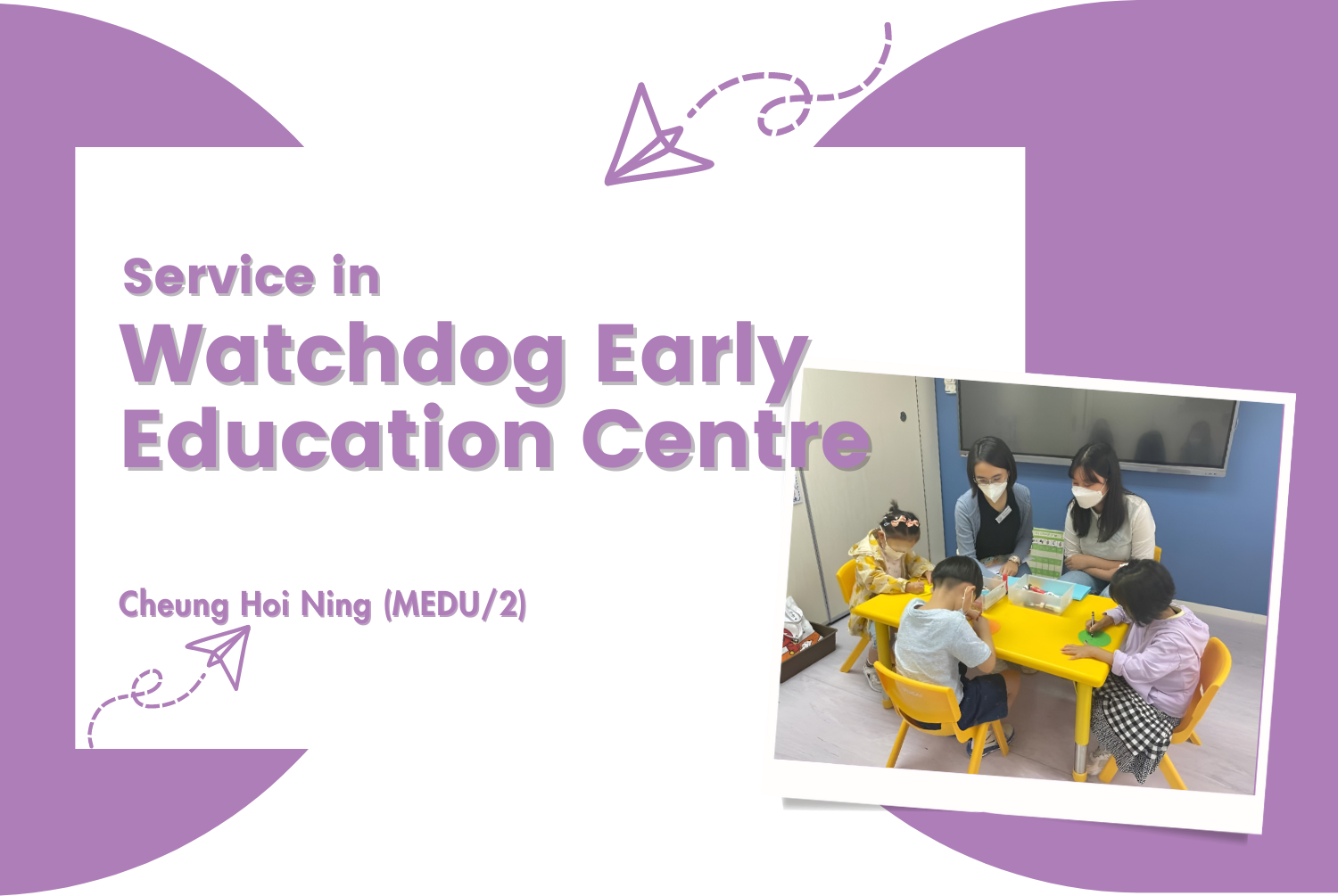 Cheung Hoi Ning (MEDU/2)
SEN children are children with special educational needs. When it comes to SEN children, what is your impression on them? Are they naughty? Poor readers? Or are they uncontrollable? Often, SEN children are associated with these negative stereotypes. However, through my service with them, I got a different view towards them.
In order to make good use of my summer vacation time, and having seen a summer volunteer internship opportunity from the school email, I volunteered at the Watchdog Early Education Centre for 2 months, where I hope to learn more about people and things that I might be facing in my future career.
The Watchdog Early Education Centre is a local registered charity established in 1983. It provides comprehensive early education and treatment services for children with special educational needs under the age of six. The centres offer English classes that are rare in Hong Kong, and I am fortunate enough to be able to serve in all three centres of Watchdog. I participated in personal and group classes, speech therapy, occupational therapy, physical therapy, and music therapy etc., to assist teachers and therapists in holding activities, such as during "art and craft" session, I led or assisted children in doing some simple handicrafts to train their finger motor skills. In Hong Kong Centre, we also went outdoor to play hide and seek. Besides, I also helped teachers/therapists in preparing training materials, such as designing worksheets, choosing toys, etc., and assisted centres in doing some administrative work, such as input data for toys and books. Although getting along with SEN children requires a lot of energy, it was a pleasant experience.
There is a quote in the Bible in which we are all familiar to, 'It is more blessed to give than to receive.' The "blessings" I have obtained in my service are the learning and reflections in addition to being in contact with SEN children.
First, I learnt how to get along with SEN children and to identify their characteristics. Teachers and therapists told me the characteristics of SEN children while teaching children. For example, in the art and craft session, the teacher reminded us of the hand muscles of the slow-developed children are weak. We were then reminded to help those children using scissors and other tools to ensure their safety. Teachers also told me that we can encourage children with autism to cooperate with each other and learn social skills through games. In the process of designing worksheets, I also know the characteristics of SEN children better. For example, some children cannot understand complex sentences and requirements, and I would need to design clearer and straightforward descriptions for them. Even if doing some administrative work, such as organising toys and books, I could know what kinds of books and toys are suitable for SEN children to assist their learning, such as the physical therapist once told me that there is a kind of spray -like toy can stimulate the children's sensation of touch, which can "warm them up" before learning and can grab their attention to make the lessons the most beneficial to children.
In addition, through chatting with social workers, SEN teachers, and therapists, I learnt how a charity operates, and the role of different stakeholders in supporting children with special education needs. I also learnt more about the kind of support and assessments that teachers and therapists would do if children had special education needs.
In 200-hours+ volunteer service, I met and served children with different education needs. It was very encouraging to see their progress. They also helped me to reflect. For example, I once encountered a child with poor social and communication skills, but he got very agile logical thinking and know how to build different agencies with toys. This made me understand that even if children have special education needs, it does not mean that they are not smart, or their learning ability is not as good as the other children. They may have potential in many other aspects and may even have the higher ability than children of the same age.
Furthermore, when I first arrived Watchdog, I would pay more attention to what behaviours and characteristics that SEN children had, and how I could improve their situation. However, after building up relationships with children, I learnt that I should not regard them as children with "special learning needs", I should have regarded them just as children to communicate, play, and build relationships with them. This serves as a good reminder for me when I treat different patients in the near future.
Last but not least, I also learnt that when society's acceptance of SEN children was not high, the child's parents or caregivers would often feel helpless and the bitterness. For instance, we once went outside the centre, when strangers saw that children were "disobedient" and were doing "strange behaviours" from our point of view, they revealed quite disgusting feeling, and whispered complaints. Exteriorly, SEN children often look like other children, so it is understandable when others require them to behave at higher standards. However, SEN children do not deliberately do these behaviours, which are only caused by the disease while still causing pressure exerted on parents which make them unwilling to admit that their children are with special educational needs and refuse to let their children to receive treatment. These left many unresolved difficulties in providing SEN children with treatment. When I had experienced this, I learnt to avoid judging others by their outlook, and to respect and give support to others, while also prompted me to pay more attention to SEN children's related services in the future.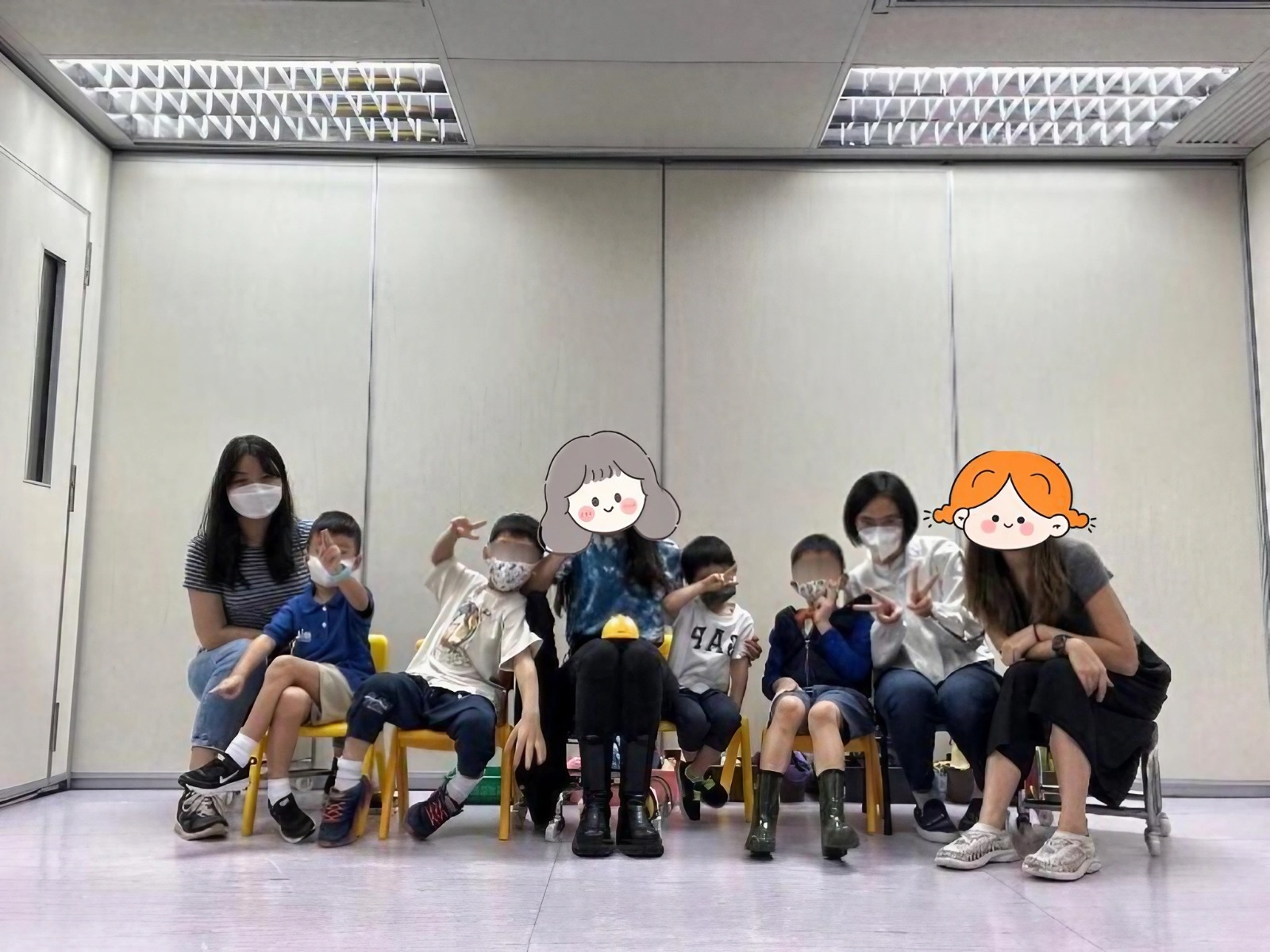 Many may not consider volunteering a good deal, but what we can learn from it will be used now and in the future. I hope my sharing can change your impression on SEN children and encourage you to participate in more social services!