Top-notch Online Mentors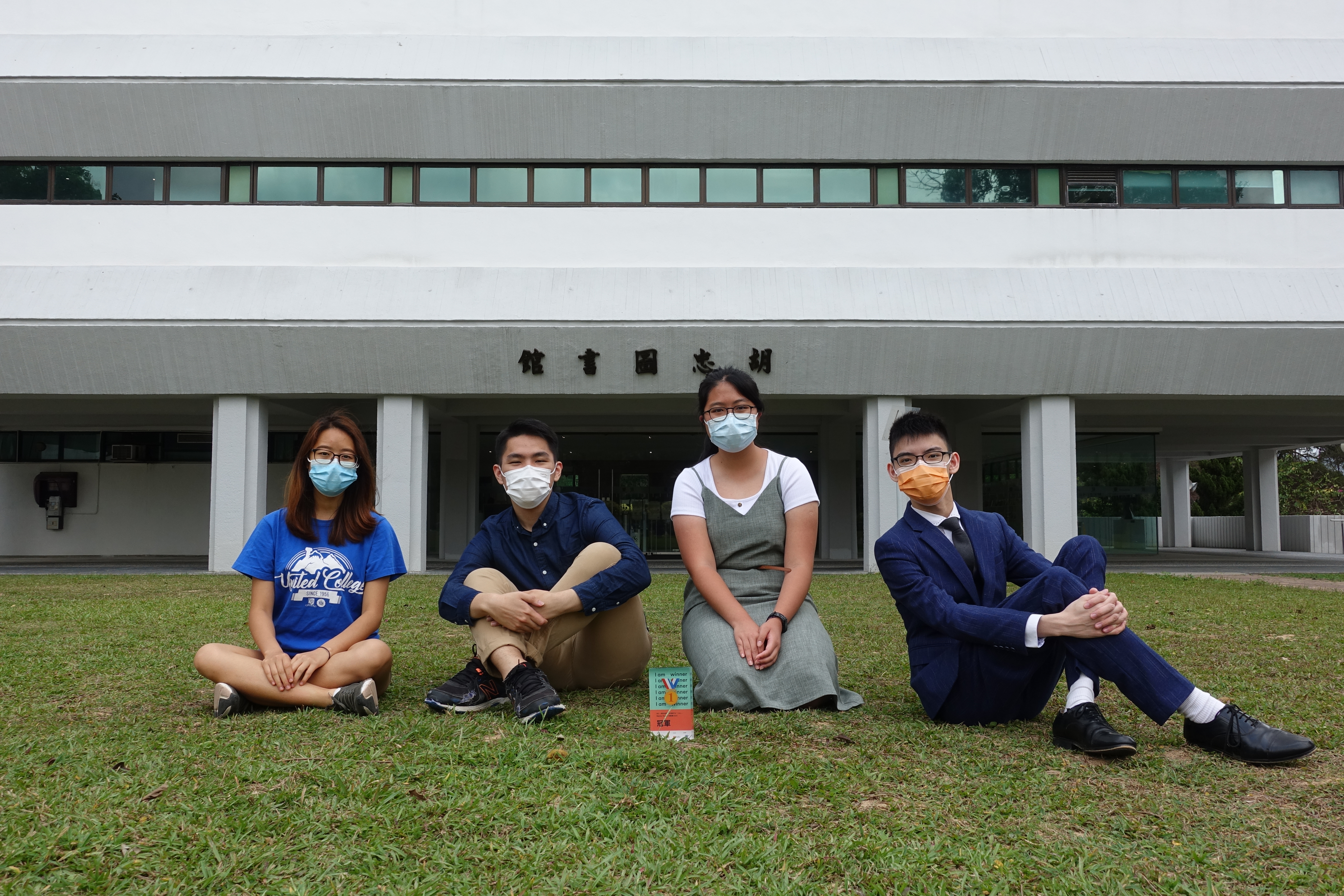 Student Translator: Charlotte Ip (TRAN/2)
Most students may have participated in mentorship programmes organised by the college and university, but have you ever heard of a virtual mentorship scheme? Co-established by St. James' Settlement and Hang Seng Bank, "I am… Youth Portal" is a platform intended to provide youngsters with academic and career support. Last year, four United College students from different departments volunteered themselves as the programme's mentors and even proceeded to claim championship in a competition on promoting the web application. What exactly sets this top-notch team apart? What have they learnt from the experience?
From Mentors to Champions
"I am…" is a one-stop online portal aimed at offering individualised and effective life planning services to youths aged 15-29 in a convenient manner. Under the programme, university students and working people are recruited as academic mentors and career mentors respectively to respond to the questions raised by the youngsters about their studies or future occupations. Compared to other mentorship schemes, "I am…" keeps the identity of both mentors and mentees concealed and requires all conversations to take place in a specified online application, much similar to an anonymous version of "Whatsapp". Mentees can therefore raise questions anytime and anywhere, while mentors can take into account their schedules and expertise before addressing them. Furthermore, this approach protects the privacy of students and meets the need of online interactions under the pandemic. Sam Chan, a final-year history student, is an active volunteer. Last year, with the severe pandemic forcing all outdoor activities to a halt, he started to notice advertisements of "I am" appearing frequently on his screen and was eager to try. After undergoing about 18 hours of training on basic counselling skills and virtual practicum, he was finally qualified as an academic mentor. In recent October, "I am…" hosted an event called "Mentor Hunter Challenge", inviting college students to hunt down aspiring mentors. Upon hearing the news, Sam immediately and earnestly invited his three buddies – Ada Lau (final-year History student), Bedco Chan (penultimate-year IBBA student), Suki Lee (final-year Chinese Language and Literature student) – to join the team competition. After three months of blood, sweat and tears, they emerged triumphant amongst the ten competing groups.
Keys to Championship: Extensiveness and Precision
When asked about their keys to championship, Sam believed the extensiveness and precision of promotion channels chosen may be the game-changer. In addition to the typical Facebook and Instagram, they also took advantage of LIHKG and LinkedIn. Due to institutional constraints, advertisements placed are usually readily neglected. As a LIHKG user, Sam therefore hoped to recruit mentors in a more compelling and down-to-earth way. "Since I don't share the concerns of the portal's staff, I can post on the Campus Forum of LIHKG (連登校園台) and reach out to students and the working population more effectively." Although not many applications have been received at the moment, the platform's exposure has at least increased. Speaking of the most direct and effective channel, however, LinkedIn is surprisingly the team's top choice. Bedco confided that as a job-seeking podium, LinkedIn is where most professionals are located. Also, unlike Facebook which only displays users' names, everyone's resume and connections will be detailed in LinkedIn, allowing a strategic screening that identifies candidates with profound work and volunteering experience. These pupils will then be approached and personally invited to become the programme's mentors. Finally, over 100 replies were received amongst the 1000+ people the group connected with. While quite a few declined their invitation, they also expressed enthusiasm for the platform's cause and were willing to share their insights there in the future. What's more, the some-100 successful invitees also include ibankers and graduates of Oxford University. As the team with the most recruitments, no wonder Sam was incredibly proud to say they were responsible for a quarter of the 400+ mentors on board!
Lessons Learnt from Competing and Mentoring
The four all agreed that the experience gained outweighs the generous prize money and trophy they won from the competition. For Bedco who studies IBBA, the initiative helped him realise the importance of understanding the target audiences' backgrounds before establishing the purpose of promotion, otherwise advertisers may appear insincere. "This will be beneficial to my future client meetings.", he remarked. Suki became a mentor after the contest and remembered a freshman reaching out on the platform. He confided that he chose an unsuitable major but could not transfer due to his grades. Knowing that altering the circumstances was difficult, he was only looking for a listening ear. Therefore, not only did Suki advise him on possible career prospects, but she also attempt to console him and relieve his stress during their conversation. This memorable experience revealed to Suki that the portal can function as a life-planning consultancy and psychological support station altogether. As for Sam who has assumed the mentor role for over a year, he dedicated some words of encouragement to students who are less skilled in studies or attending secondary schools with lower university admission rates: Entering university, although through a convoluted path, is not unrealistic, hence, do not give up easily. "There are plenty of successful cases proving that they are not alone. Restarting is still possible.".
Virtual Mentoring: A Drastically Different Experience
Conventional mentorship programmes normally last for at least a year, and cherish physical interactions between mentors and mentees, even anticipating the cultivation of long-term relationships. "I am…" however, ticks almost none of the boxes above. Sam, who has partaken in the virtual programme, believed the platform values anonymity and efficiency. Rather than spending time socialising, students could cut to the chase and receive relevant information swiftly through real-time interactions. Suki added that it is precisely the platform's anonymity that increases the mentees' willingness to disclose their deepest thoughts. Without the expectation to pursue a sustainable bond, they are also more eager to raise concerns. It is a win-win situation as mentors could not only bear a lighter burden, but meanwhile, also maximise their coverage of assistance. Moreover, Ada mentioned that pupils who are passionate about non-mainstream subjects like Anthropology may find it hard to meet seniors who are studying or have studied this stream of expertise. However, the relevant academic mentors in the portal can offer guidance in their convenience. Bedco also noted the difficulty of changing mentors after designation in traditional mentorship schemes. "What if you only realised that your mentor is unfit for you after the procedure? You two are still required to maintain contact for a year!". Whereas, in "I am…", youths can expose themselves to various inputs and clarify their goals before joining the actual programme, which at least increases the chances of identifying the right person.
Words to United College
At the start of the interview, Sam mentioned that he met Suki and Bedco through the Pass It On Service Learning Programme and Social Innovation and Experiential Learning Project organisd by the United College. It was also college activities that earned him an internship in Festyle as a marketing trainee, kindling his passion and broadening his understanding of related services. Similarly, Ada remarked that the college-held exchanges, such as the Summer Exchange Programme with East China Normal University, Shanghai, strengthened her social awareness and provided her with inspiration and direction in constructing promotional strategies. The four are all grateful to the college for their immense support in the process. As Sam exclaimed, "Support from the college is a confidence-booster to our promotion work, allowing our posts to be exposed to many secondary and university students. For that, we are beyond thankful."