Warm-hearted UC Community Make Reunion a Reality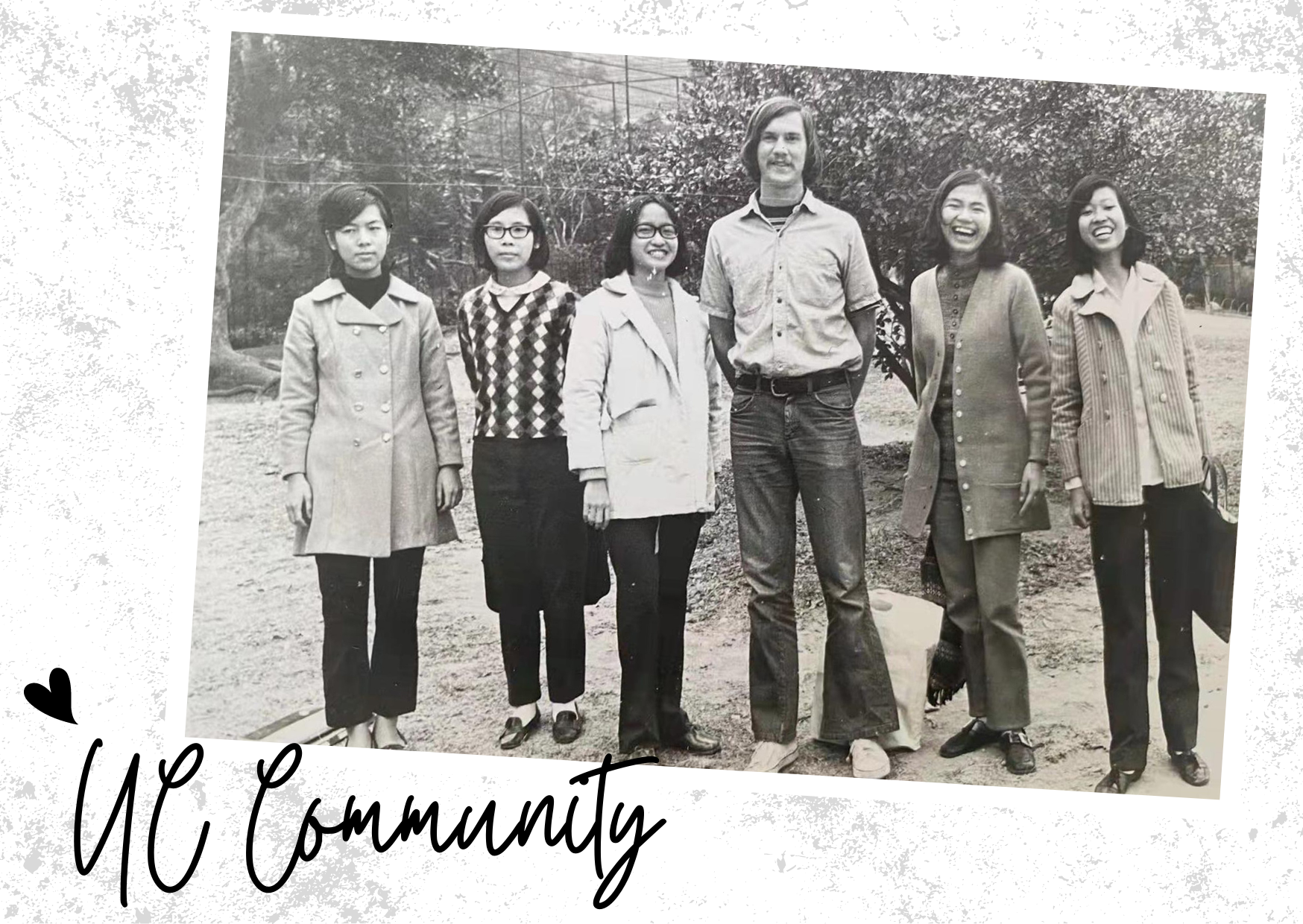 Student Translator – English: Charlotte Ip (Translation/Year 3)
The story starts with a few black-and-white photos…
In 1971, Mr Thomas Jones arrived in Hong Kong to teach English at United College (UC) of The Chinese University of Hong Kong (CUHK) for a year, commencing his half-century stay in China. In the 1980s, the ex-pat educator became a lawyer who travelled back and forth between Hong Kong and Beijing. Three years ago, Mr Jones was unfortunately diagnosed with Amyotrophic Lateral Sclerosis (ALS). In his numbered days, Mr Jones's memories of his 50-year-long China experience surfaced. He recalled UC and his students, and so began a journey to reunite with the photographed faces in August last year.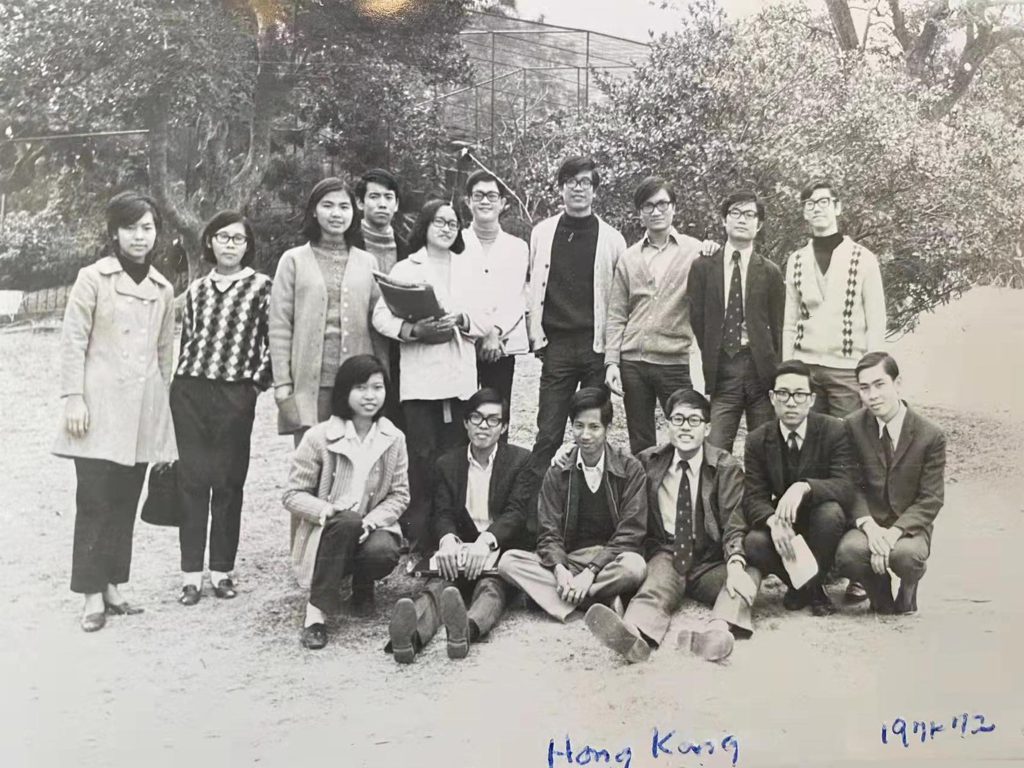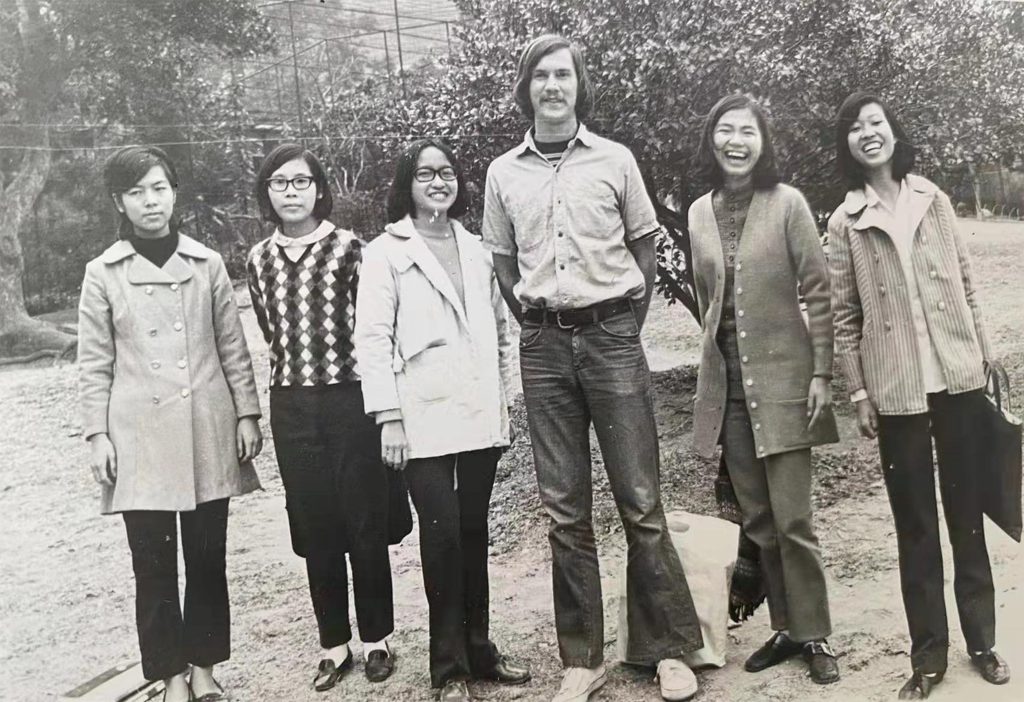 With Mr Jones' pictures at hand, former assistant Ms Lisa Luo endeavoured to seek the long-time graduates featured. While hiking in Tai Mo Shan on 28 November 2021, she had a chance encounter with a hiker, Dr Cai Xuanhui of CUHK. Taking the opportunity, Lisa showed the group shots to Dr Cai. In early December 2021, the scholar reached Professor Chang Song-hing, UC Senior College Tutor (70/CHI), who recognised some Chinese and Chinese Literature students from a couple of monochromatic images of 1971. They include Ms Yam Mun-yee (75/CHI), Mr Andy Y Y Wan (75/CHI) and two IBBA majors Mr Max W H Cheung (75/BBA) and Ms Chi Lai-ming (75/BBA).
Out of respect for the former teacher, the UC alumni collaborated in hopes of contacting Mr Jones as soon as possible. On 9 December, Mr Andy Y Y Wan met Mr Jones, to whom he expressed both concern and gratitude. He recalled: "We were having a tutorial on the old United College campus lawn one morning, when Mr Jones took from bag a huge "apple" and shared with us this gigantic cheese. That was my first time seeing and tasting it, so I was really happy. This small event inspired me to develop intimate ties with colleagues in the bank and students in the university." The once student played the song "You've got a friend" on his phone, extending a friendly hand to Mr Jones that bridges a five-decade time gap. He was beyond pleased to oblige.
Soon afterwards, on 19 December, when the COVID situation in Hong Kong was still stable, Mr Max W H Cheung and Ms Chi Lai-ming visited Mr Jones in the hospital, fulfilling the instructor's wish to reunite with his pupils. He reminisced on the numerous happenings across half of a century. In return, Max gifted his nostalgic tutor a Mitch Album best-seller Tuesdays with Morrie, representative of their teacher-student bond.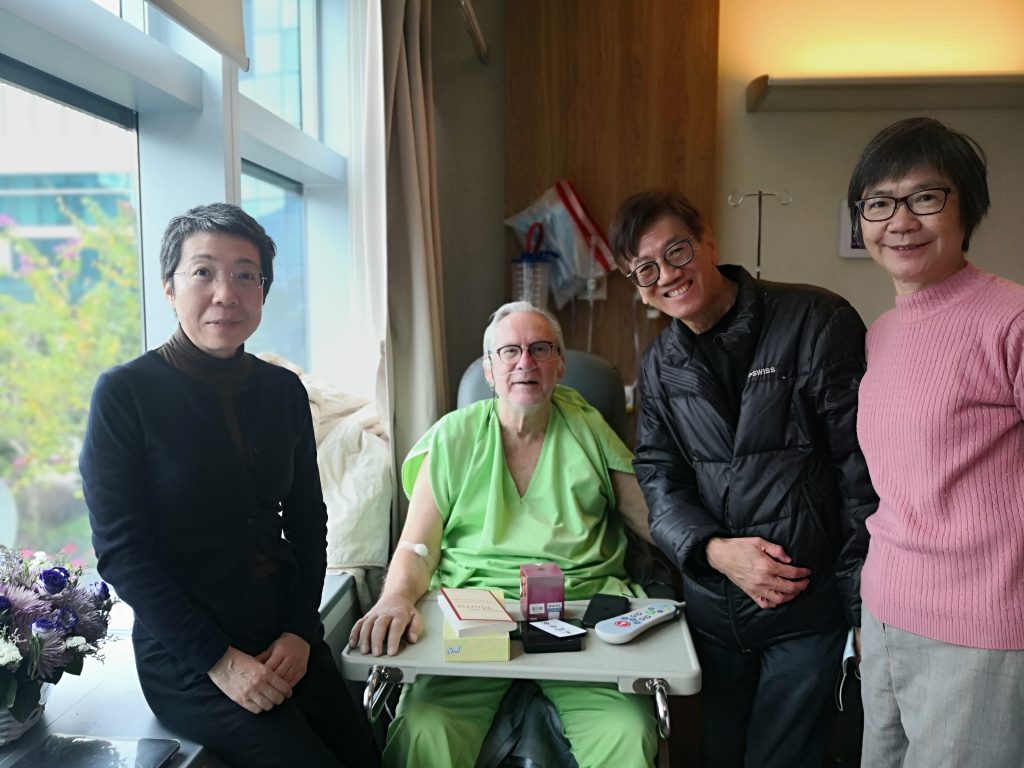 At Gleneagles Hospital Hong Kong on 19 December 2021
From left: Ms Lisa Luo, Mr Thomas Jones, Mr Max W H Cheung, Ms Chi Lai-ming
Ms Chi Lai-ming deemed that this encounter was a relief in the pandemic. Mr Jones only lectured at UC for a year, but he kept those photos for 50 years. She was grateful to have connected with her previous teacher and believed all of these were never an accident – but a "miracle". Fortune was amongst Mr Jones for his smooth return to the states. Max concluded: "The passing of a mere month appeared like a century. Things took off quickly, but it also shows that any dream will come true with determination and persistence."
Mr Jones passed away in Boston on 17 March 2022, surrounded by his family and friends. The college extends our deepest condolences.
In the face of the rigorous Fifth Wave, the "miracle"-like reunion just became more precious and valuable. Thank you to all alumni for keeping love and kindness alive at UC!