"Looking back, the days I spent with them on the mountain has turned out to be the best time in my life."
This was how Mr Mau Hou Cheong (02/COMM), the vocalist of a local band as well as the alumnus of United College, described the schooldays at the College in the "We Unite on the Mountain Top" video. Indeed, different stories are putting on stage every day on this mountain, which generate fond and unique memories to UCians over the past 65 years. We invite you to create a short video telling us your story! Make a short video of your UC times so that we can piece together the unforgettable moments we have had at the college!
We recommend the video to be filmed within 1 minute in length using simple video production equipment like smart phones! You can choose your own way of presentation like vlog, talk show, challenge, interviews, drama and so on. Give a full play to demonstrate your creativity while presenting your UC story!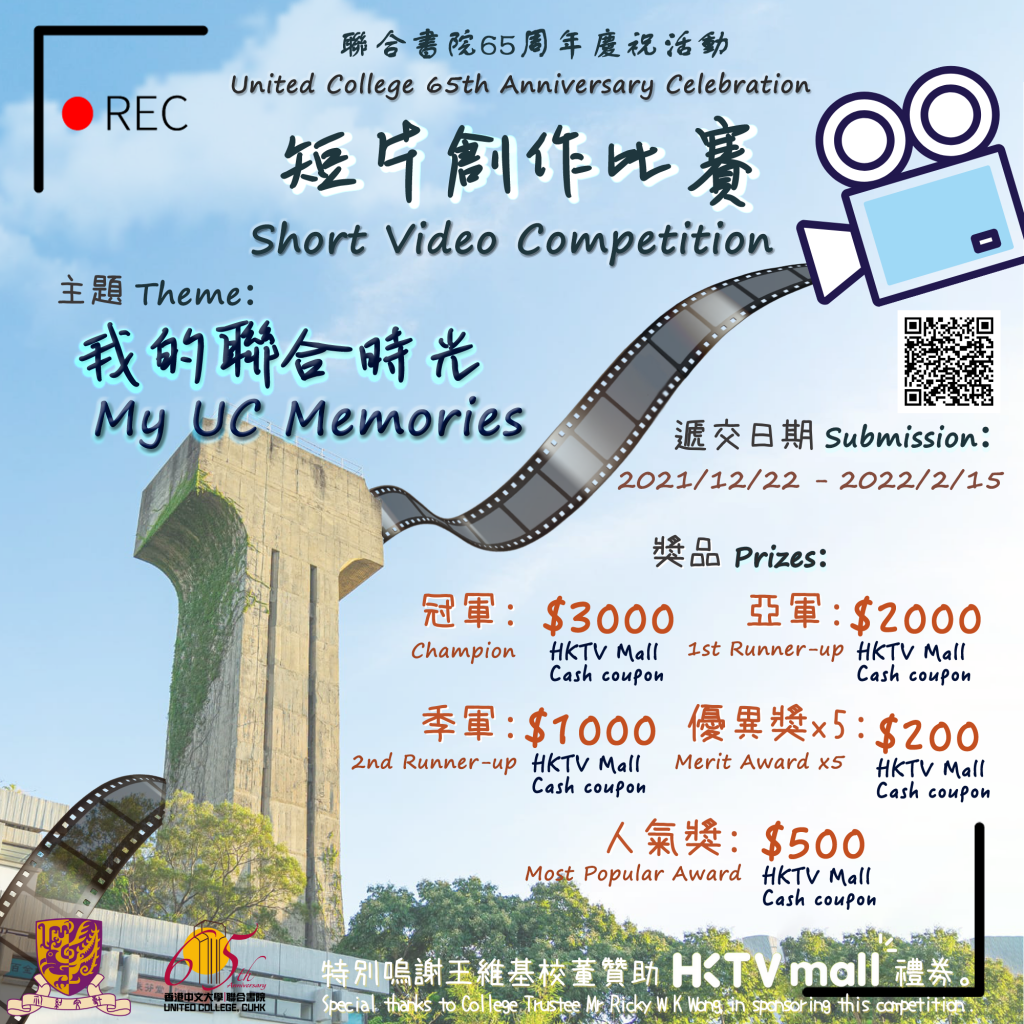 Theme: My UC Memories
Eligibility: UC students |UC alumni |UC staff
Categories: Individual or group submission is welcomed, yet all entries will be evaluated at the same pool.
Video format: Videos within 60 seconds and suitable for posting on Instagram
Prizes:
| | |
| --- | --- |
| Champion (1 place) | $3000 HKTV Mall Cash coupon* |
| 1st Runner-up (1 place) | $2000 HKTV Mall Cash coupon* |
| 2nd Runner-up (1 place) | $1000 HKTV Mall Cash coupon* |
| Merit Award (5 places) | $200 HKTV Mall Cash coupon* |
| Most Popular Award (1 place) | $500 HKTV Mall Cash coupon* |
*Prizes are donated by Mr Ricky W K Wong, College Trustee.
Schedule:
From now on to 15 February 2022
Submission of video:
Complete the Online Submission Form and upload your video link with a description to illustrate the key message of the video.
15-28 February 2022
Communication Working Group of 65th Anniversary Activities Steering Committee will be the judges of this competition and the Champion, 1st Runner-up, 2nd Runner-up and 5 merit awards will be selected.
1-11 March 2022
8 awarded video will be uploaded to Instagram and Facebook for public voting. The video with the highest number of likes during the designated voting time will win the Most Popular Award.
18 March 2022
Result Announcement and award presentation
Judging Criteria:
| | |
| --- | --- |
| Content | 40% |
| Originality | 20% |
| Creativity | 20% |
| Storytelling Ability | 20% |
The Creative Media Studio of Tien Chi Microcomputer Laboratory will fully support the production work of this competition! All students, alumni and staff members can make an appointment for the shooting.
This mountain is stunning because of our stories and we look forward to receiving your UC memories!
——————————————————————————————-
Terms and conditions
Each College student, staff and alumni can submit 1 entry at most, including both Individual and group submission.
The video must be original work and comply with the copyright and fair use policy.
The video should meet the theme and content consisting of material that is violent, obscene, indecent or violate to any other law, are strongly prohibited.
The video should be filmed within 1 minute in length, with no less than 720 X720 pixels, and in mp4 or mov format.
No amendment is allowed once the video is submitted. The copyright of the video rests with United College.
If dishonest behaviour was found during the public voting, including but not limited to overwhelming likes from oversea accounts, use of dummy accounts, abnormal rise in the number of "likes" etc., the right to compete for the Most Popular Award will be exploited.
In case of disputes, United College reserves the right of final decision.
Contact Information