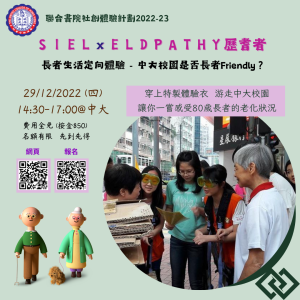 Eldpathy is the first social enterprise offerings Elderly simulation programmes in Hong Kong. This time UC SIEL crosses over with Eldpathy to provide you with a unique journey of aging- put yourself in the elderly simulation suit to experience the physical condition of the elderly. The outfits include presbyopia glasses, simulating slouching, muscle and joint degeneration. During the activity, the instructors will explore the physical and mental changes of the elderly with you, and to ponder over "Is CUHK campus elderly friendly?"
Date : 29 December 2022 (Thu)
Time : 2:30pm-5:00pm
Venue : CUHK campus (gather at YIA 502)
Fee : Free (Deposit $50)
Language : Cantonese
Application: From now on until 17:00, 9 December 2022. First-come, first-served.
For more details, please refer to the College website or mass mail.
Contact Information