The first campaign of United College 65th Anniversary Celebration, Sticker Design Competition is launched now!
Theme:
• Celebrate 65th anniversary of United College
• Promote unity and positivity among UCians
Eligibility:
UC students |UC alumni |UC staff
Requirement for entries:
• Design a set of at least 5 stickers.
• Each UCian can submit 2 entries at most.
• Stickers must be original, with UC elements if applicable.
• All entries must not contain violent, obscene or indecent content.
Submission:
1. Upload sticker set to any cloud storage platform in JPEG, PNG, GIF or WEBP format.
2. Create a share link with open accessibility.
3. Fill in the webform below, together with a link to download your sticker set.
Judging Criteria
Content and Rendition (50%)
Design and Creativity (25%)
Artistic Presentation (25%)
• Meet the theme and suitable for daily conversations in social media.
• Meet the theme to promote positive energy and unity of United College.

• Design concept and originality

•

Aesthetic appeal, drawing techniques and visual effects
Deadline: 31 May 2021
Prize:
Winner:   HKTV mall $1000 gift voucher
1st runner-up:  HKTV mall $600 gift voucher
2nd runner-up:  HKTV mall $400 gift voucher
Merit Awards: HKTV mall $100 gift voucher(5 quotas)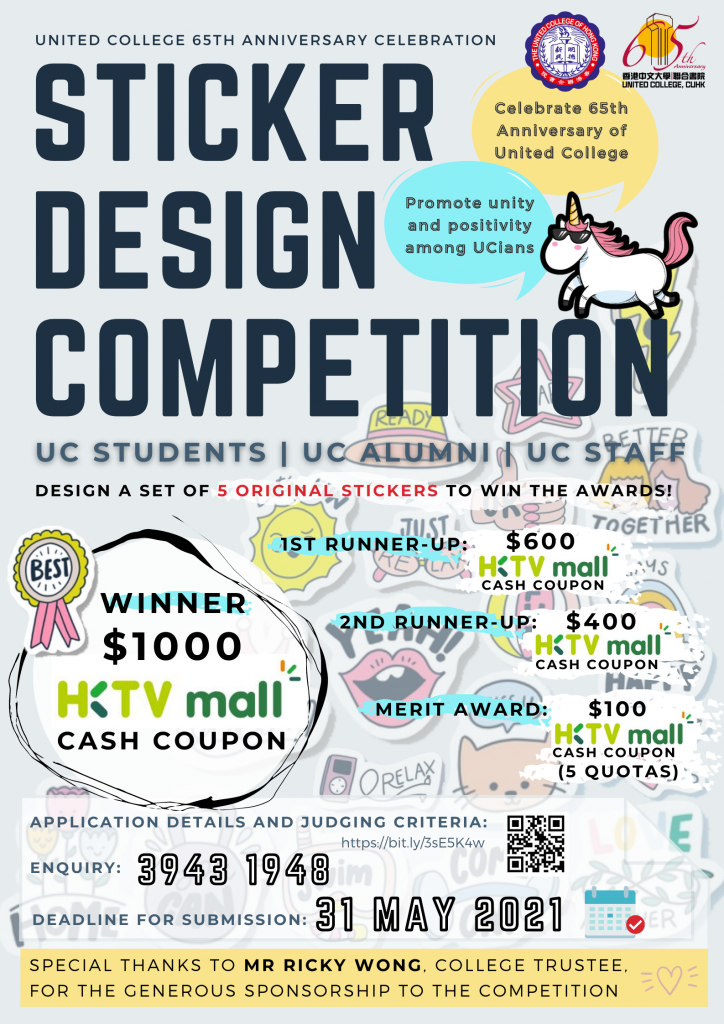 Contact Information