College Student and Teammates Won the First Runner-up in the Egypt Dodgeball World Cup 2022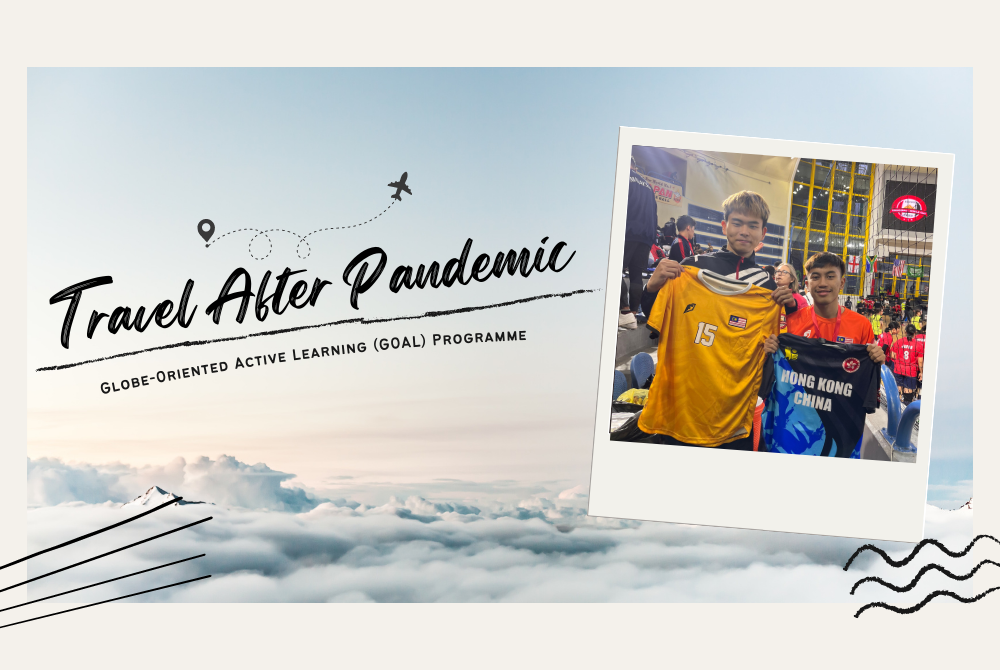 College student and member of the Hong Kong Dodgeball Men's Team, Mr Chen Haolin (ESHE/1), has been involved in dodgeball since young. In December 2022, Haolin and his teammates travelled to Egypt to represent Hong Kong in the Under-21 Men Dodgeball World Cup 2022 in Egypt and won the first runner-up.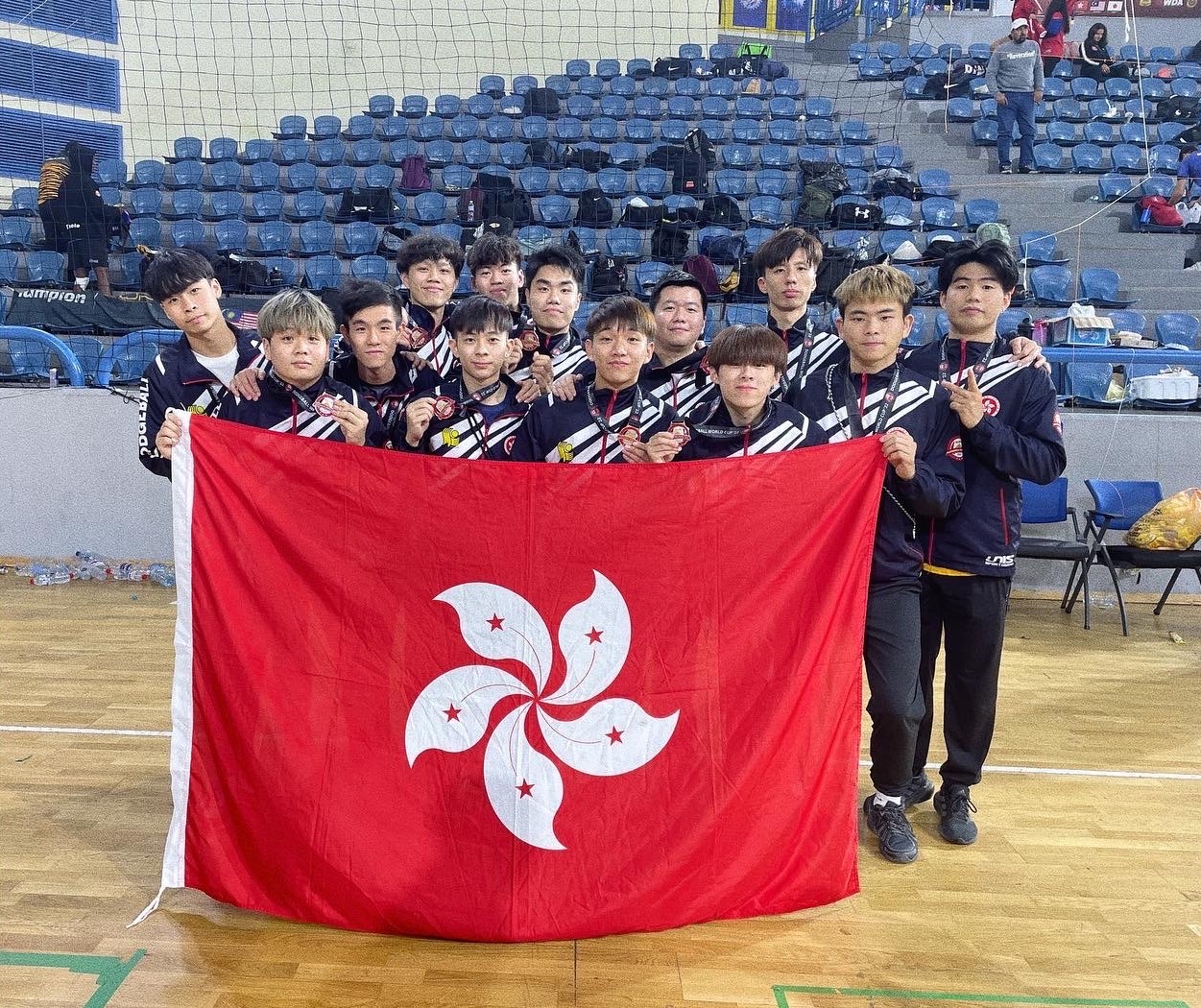 Haolin said the matches was not always favourable. When the team first faced Egypt in the preliminary round, they were overwhelmed by the tactics they used, and eventually lost 21-1. Haolin and his teammates felt a sense of pressure and frustration that they had never had before. Instead of drowning in the gloom of being defeated, the team took a positive approach to face their failure. They were convinced that if they stuck to their old ways, they would only repeat their mistakes when they faced Egypt again in the final. Haolin and his teammates reviewed and discussed various viable solutions, and finally came up with a tactic that had rarely practised before. The two teams eventually met again in the championship match, where Hong Kong team were able to take a significant 10-2 lead in the first half due to a change in tactics, leaving their opponents struggling. Regrettably, they lost 12:16 at last and finished as first runner-up.
Even though different countries were opponents on the field, they were able to put the match aside and seize the opportunity to share their skills and culture with one another. Haolin and his teammates made friends with the Malaysian team. They learnt each other's languages to cheer each other up at the matches. They also shared their ways of practice and realised that they practise in a distinct way. So, they exchanged contact information and hoped to visit each other in the future to learn from each other again.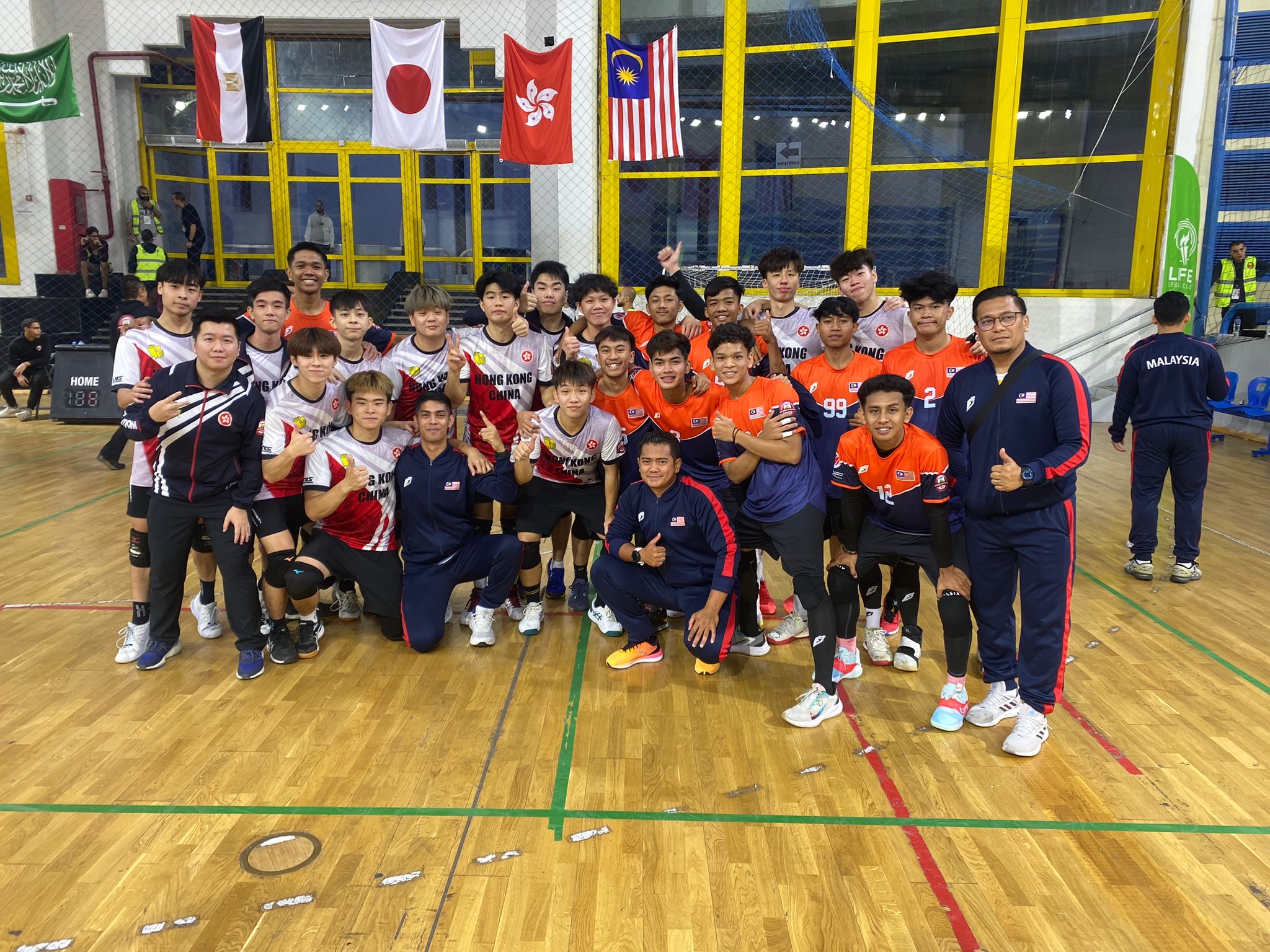 Group photo with the Malaysian team after the quarter-finals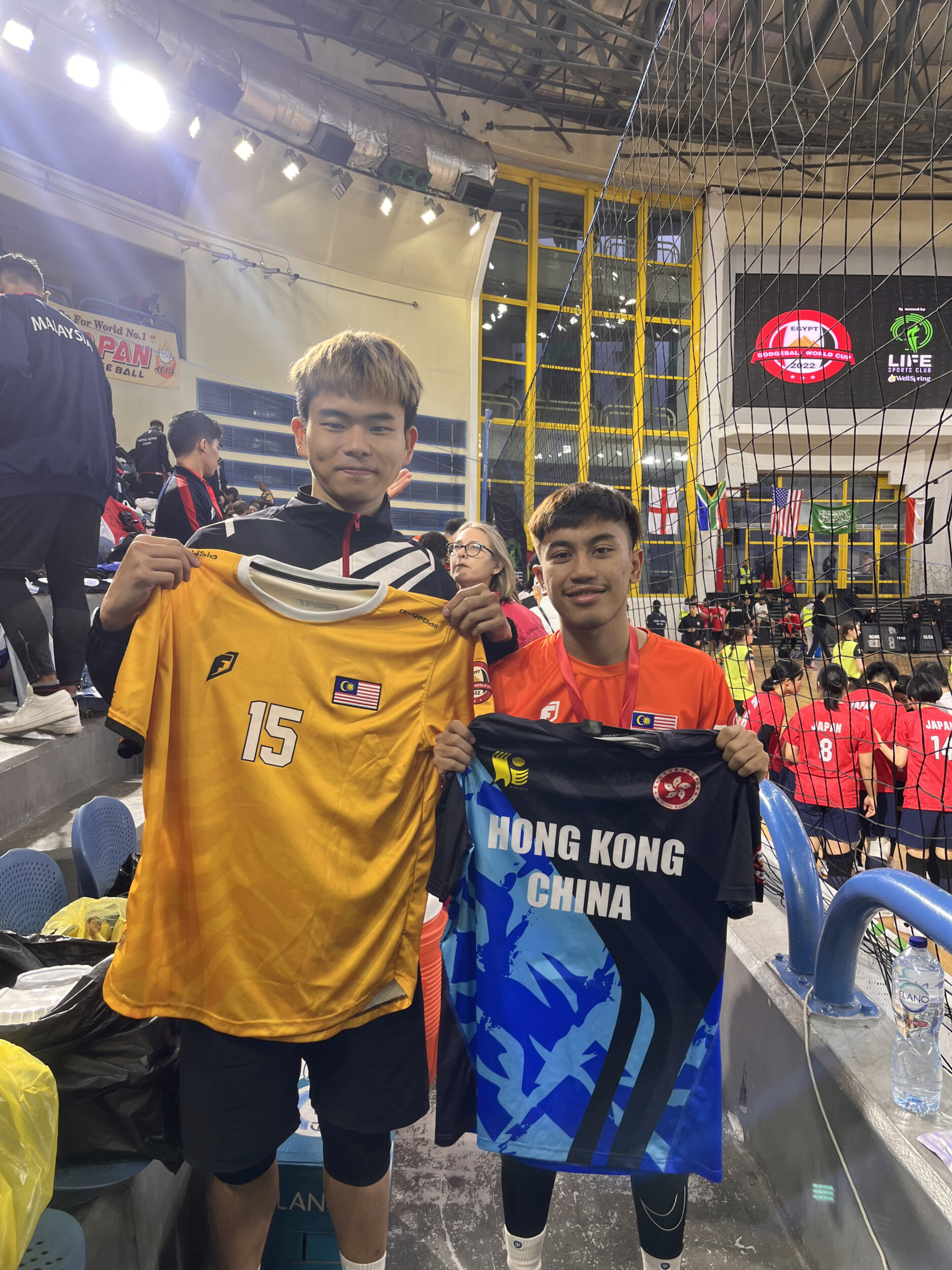 Haolin (left) exchanged jerseys and chatted with a Malaysian player.
After the competition was over, the team was able to visit some scenic spots on the last day of the trip. When the Pyramid of Giron, the most famous sites in Egypt and one of the seven wonders of the world, came to Haolin's sight, he felt excited to touch the actual buildings that he had only able to read about in books or on the internet before. The local guide introduced the backgrounds of the pyramids and other artefacts to the group, it was an eye-opening journey. Haolin also shared another unforgettable experience – riding on a camel. The camel was taller than expected when it stood up and it swayed a lot when it walked, making the camel ride very bumpy. Haolin admitted that he was a bit scared at first, but it was a rare experience to travel through the desert like a local.
Haolin concluded that it was a glory to represent Hong Kong at the Dodgeball World Cup 2022 in Egypt and he felt honoured to have stood out from the rest of the teams and achieved a good result. The trip reminded him about an essential spirit of an athlete – never give up. Keep challenge ourselves can help us to break through. The trip also brought him chances to experience Egyptian food, culture and daily lives thus broadened his horizons. Besides, he was able to exchange ideas with representatives from countries in Asia and beyond. Haolin thanked United College for giving a scholarship for his participation in the World Cup, which provided him with great financial and moral support to continue his journey as an athlete and to bring glory to the College and Hong Kong.