Seize the Day – the Ode to Youth of Wanted Music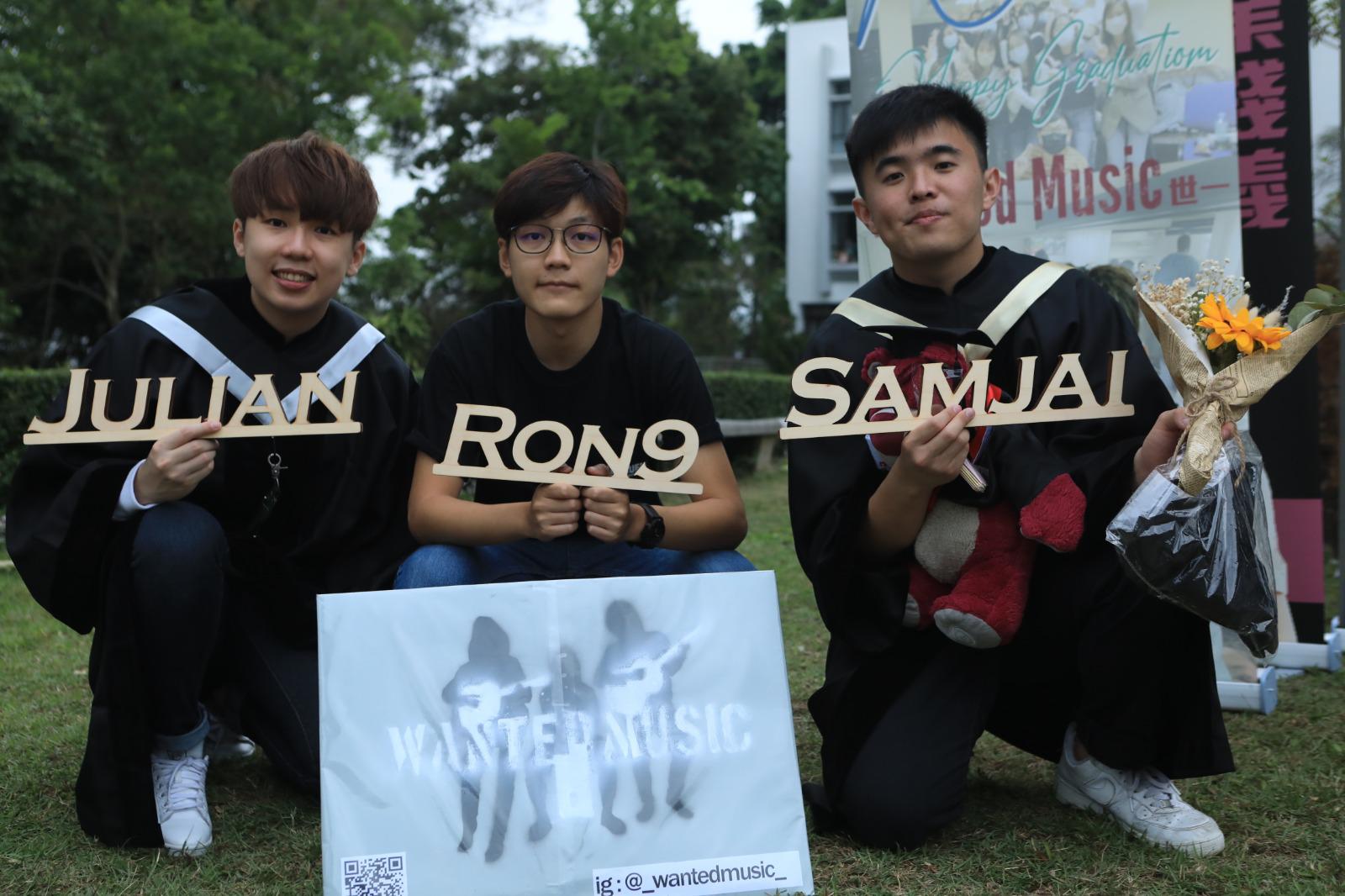 Student Translator – Ruby P Y Lee (ENGE/1)
"We all love and want to promote Cantopop." With a microphone, a guitar and a cajon, the three eager musicholics embarked on the journey towards their dream of music. Having walked through a few years, from the Internet onto the stage, they wish to safeguard what they love with their music. Despite the unknown future, the trio is willing to march, side by side, into the uncertainty of their dream, with their faith and mutual support.
The beginning of 2020 marked the epidemic outbreak but was also a prelude to the pursuit of a dream. Sam, Ron and Julian, the three playful university students, established Wanted Music during the pandemic. Starting from Instagram, recording covers, giving street performances, to a professional stage, the trio of Wanted Music hopes to produce not only music they want but also music others desire.
"Unqualified" Trio Progressing to the Stage
"We began from playing music for fun to playing high-standard music." The trio admitted that the search for team chemistry and operation mode had taken them a while at the very beginning of their establishment. Knowing how to play the guitar and sing did not pave a better way for them because they lacked experience. "We may be a jack of all trades, but we can't tell if we are masters of them. We are more like scissors made of plastic." The trio spoke in a jocular way that their immaturity makes their division of labour vague but free. The spontaneous arrangement of who to sing or play at that moment has maintained the group dynamics. "When it comes to our features, we three know everything." Despite the unarranged division of labour in playing music, the team operation is a different story. Julian manages their social platforms, Sam deals with public relations, and Ron is in charge of equipment setting. They complement each other.
The team's operation mode had gradually developed, but they found their performance unsatisfactory. "We all are self-demanding. When we compared ourselves to many other brilliant musicians, we still see ourselves as not good enough." The trio only picked songs arbitrarily when jamming at the very beginning. Gathered and started jamming, then looked for sparks and details to improve on the spot — they slowly discovered that should not be the right way. They thought it was better to settle the music arrangements before meeting each other for auditions. Feeling such progress, they found a reason to continue their music though they still felt inadequate. "In the past, we turned down all performance invitations we received. We were not uninterested in the shows, but we found ourselves 'unqualified'." Even till now, they work to perform at a more professional standard, as they humbly commented. Fortunately, a year after their establishment, the year the trio graduated from university, their practice gradually paid off. From their point of view, different from academics and sports, music has no subjective standard. They wanted to know how far they could reach on their path of playing music and thus became determined to begin their trial and error. "It is our wish to have a formal debut as a milestone for us three."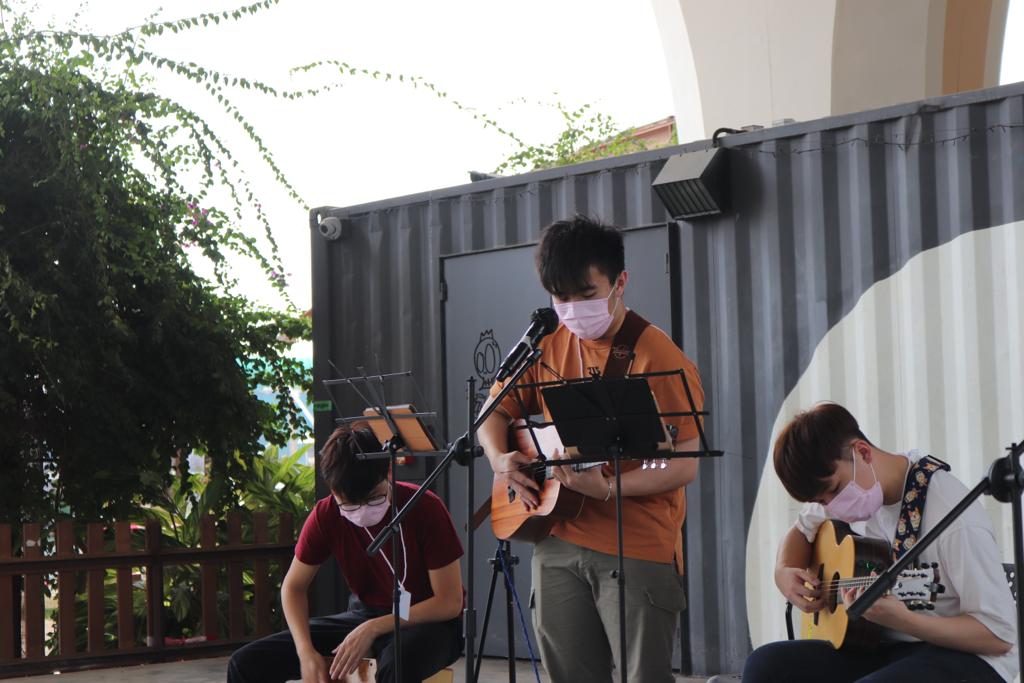 The trio made their first public performance in Kwun Tong.
From their comfort zone at home to a professional studio, from streets to stages, what it takes is not only money but also blood, sweat and tears. The good news was they finally received their first invitation to a formal performance because of their passion for music. The show was a step forward in realising their dream. "What we want is not just enjoying music ourselves, but sharing the music we love." The nature of performance on streets or on stage does not change much, but at a higher level, what comes into the performers' view is totally different. Looking back at their first performance, they recalled how nervous they were, compared to their calmness today. "We were so nervous since the moment of preparation and were worried that we would be just making a fool of ourselves on stage." Therefore, right after they accepted the invitation, they started preparing their playlist and planning the workflow of their performance immediately to ensure smooth performances on stage. When it was finally time for them to be on stage, the trio were so anxious that they curled themselves up together. One could tell from their unnatural facial expressions how they were shivering from the bottom of their heart. Yet, their nervousness did not become a stumbling block. Not only did they bring a satisfying first-ever performance to the audience, but the show also gave them a shot in the arm. "We have learnt to accept our shortcomings and perform more confidently." This first-ever experience cleared their mind, boosting their confidence to accept more performance invitations in the future.
Growing with Irreplaceable Team Synergy
"There is something that can be done by no one but us three — impossible without this teaming." All being students from United College, Sam, Ron and Julian have known each other since year one. By teaming up, the synergy of the trio is well developed. Nowadays, when recording covers, they can read each other's minds knowing when to stop or join in the chorus, without saying anything. "Making just an eye contact, a smile, a stare, we know what to do." Such telepathy proves that not only are they growing individually, but Wanted Music is also progressing as a team. While the trio learn how to appreciate the advantages of their teammates, they also point out each other's weakness and learn from each other. The trio emphasise that team synergy is their motivator to continue their music. All three of them have grown self-demanding as a result. "Singing alone may not be very motivating, but jamming with them makes things special."
The trio of Wanted Music compared playing music with playing ball games – each player has a unique style of playing. They think that only by teaming up with the right aura can they form a perfect team and turn the sparks from daily practices into "tactics" in "contests". This team chemistry is unique among the trio. "Playing in a band is like playing a ball game. Collaborating with different teammates brings different effects." During the interview, they enthusiastically discussed how their recording was going on a few days ago. They could not help playing their blooper clips on that day. They remembered how they recorded a song repeatedly to make all satisfied. Their team chemistry allowed them to know "this is the take" almost simultaneously. "Feeling exhilarated at the bottom of our hearts, we know 'this take seems great'." When finishing the piece of music, they started sharing their excitement and discussing their performance again. Such friendship, such team chemistry, is what one can feel even from the screen. The trio confessed they found no such experience when working with others. "Jamming with other people is an entirely different story, like pairing unmatched gearwheels." When asked how they felt about finding such great teammates, they chuckled that they did not want to be lovey-dovey. Everything is simply within their hearts. Sam added that he has long pinned their WhatsApp group. From this small action, one can tell the importance of Wanted Music in the trio's heart.
Interacting with Audience and Cherishing Every Compliment
Applause down the stage is always the best gift for performers. It is also true for the trio of Wanted Music because interaction with the audience is what they enjoy most. All of them agreed that "The Girl Next Door" is their favourite song because of its high interactivity. Watching their audience clapping along with the melody, singing, and enjoying the music together, are what they want most for a show. After all, they desire to share music at the very beginning.
Unfortunately, in Hong Kong, a compliment can be luxurious. The trio confessed that the seriousness of criticism in Hong Kong makes every compliment even more precious. "Hongkongers tend to be critical of others' shortcomings while ignoring their hard work and effort." After becoming performers, the trio cannot agree more on the prevalence of this phenomenon. Others' recognition thus becomes even more valuable for them. Receiving a comment of "great progress" on Instagram or an "add oil" from a passer-by is already tremendous encouragement for them. "We can feel their sincerity behind their words which keep us happy for long, given how rare being recognised can be in Hong Kong."
Since their establishment, the most unforgettable memory for the trio is always the compliment from a passer-by. They remembered that in one street performance, a passer-by had been sitting for three hours listening to their music. When he was about to leave, he folded a $20 paper note into a heart and gave it to the trio as a reward. Recalling the scene, the trio could not help giggling and instantly showed us this priceless gift for further description. "For us three, such reward represents appreciation from others."
An Endless Dream
Time and tide wait for no man. Instead of being university students with three to four days off, the trio have already graduated. Jamming together is no longer as easy as it once was – their last jamming was already half a year ago. "After going to work, getting together again becomes very difficult. Every opportunity becomes more precious." Turned into wage slaves, they understood that even finding their common spare time needs careful planning, not to mention how hard it would be when it comes to improvisation, live jamming, etc. When asked about their future goal, the trio did not know what to say suddenly. Given the lack of time for even jamming together, the future development of their group is unpredictable. "If you are talking about a goal in that short term, that would be finding time to jam, which is already something valuable." Despite the difficulty, they wish for the time to continue their performance and equip themselves before thinking about what to do next, like singing their original songs or even stepping on a bigger stage.
Scattering after gathering can be inevitable. When asked if the journey of Wanted Music will end someday, the three members hold different opinions. Sam stated that he never imagined the end of their journey. "Maybe a pause at most. We will get together again anyway." He understood how work and family factors might temporarily hinder the continuation of their music journey, but that would never cause their separation. As for Ron, he admitted that he did not consider their future plan thoroughly. He simply enjoys the moment and cherishes every moment they meet. Julian, however, confessed that he might not be staying in Hong Kong. Someday, the journey of Wanted Music may come to an end, as he has once thought. Yet, he has always been thinking about a romantic scene. "As long as any one of us gets married, we three will sing together at the wedding." He also emphasised that he would bring along the heart-shaped note on the day to wish his friend the best.
Looking back to the time they first met each other, the road for a dream-chaser does not get any easier. The trio believes that growing up brings them more practical considerations. Be it a financial or family factor – different things hinder the trio from continuing their journey. Pursuing a dream means more hurdles to jump over. Even so, they consider all these as challenges. No matter how difficult the road ahead of the trio is, nothing can stop Wanted Music from hovering. "Dream is nothing easy, and the difficulties you meet contribute to the value of realising a dream." Despite the uncertain future, what the trio want at this moment is to continue their music. As is what their team is named – they want music forever. ♫