【College Assembly】Cantonese Debate Match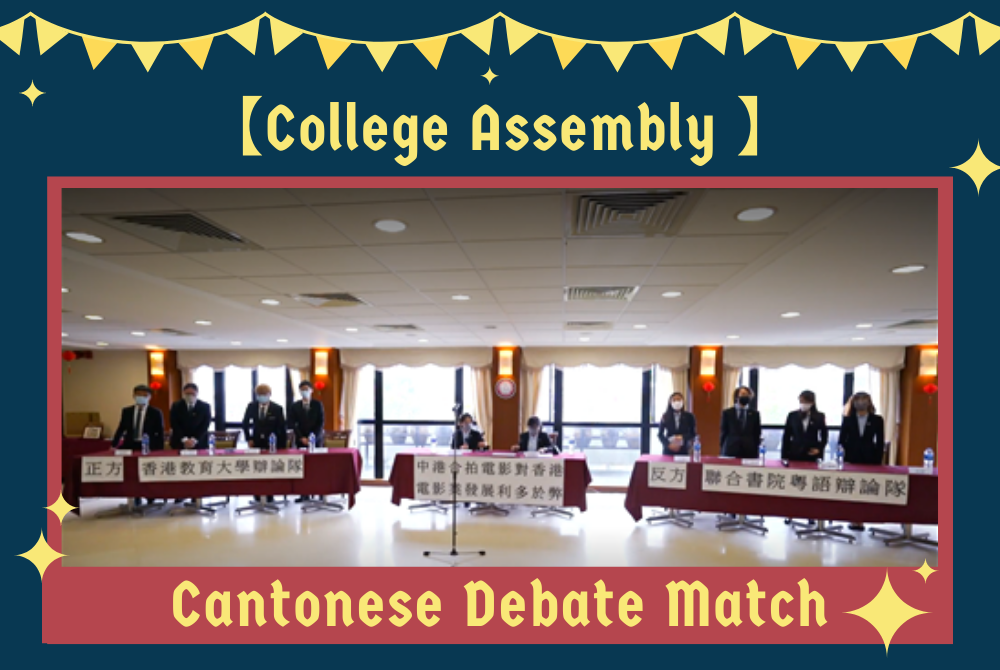 United College Cantonese Debate Team has invited the Debate Team of The Education University of Hong Kong for a friendly match at the College Assembly on 28 January 2022. The motion of this match is ''China-Hong Kong co-production of films has more advantages than disadvantages for the development of Hong Kong's film industry''. The debate team of The Education University of Hong Kong is on the affirmative side, claiming that capital inflow is undoubtedly a revitalization to the industry and an inducement to talents. The College debate team is on the negative side, believing that the diversified themes, local features and creativity arethe keys to the long-term development of the industry.
After several rounds of argument, the College Team won the match  by 2 to 1 and Ms Lam Ho-ying, a member of the College Team, was awarded as ''The Best Debater''.  Our warmest congratulations to the College Cantonese Debate Team and Ms Lam!
The two teams gave special thanks to the panel of judges, they were Dr Ng Ka-yi, Lecturer of the Department of Chinese Language and Literature, CUHK; Dr Benson T B Tong, Assistant Professor of School of Arts and Social Sciences, HKMU; and Mr Chan Pak-ka, Lecturer of the Independent Learning Centre, CUHK.