The Establishment of United College Multimedia Production Society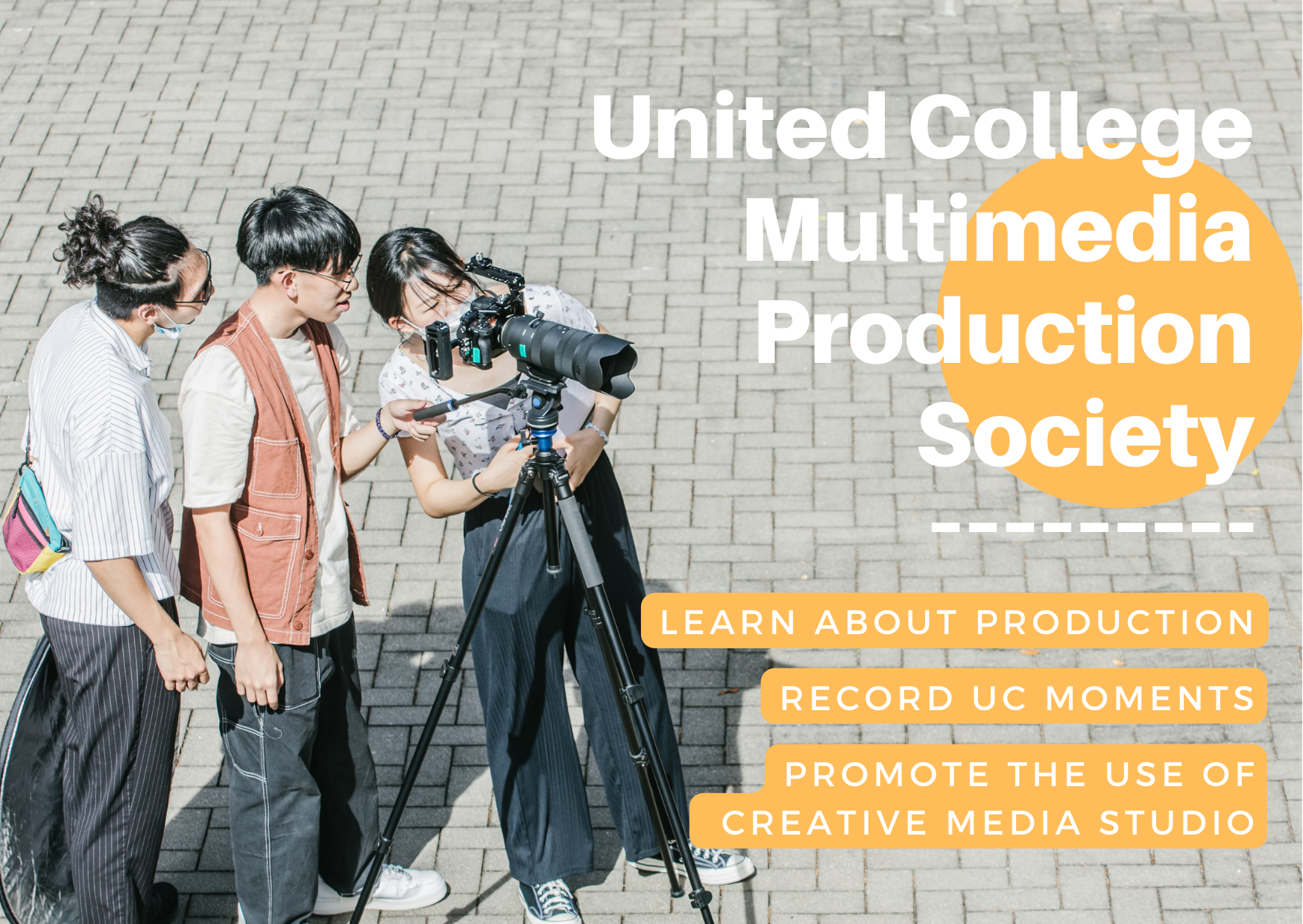 Chairperson: Tina H T Ng (COMM/2)
Translator (English): Ruby Lee (ENGE/2)
Newly established in June 2022, the United College Multimedia Production Society comprises of a group of UC students, all of whom are passionate about video making. Through the production of different videos, the society hopes to foster students' talents and broaden their knowledge in areas related to video shooting.
We, as the members of the United College Multimedia Production Society, are offered with ample opportunities to learn and unleash our potentials in production. We also help UC in making videos for promotion and record. Moreover, we also hope to promote the newly establish Creative Media Studio in the Tien Chi Microcomputer Laboratory so that more UCians can utilise the studio's equipment and facilities , thereby exploring their interests and potentials in multimedia production. 
As the production society members, besides making promotional videos for UC, our regular routine includes serving as the ambassadors in the Tien Chi Microcomputer Laboratory to assist students in using the laboratory facilities and the Creative Media Studio. Students who are new to the studio can then understand the operation of different equipments better and have fun there. Furthermore, UC offers a wide range of student activities, like College Anniversary celebrations, UC Singing Contest, different workshops, experimental learning activities, all of which has become a part of students' happy memories. With a camera in hand, the society hopes to record those memorable scenes in a digital format for students to savour in the future. The recorded colourful college life can also draw more students to UC's diverse activities. 
UC Multimedia Production Society is still a newbie for the time being and we do not consider ourselves as experienced professionals. Most of our members join the team only because of their eagerness and passion in multimedia production and video making. It may take some time before the team succeeds in making videos with high quality just like the professional ones'. Yet, through trial and error, and with determination to strive for progress, we can definitely offer better and better videos for UCians! 
Member List:
| | |
| --- | --- |
| Ng Hei Ting, Tina | COMM/2 |
| Chan Yat Long, Leo | IBBA/2 |
| Yip Chun Ting, Jefferson | COMM/3 |
| Yu Chun Wing, Wing | BSSC/2 |
| Chan Sze Yau, Karsten | COMM/2 |
| Yau Hoi Ching, Hayley | SOWK/2 |
| So Cheuk Ying, Cheryl | COMM/3 |
| Wong Sik Yin, Eddie | EEEN/2 |