UChum – United College Student Wellness Programme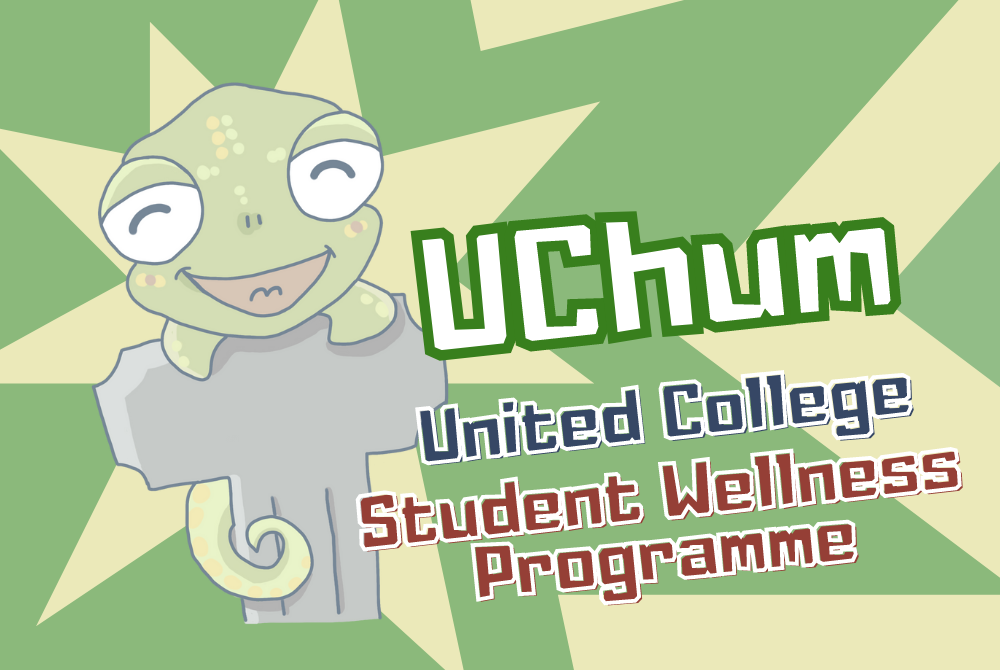 The college has launched a brand new programme named "UChum" in the second semester 2021-2022 with an aim to be not only teacher-like, but also a friend-like companion to all UCians. The College especially invited College student, Ms Lam Sze-wing and College alumna, Ms Kwong Cham-kei to design a mascot – Chum Chum for the programme! Chum Chum is a chameleon who is very shy and always hides itself by its camouflage – it seems like the way how we hide our emotion.
The UChum programme has recruited a group of passionate students to organise a series of stress-relieving activities to fellow students and at the same time bring some chill time to the campus. This group of students completed a Mental First-Aid Course in early January, learning how to help people who are suffering from emotional distress.
▼Dr Lau Yuk-king, Associate Dean of Students (right), presented the certificate to students joining the new programme, "UChum". They posed photos with Ms Woo Kit-ching, instructor of the Mental First-Aid Course (left).▼
▼Mr Tony M H Chan, College Secretary (right), presented the certificate to students joining the new programme, "UChum". They posed photos with Ms Woo Kit-ching, instructor of the Mental First-Aid Course (left).▼
Let's take a look at their sharing:
Yanice M Y Lam  (LAWS/1)
The lesson we learnt from the course is to put ourselves into others' shoes and not to treat patients as someone abnormal. However, there is still a long way to go in promoting mental health in Hong Kong.
Stella Y M Chan (PSYC/2)
Although this course named as "first-aid", we have to get ready for facing multiples of setbacks and failures during this long journey. We must also take care of ourselves and suit up with strong mind first, this could give us strength to help others in need. The most unforgettable moment in this course was the gift given by our course instructor – a highlighter. It reminded us to highlight the needs of mental health patients while not to label them as abnormal.
Terence T Y Tse (NURS/1)
When I first saw "Mental Health Firs-Aid Course", I thought it would be similar to physical first aid course which we should offer help to rescue patient instantly. However, after finishing 2-day course, I realised that mental health first aid does not aim to rescue and treat patient at that moment. It focuses on discovering people with mental health problem timely and guiding them to express their feelings. We should act as their listeners and provide necessary assistance to patients.
Sin Chung-ho (BERG/1)
Apart from patient, mental health condition of patients' family members should also be closely monitored. We could hardly imagine how stressful they are when facing and living with patient. In this mental first-aid course, I was taught how to provide assistance to patients with mental illness and their families using proper methods.
Thomas K T Li (MEDU/2)
Mental disease is common in Hong Kong. Some of my friends are suffering from mental problem. Before participating in UChum program, I only had some basic knowledge about mental disease. Moreover, I had no idea on how to help them. UChum not only provided a detailed introduction of different mental diseases, but also taught us what emergency measures should be used for helping patients.
Jenny H L Ng (LAWS/1)
In Hong Kong, most people are willing to seek medical advice if they are suffering physical illness. However, people tend to hide themselves if they are having emotional problems, causing a delay of treatment. By joining the UChum, I would like to equip myself with professional knowledge and communication skills targeted to intervene patients at the early stage. Wishing that we could take a little step in promoting mental health in our community and removing the stigma of mental illness.
Alvin Chan (BMED/5)
The notion of the term "first aid" is not what we usually expect. It means the ability to identify those in need and how we can bridge the gap between them and the professionals. Upon completing the Mental Health First Aid Course, I am delighted that I can serve as the bridge and this course advanced my professional development.
Kelly K T Lam (BMED/2)
Before joining the mental first-aid course, I am not familiar with most of the mental disorders covered by this course. By completing this first-aid course, I have better understanding in mental disorders, including abilities to identify symptoms of mental problems and intervene at suitable time to prevent deterioration of patients' condition.
Jack M W Li (BMSC/3)
I was very fortunate to have the opportunity to join this course and learn all kinds of techniques when dealing with people with poor mental condition. What's more, I discovered that there is so much little things in life that I can do help people around to deal with their bad days, knowing that these bad days will not last forever.
Mandy H M Chan (NURS/1)
After 2-day mental health first-aid course, I have obtained knowledge about mental illness, effective ways of intervention, professional service provider and useful resources. Instead of waiting people with emotional problems seeking for help, we should take initiative to approach people in need. Patients with mental health problems are different from patients with physical problems. The latter usually will seek medical advice from authorities. However, people with poor mental health conditions tends to hide themselves and not to disclose their real situation to others. Therefore, we could intervene to provide initial assistance when patients is suffering from emotional problems and they are unable to receive advice from the professionals. To do so, we could utilise technique taught in this course, such as using appropriate verbal and non-verbal languages, to show our concern on patients and provide useful information in mental health area.
Michael W M Chan (GPAD/4)
I am glad to join mental health first-aid course organised by the United College. Although I had taken this course during my associate degree studies, I had already forgotten most of the theoretical knowledge. Re-joining this course not only allowed me to refresh my memories, but also got involved in more interactive practical sessions, which definitely increased effectiveness of our learning. People might believe that only professionally trained person could provide counseling to others, this misunderstanding bears us from helping friends with emotional problems. In fact, we could have done much more than we thought. By learning basic counselling technique in this course, we are able to provide basic support and guide patients to receive help from the professionals.
Let's look forward to see how this group of students open the heart of Chum Chum and at the same time bring some bring some positive vibes to the campus!
Stay tuned! ▼