A CUHK Outstanding Student on His Way of Life On and Off Campus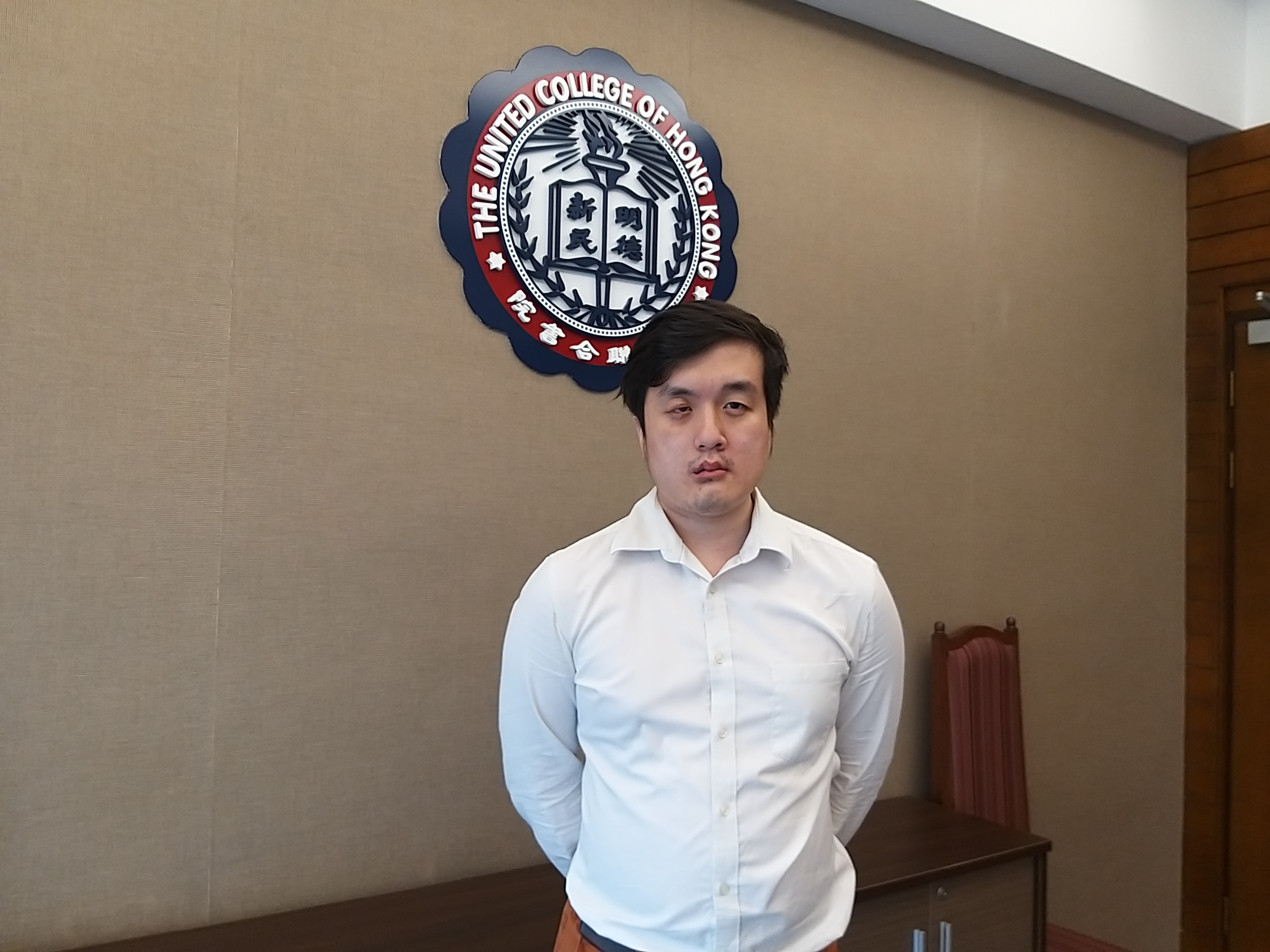 Student translator: Vincy Y M Ng (TRAN Year 2)
Although everyone upholds the values of inclusion and equality in the 21st century, to attain integration within the society is never easy. To thoroughly resolve problems like discrimination and stereotypes is even harder. Despite the difficulties, there are still some people willing to help those in need. Michael W M Chan, the founder of the student-initiated organisation 'Companion HK', is one of them. Being a disabled, he fully understands the needs of underprivileged groups. He thinks that while caring for them, we should also listen to their thoughts. Studying Government and Public Administration in CUHK, Michael has never been put off by his physical disabilities. Instead, he actively embraces the challenges and makes contributions to society.
The wisdom of a positive life
'What is called resignation is confirmed desperation.' Michael's Facebook status is a quote from the famous author Henry David Thoreau. Why would he take it as his motto? Michael said he strongly believes that we need a target for everything, and we need to realise it, 'waiting for luck to fall upon us will only end up with staying at the daydreaming process.' Although he has visual, hearing, and speech impairments brought by an illness he had when he was younger, these minor physical defects have made him realise the importance of being positive and active. Michael said honestly that even though the culture of discrimination in Hong Kong has gradually improved in recent years, some deep-rooted perceptions and stereotypes towards the disabled are hard to be erased. He thinks that in order to earn others' recognition, much more effort is needed, 'when competing with normal people, I must do better than them instead of begging for sympathy. This urges me to force myself to join more activities and competitions, to try new things out and to expose myself with tests and errors. Only by these can I analyse the pros and cons of them.' Having been studying at CUHK for 3 years, Michael stated that he has never encountered big obstacles in both living and studying in the campus. What makes him feel lucky is that there are not many difficulties in getting along with people of CUHK and they are very inclusive and always understand his needs. However, he also reminded us that we should not overdo it when helping the disabled because that may make them feel uncomfortable instead, 'I had some difficulties in mobility after a surgery last summer, but I was fine walking on my own. Someone came and helped me. But in fact, I didn't need that.'
Being a companion for patients with mood disorders
Living in nowadays' Hong Kong, it is inevitable to feel stressed. Michael said he had noticed that the suicide rate of CUHK students was relatively higher in the past. He also noticed students complaining about high stress level during the exam period from various social media platforms, such as CU Secret. All these made him realise that the mental health of people in CUHK or even Hongkongers is to be concerned. Therefore, he started the organisation 'Companion HK' with his schoolmates in early 2020, aiming to monitor Hongkongers' emotional problems. The organisation also extended its attention to issues concerning the disabled later. 'Maybe they are affected by TV shows, many people stereotype patients with severe mood disorders, thinking that they are very dangerous. In fact, they have many positive qualities that worth learning from.' Michael emphasised that patients with severe mood disorders are seriously lacking attention. Hence, the organisation offers them a platform to voice themselves by filming videos and conducting interviews to promote their stories, hoping to let more people understand their needs. Some interactive events, such as 'The Human Library', are also held to shorten the distance between the patients and the public. Michael believes that being active is crucial. He also tries his best to live by the belief. He nominated himself for the scheme of CUHK Outstanding Students, later even received nominations, and finally became one of the awardees. When asked what his edges are comparing with the others, he thought that it was due to his more fruitful experience in extra-curricular activities, 'Perhaps many people participated in a lot of activities, but I founded an organisation. This may be something that makes me stand out.' Up till now, Michael is still keen on seizing every chance to improve himself, such as taking part in entrepreneurship competitions and doing an internship at Hong Kong Exchanges and Clearing.
Dream and Study
'I wish to become a public relations officer in politics.' Michael majors in Government and Public Administration (GPAD) and minors in Journalism and Communication (COMM). Both are strongly related to his dream job. He said frankly that he had planned to study GPAD since he was in secondary school and his plan had never changed. When asked the most memorable experience in studying GPAD, Michael said that he can never forget a political public relations course taught by Mr Choy Chi-keung. In the course, he learned about knowledge in election advertisement and how to write texts like declarations for losing an election. 'To analyse the electoral engineering before and after the election in Taiwan, I wrote more than 20 thousand words in total.' Despite it being not easy, he enjoys and has never been tired of studying GPAD because of his strong love for politics. When talking about the memories of studying COMM, he said that studying the public relations strategies of non-governmental organisations is the most interesting, 'How to attract participation when organising an activity? Is there room for improvement?' Michael stated that these are some his more unforgettable learning experiences.
Passing on the spirit with the mentorship programme
Speaking of Michael's colorful school life, he mentioned that we should not constrain ourselves within a certain major study and we should meet more people. Therefore, he took part in the mentorship programme offered by the United College when he was a year 2 student. 'My mentor introduced other mentors and participants of the scheme to me, so that I can be more familiar with different industries, broadening my horizon.' Michael was even given a chance to deliver a speech later on, sharing his own opinions on career planning. He described it as a very good attempt, 'I am not a sociable person. The stage gave me a chance to share my own ideas.' He even said promisingly that if it is possible, he will take the role of a mentor in the future, hoping to benefit the mentees, and to pass on his spirit.