Mentorship Programme – Year-end Talk and Activity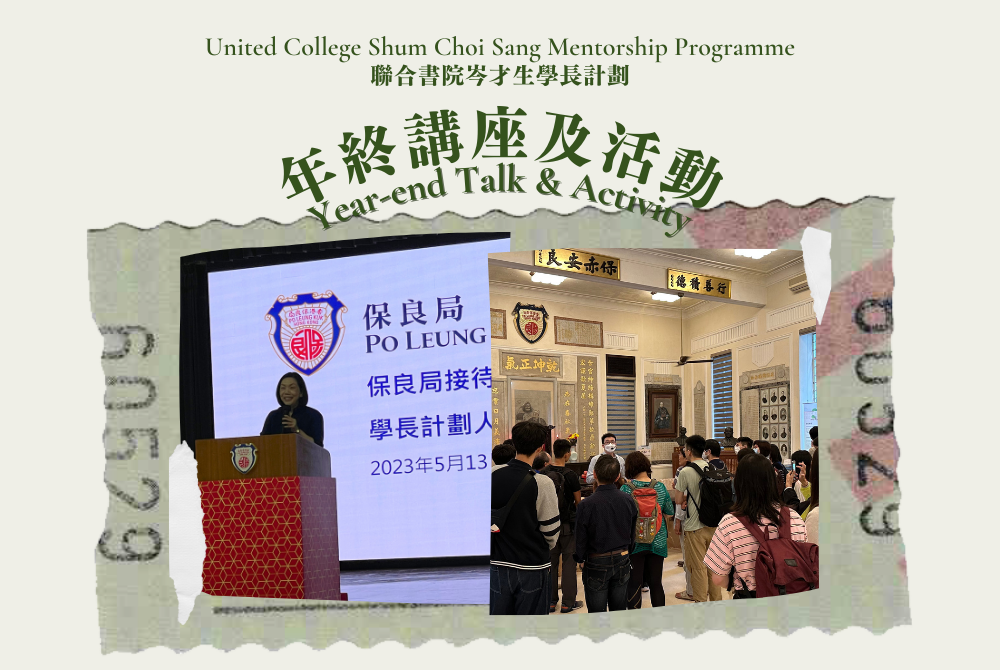 Mentors and mentees of the United College Shum Choi Sang Mentorship Programme: Year of Calvin Y Y Wong 2022-2023 were connected and had created lots of memories by joining the Inauguration Luncheon as well as Mid-term Sharing and Floor Curling Experience Activity. Coming to the last official activity of this year's programme, the Coordinating Committee organised a Year-end Talk and Activity on 13 May 2023. Over 70 mentors and mentees visited the Po Leung Puk Headquarters located in Causeway Bay.
The Coordinating Committee invited Mrs Bridget W P Yu (82/SOWK), college alumnus and Principal Social Services Secretary of Po Leung Kuk, as speaker of this year's Mentor's Talk. Mrs Yu joined Po Leung Kuk right after her graduation from the university. She shared her journey of working as a frontline social worker to taking up the administrative management post. No matter what post she is taking now, her intention to serve the community always stays in her mind.
Mentors and mentees also visited to the Po Leung Kuk Museum, which was located inside the Main Building. By joining the guided tour led by the museum staff, participants had better understanding in this Grade II historic building and development of Po Leung Kuk.
Some mentors and mentees grabbed the chance to have a tea gathering after the activity!