Asian Youth Leaders Travel and Learning Camp 2023 (abridged version)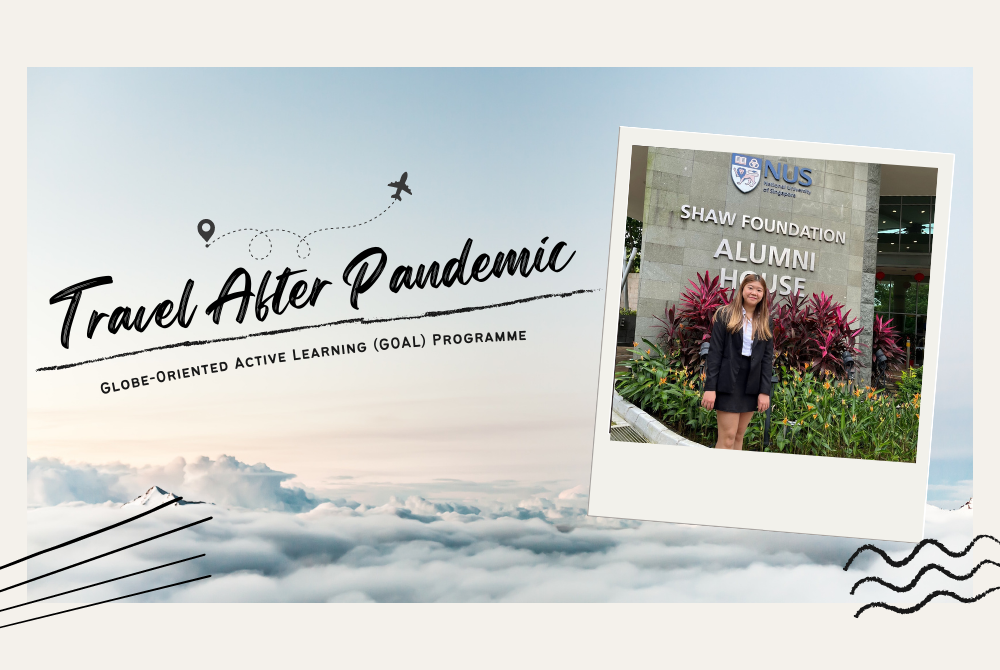 Written by: Ms Candice H Y Chan (PHAR/4)
The 10th Asian Youth Leadership and Travel Camp (AYLTLC) was hosted in Singapore from the 2 – 6 February 2023. It was where youth leaders from all around the world gathered to enhance their abilities in cross-cultural interaction and cooperation, while also getting to travel, learn and gather a lifetime experience that would further equip everyone to be an effective leader. During this camp, we collaborated in identifying and seeking solutions to worldwide social issues, and also learnt about the history and development of Singapore by visiting many scenic spots of Singapore.
After checking in to our resort on day 1, we then headed to an ice-breaking session. There were approximately 200 youth leaders from more than 15 countries all around the world including but not limited to Brunei, Ecuador, China, Hong Kong, India, Japan, Korea, the Philippines, Taiwan, Thailand, USA, South Africa and Vietnam etc. The organisers were all excellent enthusiastic students from The National University of Singapore (NUS) who took care of us throughout the camp.
The next day after having breakfast, we headed out to NUS, where the opening ceremony was held. After the welcoming speech by Mr Jowill Wong, the Honorary Chair of AYLTLC, we had three learning sessions. Dr Paul Barter from Lee Kuan Yew School of Public Policy at NUS, delivered a speech on "Singapore's Urban Transport Story: Past and Future"; Professor Maurizo Peleggi, from the Department of History NUS, discussed a speech on "To be (a Leader) or to not be?"; Professor Erica Larson, a research fellow in the Religion and Globalization Cluster at the Asia Research Institute, NUS, delivered a speech on "Insights from Anthropology".
After the three learning sessions, we had a short campus tour of NUS, visiting some of their classrooms, canteen and library. We then took the coach bus to Marina Barrage to visit Singapore Sustainable Gallery. The Marina Barrage was built across the Marina Channel between Marina East and Marina South, and it is one of the Four National Taps. I found it very astonishing that the barrage has turned Marina Bay into a freshwater reservoir in downtown Singapore, benefiting in the people many ways, including providing water supply, flood control, and as a lifestyle attraction.
We started our third day by going to the Public Utilities Board (PUB) to learn more about 'NEWater', which is also one of the Four National Taps. It is called 'NEWater' because Singapore does not have any natural freshwater supplies, therefore, they created 4 main ways to ensure Singapore has enough freshwater supplies including imported water, NEWater, desalinated water, and local catchment at Marina Bay. We joined a tour at PUB that introduced the whole process of producing NEWater, which is high-grade recycled water produced from treated used water that is further purified using advanced membrane technologies and ultra-violet disinfection, making it ultra-clean and safe to drink. The thing that amazed me most is that even though it is recycled from wastewater, it is even cleaner than normal drinking water. It is normally used by industries with production requirements for high-purity water rather than for consumption, due to the deficiency of minerals.
We then went to the Urban Redevelopment Authority, joining a tour that introduced us to their long-term and comprehensive planning of the city, and their plan to go 'underground' to optimise more space. From my perspective, one of the most interesting things was the 'Shophouses', which was similar to living behind the store in Hong Kong. After that we then explored Chinatown and moved on to Marina Bay Sands, to enjoy the spectacular light show at Gardens by the Bay which was mind-blowing.
Coming to the last two days of the trip, we stationed in NUS to work in our groups to collaborate in identifying and seeking solutions to worldwide social issues while making a video to present our ideas rather than using the traditional way of PowerPoint presentation. After discussing the social issues with our group members which came from different countries, we identified that lack of education opportunities for the underprivileged was a serious problem in many countries. It was an eye-opening experience after getting to discuss these problems and getting insights from the people from the country itself, which some of these issues might not be mentioned online or in the news. On the last day of our camp, we went to NUS, wearing our country's traditional costume for the presentation of our videos, along with the closing ceremony and award-giving session. Our group won the 'Most Engaging Award'. All of us then had a very good time taking pictures with each other and that wrapped up our camp at AYTLC.
Overall, AYLTLC allowed me to experience different ways of learning and access diverse opportunities outside of my profession. It enabled me to challenge myself with extraordinary, atypical experiences that would allow me to think out of the box while also being able to reconsider or strengthen my values. I could also extend my views about the world and meet and make long life term friends which were from different cultural backgrounds and from all around the world. Finally, I would like to thank everyone at AYTLTC including my group members, the organisers, and my roommate for all the memories and experiences during this trip, it was one of the best life-time memory that I would cherish forever. I would also like to thank United College for sponsoring this trip and making it happen.