Eddie Yu: All or Nothing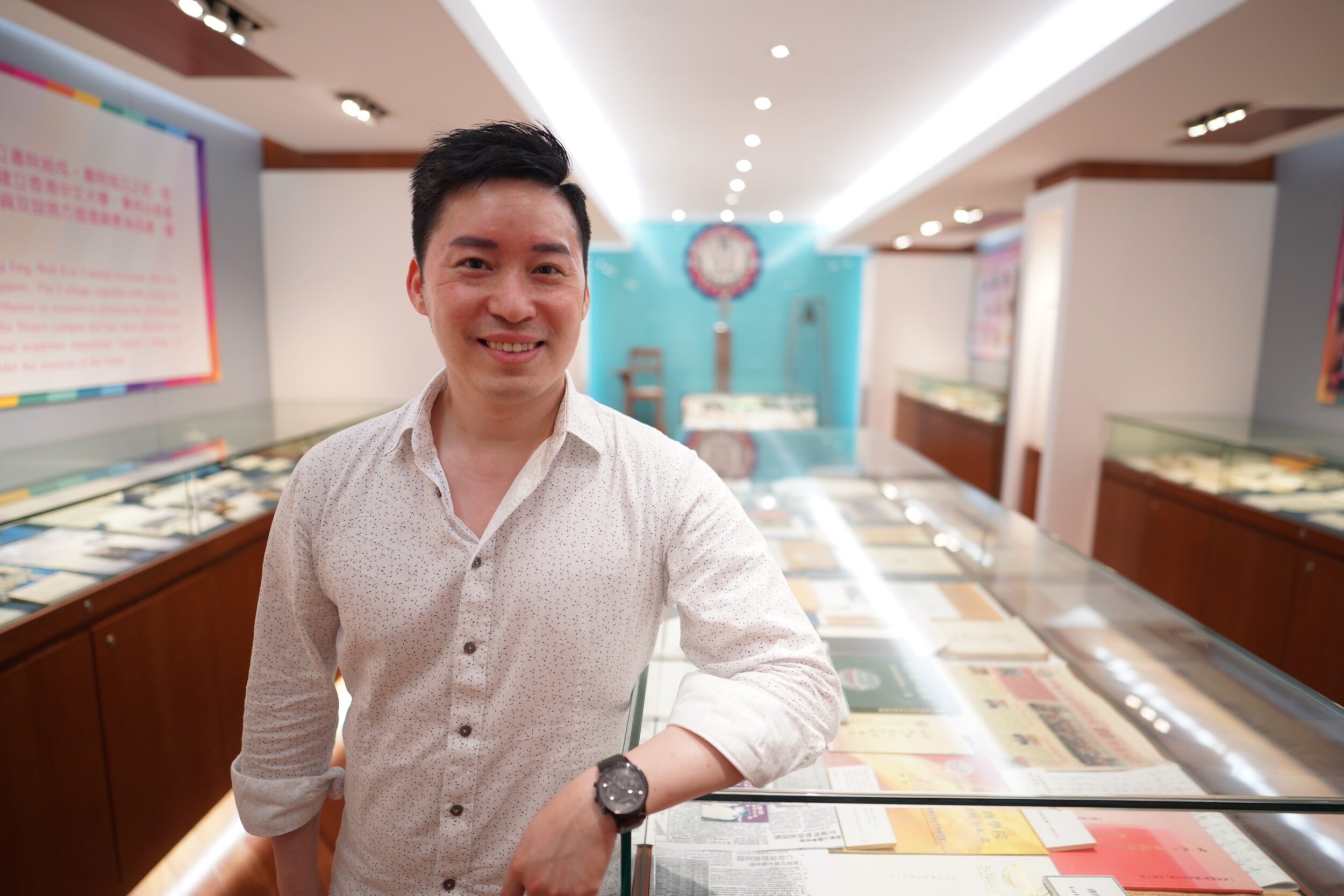 English Translator: Charlotte Ip (TRAN/4)
An innocent question from his niece is what has taken Mr Eddie S L Yu (05/PHYS), the college alumnus and former Physics student, from a flourishing joint venture of mask production to establishing a new brand of masks with eco-friendliness as the core value. The masks of ÖKOSIX are plastic-free and made with plant fibres and natural materials. From an employee to a second-time entrepreneur, Eddie has left his comfort zone with no reservations but a will to follow his heart, all due to his eagerness to promote environmental protection and create a better world for the next generation.
A word from the niece, embarking on a journey for the next generation
Traditional disposable masks are made of plastic. Eddie had scoured the world for greener options but to no avail. One day, his five-year-old niece asked him if masks were recyclable. His answer was negative. She continued, "Isn't it very environmentally unfriendly of you to produce that many masks every day?" This enlightening question triggered him to come up with an idea of inventing a completely biodegradable face mask himself, which he then turned into reality. With a vision no longer in line with his partner, Eddie chose to exit and establish a startup – ÖKOSIX, which prioritises green concepts. He described entrepreneurship as a long shot, but he is determined to give it a try when he is still young. If he fails, the worst scenario is to "return to the job market."
Although Eddie has experience in synthesising organic materials, the research and development process was not always smooth sailing. However, through multiple times of trials and corrections, he and his team finally pioneered globally a fully compostable surgical mask attaining all relevant certifications, and won a gold medal in the International Exhibition of Inventions Geneva 2022.
The pandemic will end one day; masks will no longer be worn. Eddie sees his responsibility in creating environmentally-conscious products while ensuring a sustainable business. Upon adjustments, the biodegradable material in producing the ÖKOSIX masks can be applied to other disposable items like air filters, diapers, and sanitary pads, going beyond the needs of the COVID pandemic.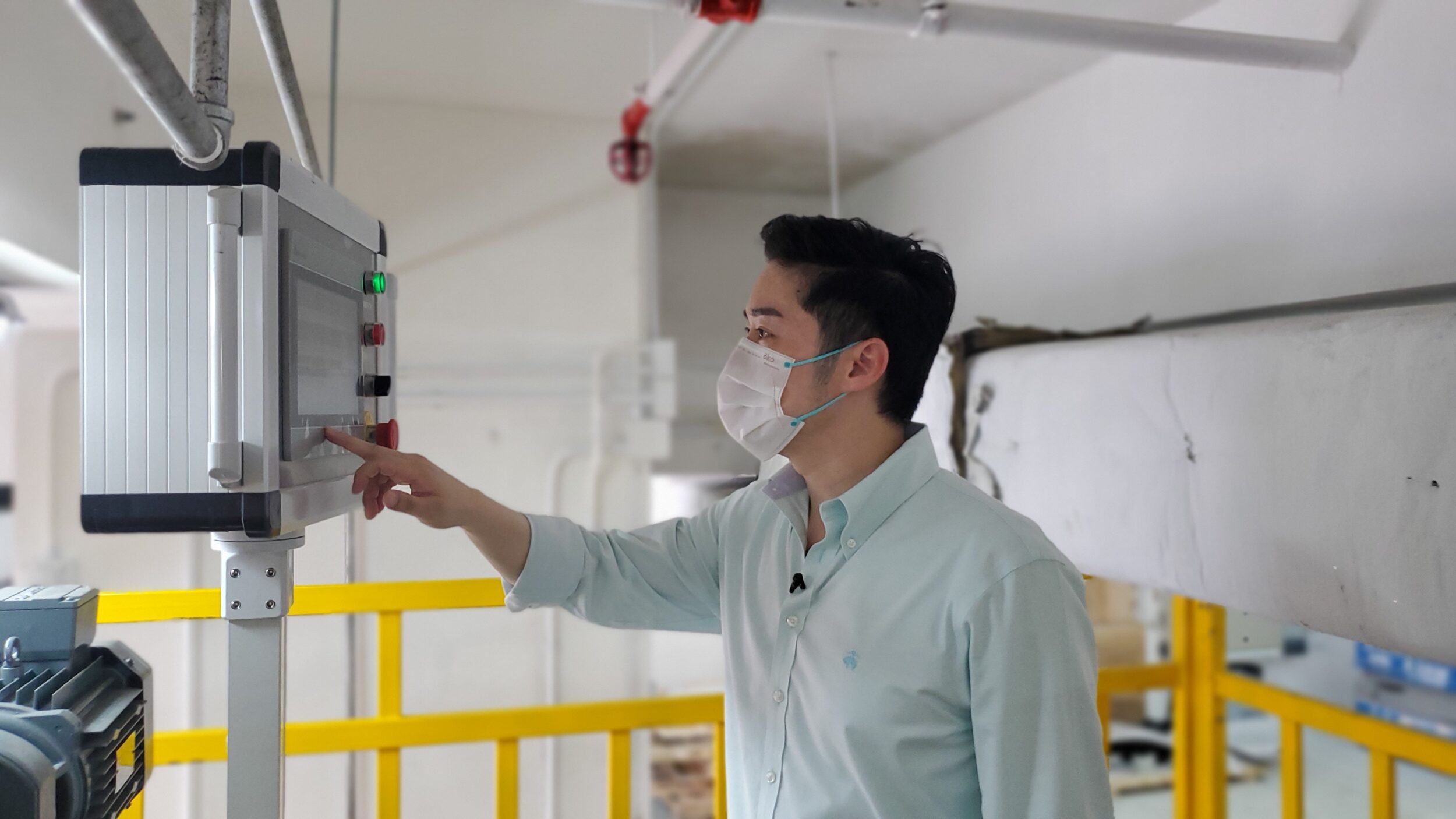 Beyond profit, commitment to the public
ÖKOSIX on the name tag is a pledge, a vision, and a determination to actualise the commitment and vision. The Nordic word "ÖKO" in ÖKOSIX refers to ecology and environment and is a nod from Eddie to his Norwegian partner; "SIX" conveys that ÖKOSIX products can entirely decompose within six months. Revenue is undoubtedly vital to an enterprise, but ÖKOSIX values its vision more. ÖKOSIX once hosted a sustainability forum with experts and players in the environmental / innovative technology sector and peers in the same field to share their views on the future directions of environmental protection efforts. When asked whether he was concerned about promoting for his competitors instead, Eddie replied positively, "I do not see them as my competitors, but as companions who drive forward environmental protection in Hong Kong." The alumnus hopes to join forces with all businessmen valuing sustainability to "expand their scope of influence" as they face challenges hand in hand. ÖKOSIX also takes the lead to organise environmental campaigns such as tree-planting, which is in the pipeline. Eddie hopes the activities will raise public awareness and deepen their understanding of how environmental protection matters to them, thus bringing together all parties to create a better Hong Kong for the future generation.
Most of Eddie's classmates are not engaged in industries related to their undergraduate studies. It is a valuable opportunity for him, as a Physics graduate who has applied his learning and won a First Runner-up award at the Entrepreneur Day of his alma mater, to share his experience with fellow juniors. He even encouraged CUHK students to choose to do something they love. Just like when he encountered many difficulties and struggled in the process, his passion fuelled him to persevere and succeed.