Passing on UC Spirit – Feature Interview of the New UC Management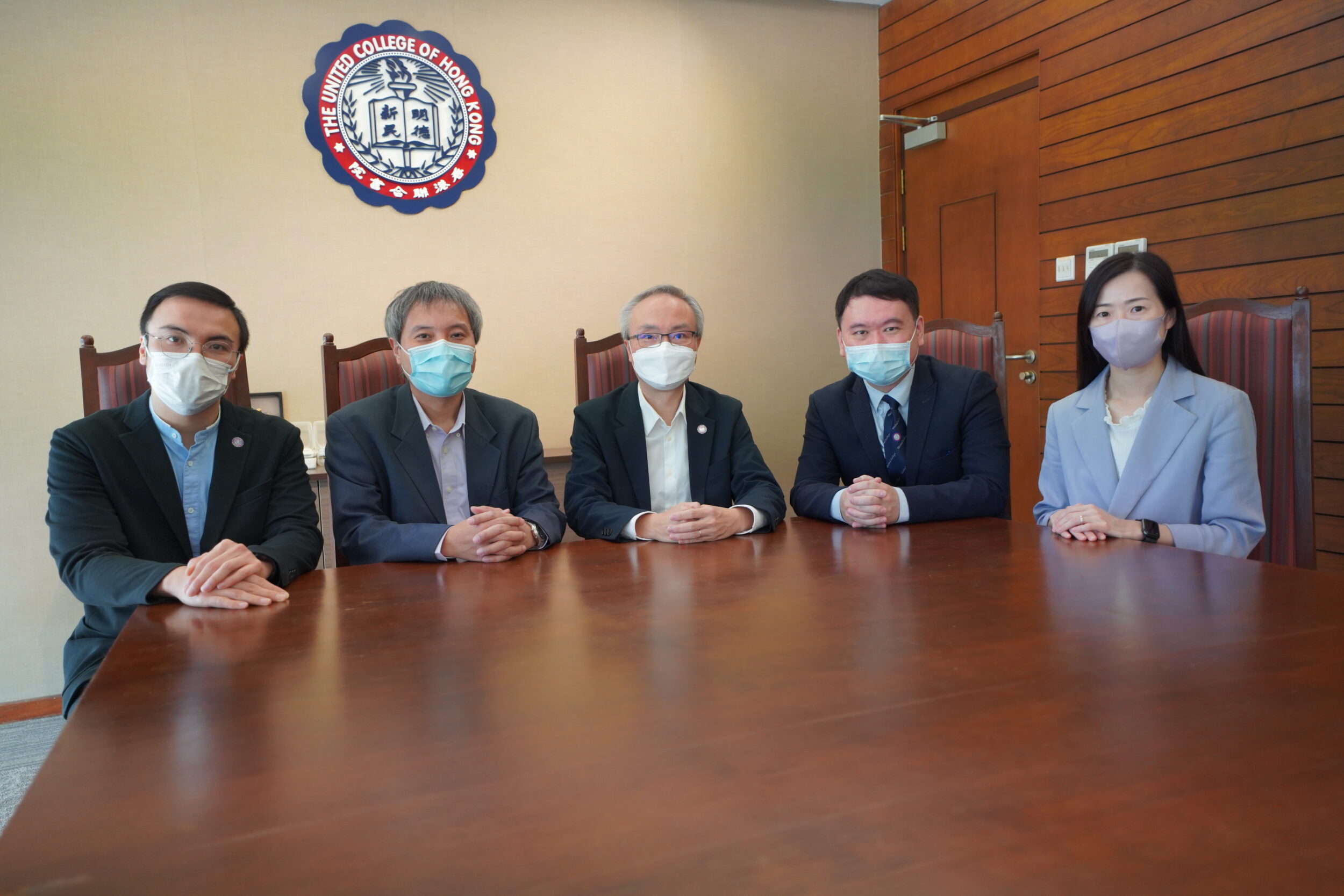 Interviewees: 
Professor Wong Chi Sang Martin, Associate College Head and Dean of Students 
Professor Lee Hung Kay, Associate College Head and Dean of General Education
Professor Tang Sze Wing, Associate College Head 
Ms Cheung Ka Yee Crystal, Associate Dean of Students
Dr Leung Tak Wah, Associate Dean of General Education
Script writing:
Dr Ng Ka Yi (05/CHLL), Department of Chinese Language and Literature
Student Translator:
NG Yuk Man Vincy (TRAN/4)
The five members of the new management have served United College for many years. We interviewed Professor WONG Chi Sang Martin, Associate College Head & Dean of Students, Professor Lee Hung Kay, Associate College Head & Dean of General Education, Professor Tang Sze Wing, Associate College Head, Ms Cheung Ka Yi Crystal, Associate Dean of Students and Dr Leung Tak Wah, Associate Dean of General Education to hear their stories with UC.
How They Became UCians
Professor Lee Hung Kay graduated from New Asia College. When he came back to work at the university in 1997, he was assigned to UC by the human resources office and started his journey with UC. "Back to work on campus, Professor Yu Chai Mei, former College Head, brought me to the regularly held UC lunch gathering on Fridays. The College brought me a college red tie as a gift. I still often wear it. It is not on the market anymore! The impression UC gives me is very different from that of NA me when I studied there. NA stresses tradition and Chinese culture, while UC is more energetic and pioneering; its atmosphere, environment and learning mode are in vogue," said Professor Lee.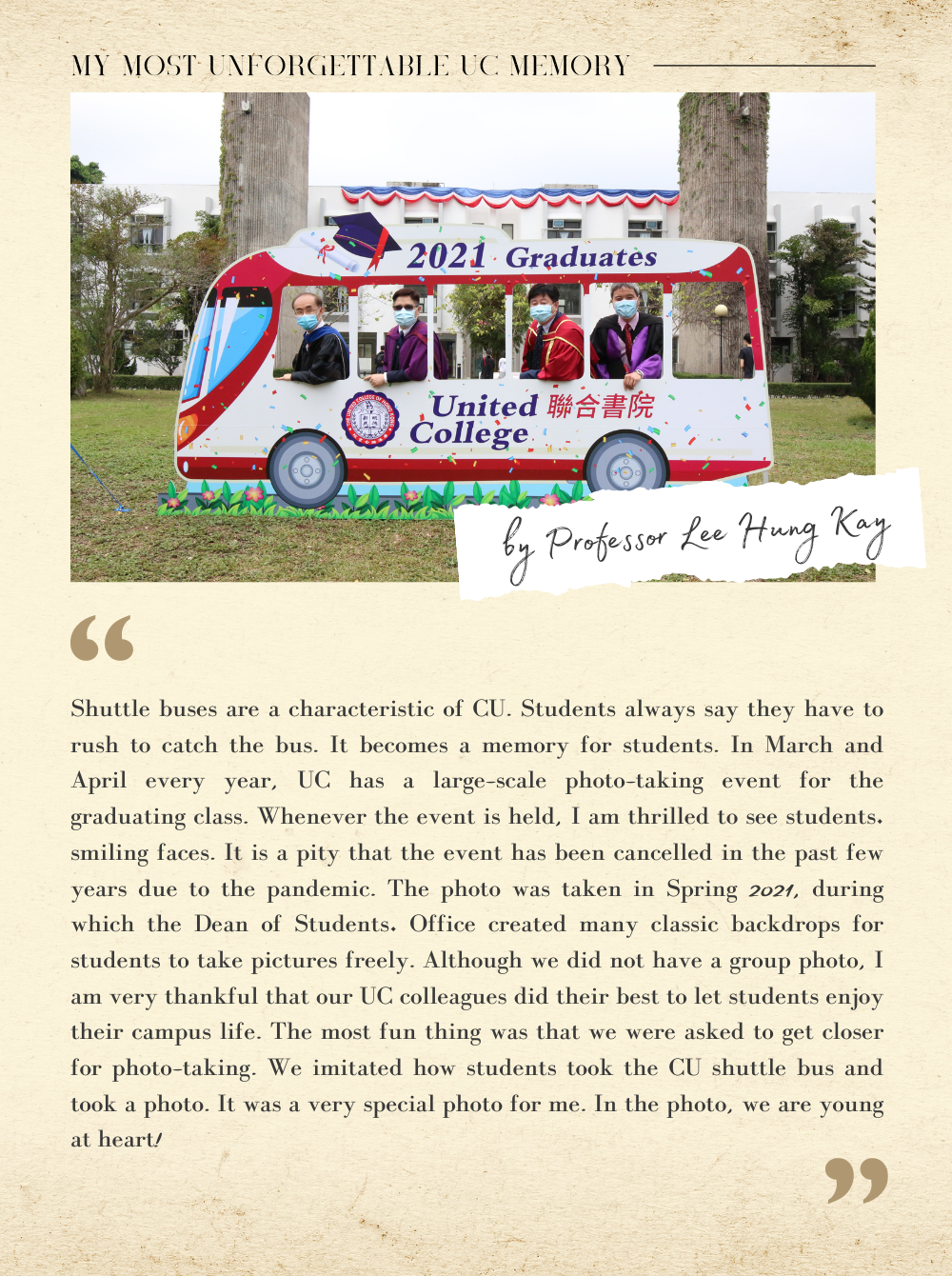 Professor Wong Chi Sang Martin was admitted to the Faculty of Medicine in 1990. During the orientation camp, he met the kind and friendly UC seniors and felt UC was like a big family that he later chose to become a part of. "UCians learn seriously, do things passionately and care about one another. We are a happy family," said Professor Wong. By the time he came back to work at the university in 2005, he could choose UC as his college on his own and he picked UC again. He thinks that UCians are united and hopes such culture will continue to exist.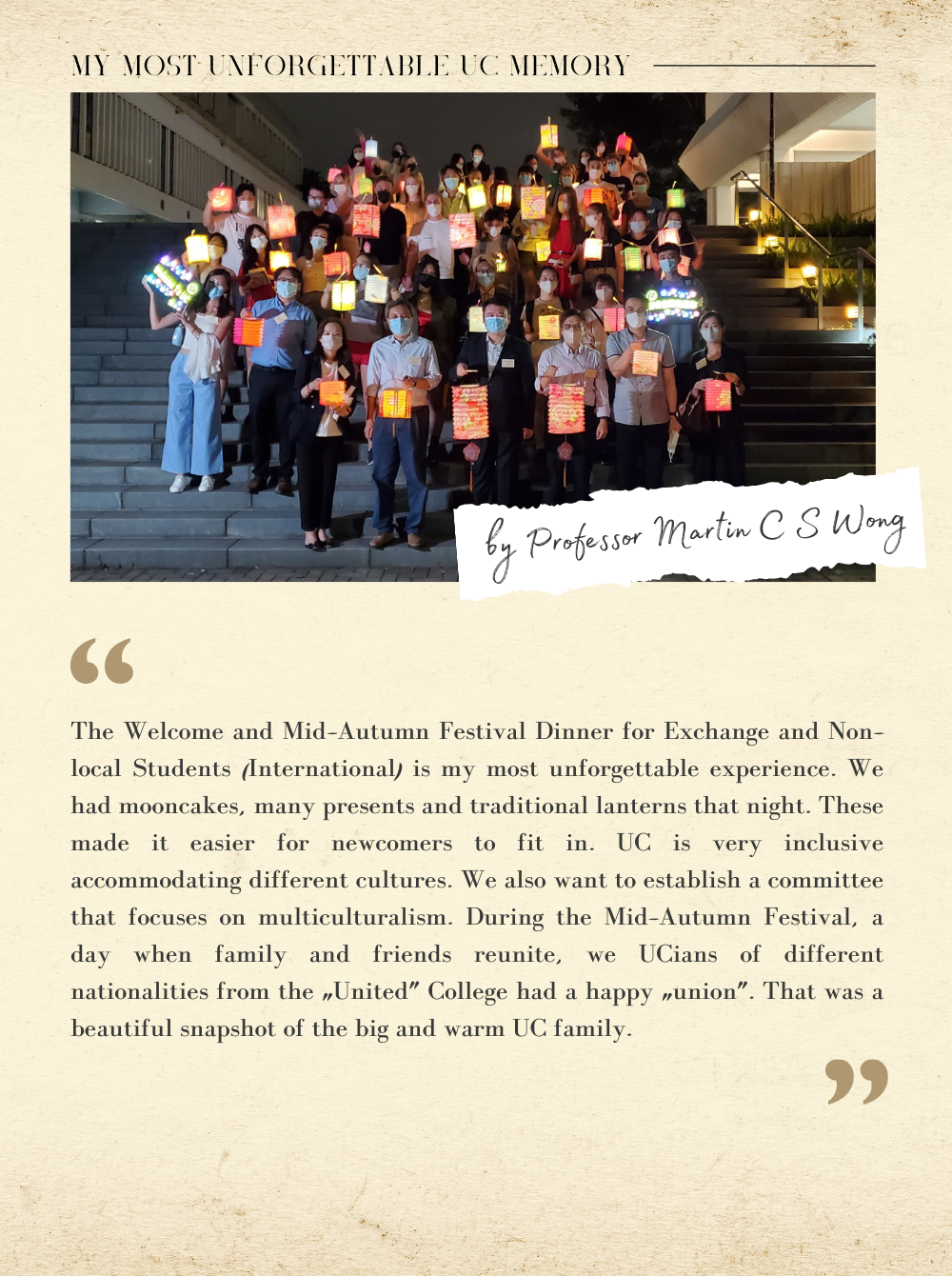 Professor Tang Sze Wing started working at CUHK in 2010 and chose UC out of the nine colleges because of UC's inclusiveness and innovativeness. "UC has a long history but no heavy burden of tradition. Instead, she has the spirit of achieving breakthroughs. Over the years, I have deeply experienced that UC can pass on her tradition and encourage creations. Such characteristics are embodied in both the students and the teachers," said Professor Tang.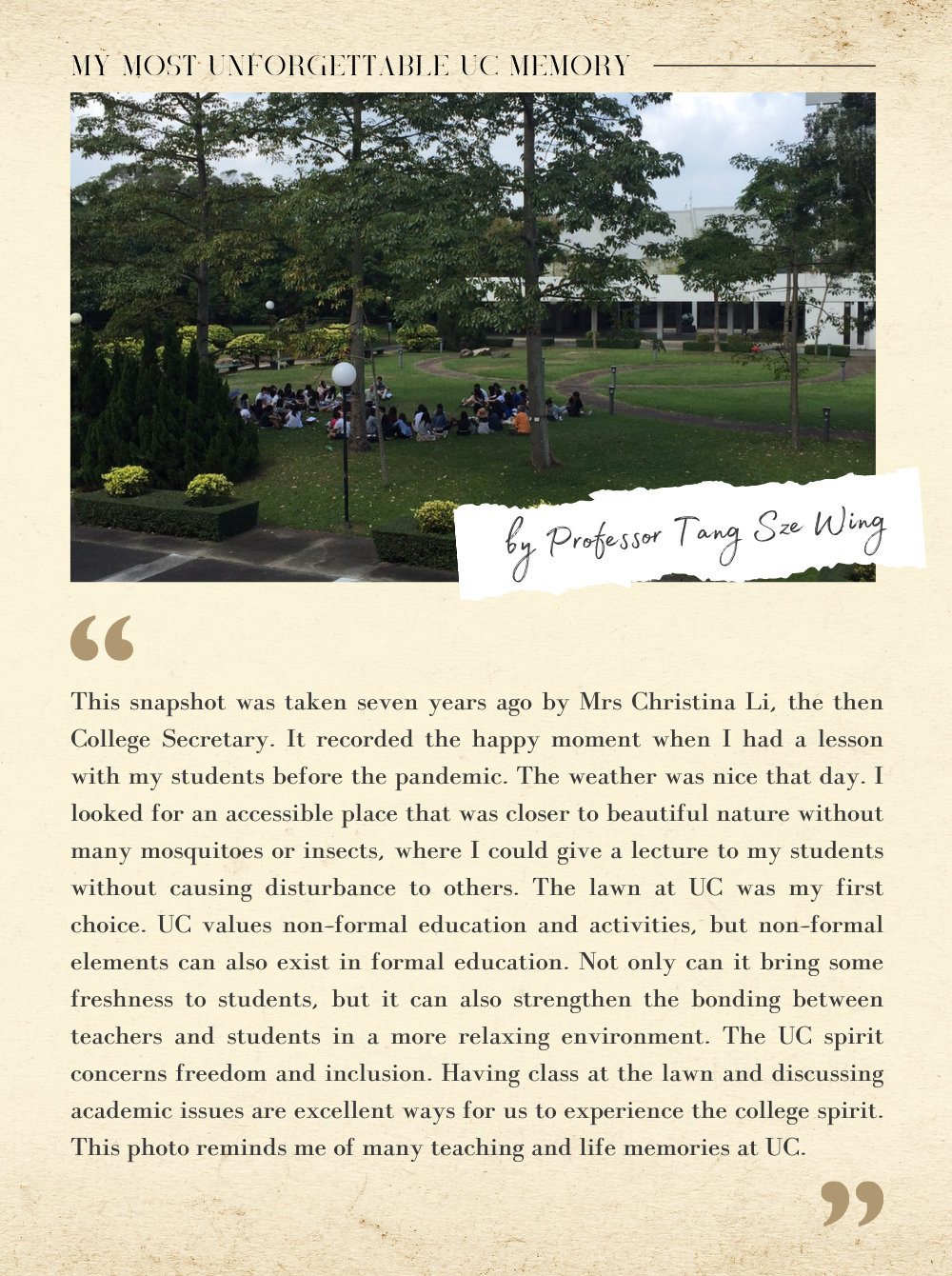 Ms Cheung Ka Yee Crystal was admitted to the Department of Sports Science and Physical Education in 1998. She heard from her best friend's brother that UC had fewer assemblies to attend and a beautiful campus environment, so she took his advice and chose UC as her college. "The College is very supportive of sports activities. Every year after all sports competitions, the College Head would treat students a meal. There were many big trophies donated by alumni in the PE unit. You will be awarded one if you have won at a sports event for three years in a row. I was lucky enough to win one for the women's 100m race and women's long jump. That was a precious memory," said Ms Cheung. When she came back to work at CU, she could not choose her college as teachers in the PE unit had to be evenly distributed to different colleges. "I succeeded a track and field coach's position at Shaw College when I came back to CU. A year later, when a colleague retired, I applied for transferring to UC. It was destiny. I thought I could never come back to UC for the rest of my life!"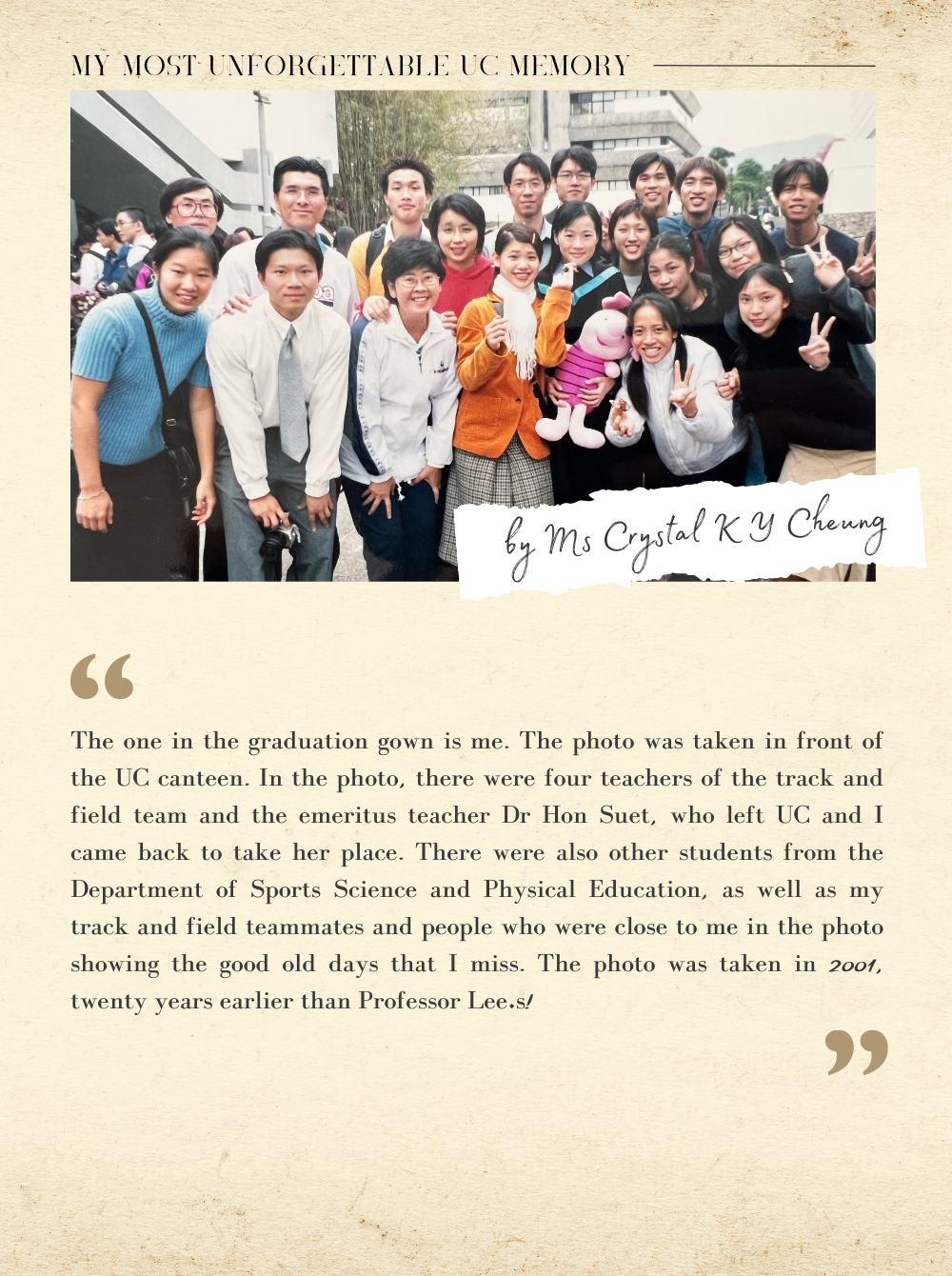 Dr Leung Tak Wah was admitted to CU in 2002. "We chose our colleges when we were in the orientation camp. My group leader was a UCian. Her influence was one of the reasons why I chose UC. I also took the fact that I had fewer assemblies to attend at UC into consideration. More importantly, UC's teachers were kind and friendly. Professor Chang Song Hing influenced me the most. I was the chairperson of the students' association of Chinese Language and Literature. When I told Professor Chang that we needed to promote our activities, he shook hands with me and told me that he was UC's teacher and that I could feel free to seek help from him anytime. In the past, teachers were usually more serious and there was often a distance between teachers and students. But Professor Chang was not like that. When I came back to work, I chose UC without hesitation. Professor Yu gave me a new edition of the red tie! It was a very warm welcome to new UC staff. With this welcoming gesture, we develop a sense of belonging very easily. Working at UC, I could feel UCians' warmth and kindness more directly," said Dr Leung.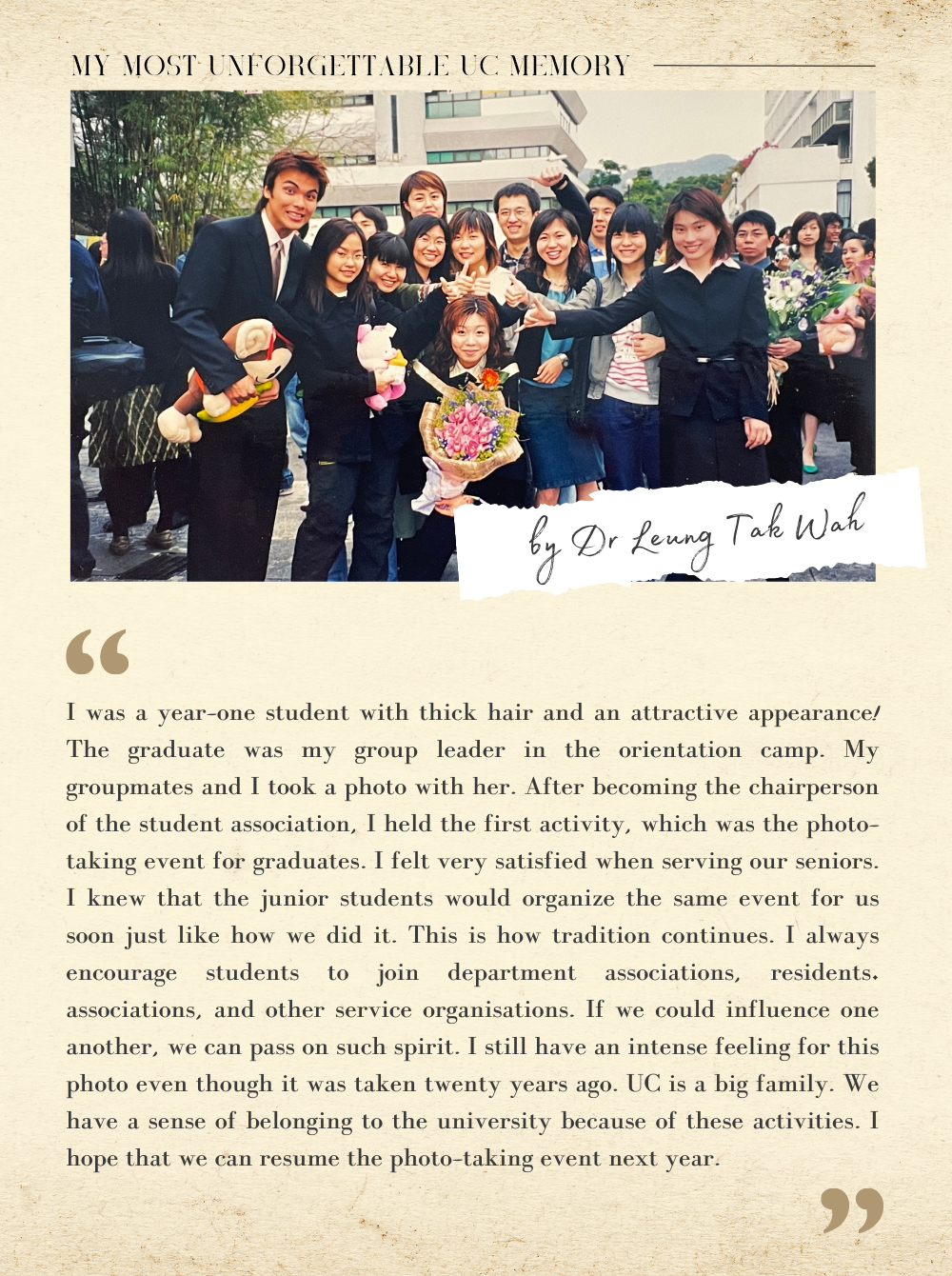 Work Plans of Student Affairs
Professor Wong said that the college is preparing a new plan that can help students to further develop their potential, including the provision of one-on-one mentorship. "If talented students want to have more advanced development, we will match each of them with a famous community leader so that they can have their mentors' care and counselling. They can also follow and learn from their mentors and broaden their horizons."
Professor Wong said in the past, he, as a medical student, just needed to be familiar with the professional knowledge of his own discipline. Nowadays, as there is more experiential learning and non-traditional education, the college encourages students to also develop other abilities. "Another objective of the new plan is to provide students with resources for having an exchange or even an internship overseas, giving them a chance to step out of the Hong Kong mode of learning. The third objective is to encourage students to serve people in need. If UC students want to initiate social services campaigns in Hong Kong, UC would like to support them with resources. The fourth objective is to train students to become global leaders. The new plan is expected to include the above four objectives, striving to nurture talented UC students as successful community leaders."
Last year, UC newly established the position of Associate Dean of Students, demonstrating greater emphasis on students' affairs. Ms Cheung said, "In the past few years, students mostly had lessons online. Now as they can come back to the campus, the college holds more PE activities for students to spend time with their schoolmates outside their classrooms and hostels. For the student wellness programme, UC continued to organise engraving classes, water-coloring classes, and mental health care activities, etc. The College Head also arranged a tea gathering for the management to learn more about students' situation and their needs". On the day of this interview, the management gathered with students from UC hostels and non-residential halls. In mid-November, they also met with the winning teams from other colleges in the Inter-collegiate Sports Competitions, UC men's and women's volleyball teams and women's swimming team.
Objectives of General Education
UC's general education is unique because of its emphasis on encouraging and guiding students to serve society. Professor Lee said UC values general education. With non-formal education as its vision and holistic development as its objective, the courses were designed in line with UC's motto "Make One's Virtues Shine and Renew the People". Professor Lee recalled, "I was lucky to have Professor Kwan Hoi Shan, the former Dean of General Education, to lead me in the process of designing the General Education courses. I learned many problem-solving skills from him. Also, there are many helpful colleagues in the General Education office. For example, Mr Lam Wai Yuen George has been working for General Education for many years. I often seek his advice about a lot of things."
Professor Lee pointed out that UC's general education is conducted mainly in the mode of service learning. For example, the elective courses for year two and three students, "Social Service: Participation and Reflection" and "Public Affairs: Participation and Reflection" were designed with the Departments of Social Work and Government and Public Administration. "It is a pity that UC general education accounts for only 6 credits. This makes it hard to achieve holistic education. GEUC courses are very popular. For instance, designed with the Scout Association, "Leadership in Practice" is the first credit-bearing leadership course offered by a higher education institution; "Bacchus: Exploring Grape Wine" is a course that introduces wine etiquette and table manners that are very important in Western culture and explores wine in history, culture, art, and economics, widening students' horizons. We also offer "Social Innovation: Social Enterprises & Demand" for students to learn more about societal needs and to develop an innovative mindset for solving social issues and helping people in need."
Although service learning contributes to the uniqueness of UC's general education, it also brings a future challenge. The university requires students admitted in 2024 and later to complete at least a one-credit course that involves service learning offered by their college. Professor Lee continued, "It will become something that all the nine colleges must do. The market competition becomes more intense suddenly. UC's intake of students is around 800 each year. We are working hard to facilitate coordination and this is a big project. We must contemplate the way we encourage students to give back to society so that they would not feel forced to do it for the credit, but rather experience the joy of giving, gain more from service learning, and promote their growth. We hope to launch a small-scale pilot scheme first next year to make timely adjustments possible."
Dr Leung added, "The university's new policy involves many stakeholders. First, the college's course design must live up to CU's expectations. This is a required course and it is very difficult to plan for it. For example, if we want to introduce the theory of service learning in the earlier sessions of the course, and provide service opportunities with the university's expected service hours in the later sessions, will external institutions be able to accommodate our students under such conditions? In the past few months, we have approached different NGOs, social enterprises, and charities to explain our objectives. Second, how can we incorporate UC's characteristics into the course? GEUC is a direct means of promoting UC's spirit and culture. How can we combine both in the course? Third, how can we live up to students' expectations and enable them to benefit from the completion of this course? Our biggest challenge is to take all these factors into consideration and design a new course that can benefit the college, the institutions offering service opportunities and our students."
New Direction in Strategic Development
Professor Tang said since the establishment of United College 66 years ago, UC has touched upon many affairs. "In the past few months, I found that college affairs gave me a heavy workload but also vibrant energy. Our College Head is very passionate and has mature ideas on the development of the college. I am very happy to work with many passionate teammates. Other than students, teachers are also an important part of the college. Dr Leung mentioned sending a tie as a welcoming gift to new teachers earlier. This was seemingly a very small action, but it clearly showed UC's care for the teachers. In the future, we should learn more about teachers' needs and provide support accordingly. This semester, we communicated with our departmental coordinators, illustrating that team spirit is crucially important. The departmental coordinators have full understanding of students and their co-workers in their departments. By establishing better communication with College management, the department coordinators can serve a bridge to make a better connection with UC.
Talents are precious assets. This year, we also invited experienced colleagues who had retired from UC to come back for gatherings. We were able to introduce UC's new development to them and seek experience from them, which is very useful to the college.
More importantly, as there are nine colleges in the university, how can we strengthen our promotion and communication to introduce UC's characteristics to new colleagues who are about to choose their colleges? This is just to cite one issue among many different areas of college affairs. We endeavour to develop UC in a more dynamic way."
Words for UC Students and Alumni
Professor Wong lamented, "Everyone is busy. Students must study and work for their associations; college staff has their teaching and research work to do aside from college affairs; alumni have their own careers. Yet, we still hope that they can come back and reunite more often. For example, during the celebration of college anniversary, we can meet with our students, colleagues, and alumni. To me, UC is always my family. If everyone takes some time to come back to UC, we can be more united."
Ms Cheung hopes that students can enjoy learning and their time with their schoolmates at the beautiful UC campus. "Such experiences are very precious, and you might never have them again in the future. In fact, during weekends, many alumni come back with their families and enjoy their afternoons on straw mats placed on the UC lawn. Surely we are happy to have our alumni participating in official events or giving back to the college, but it is also enjoyable for you to come back alone and walk around the campus. UC's alumni often stay in close contact. Even non-residential halls got their own alumni associations, which is impressive. I look forward to keeping in touch with other alumni to pass on what we have."
Professor Lee said, "We often say UC is the best. I totally agree with it. UC students excel in many aspects including academics and PE activities. I hope students could also care about their health and do more exercise while studying hard and completing heavy schoolwork. Also, it would be great if our alumni can come back more often to enjoy the stimulating campus environment and to be reminded of the memories they created here."
Dr Leung wishes UC students an enjoyable campus life. "The four-year campus life is precious. When you enter the workplace, you might hardly get to make decisions freely. I hope that students can plan and spend time wisely when working on their studies or executing their plans. If you come back to UC, you could pay more attention to the changes to the campus. Back in the day when I studied at CU, Chan Chun Ha Hostel did not exist. Now we will have Choi Kai Yau Residence in two years' time. As the campus introduces new things from time to time, every time we come back to UC, we have the feeling that this is a timeless place with the familiar environment and new changes."
Professor Tang said, "UC is inclusive and free. Our alumni, teachers and students all are open-minded, which encourages them to often gather with one another. Especially in the time where we have freedom, students should bear in mind the lyrics of our college song, 'understand the timing and stop or go on with it wisely'. Think about its meaning and take action to gain more knowledge. I hope this is incredibly useful for students' life and career in the future. This is the most valuable thing about learning at UC."
Education is about passing on. With the UC management's passion for education, the college's good tradition will be handed down and more and more students will benefit.