"Strolling through the Streets and Alleys of Kwun Tong" Local Guided Tour – Social Innovation and Experiential Learning Project (SIEL) 2021-2022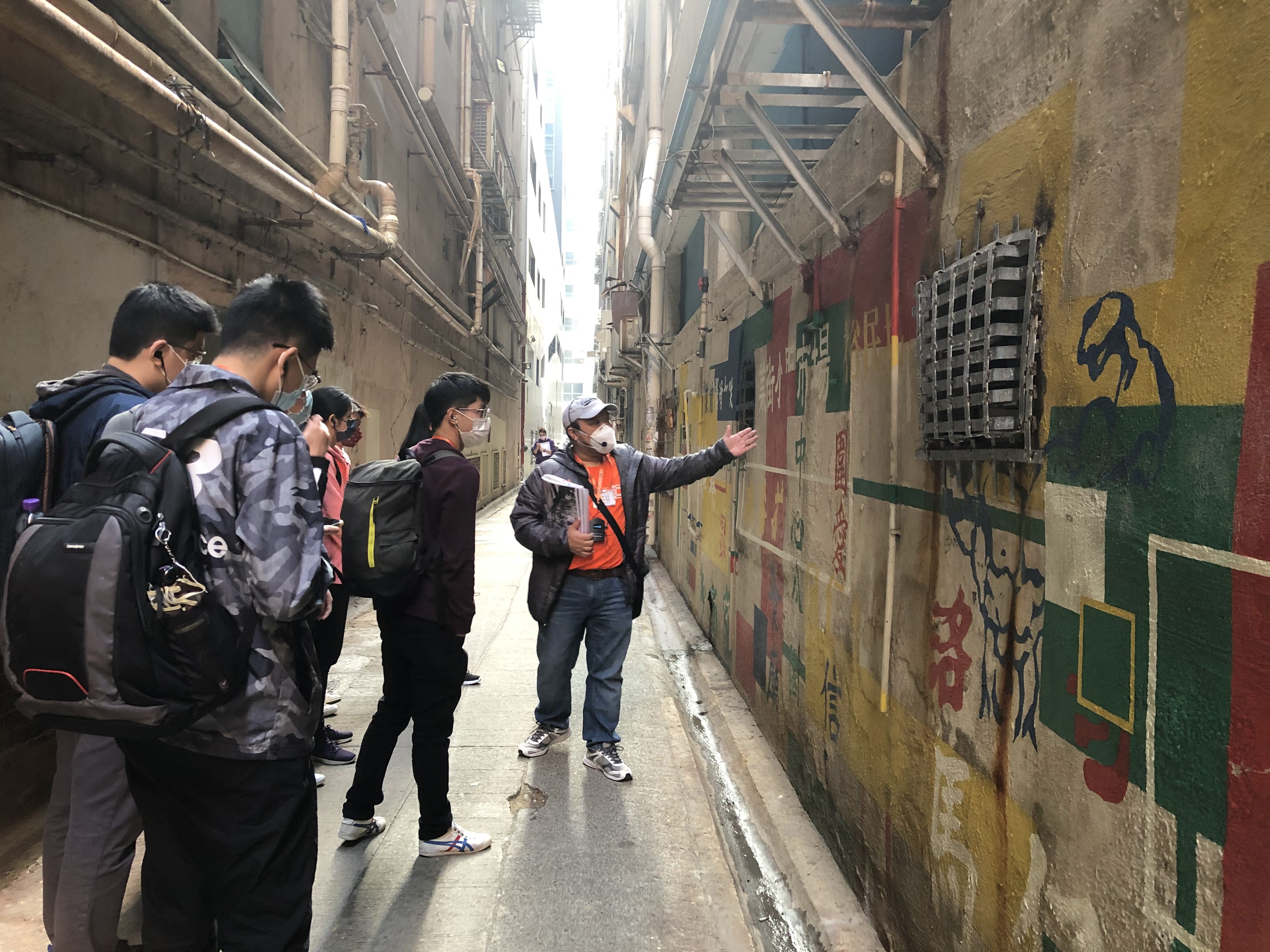 In recent years, the idea of social innovation has been connected with our everyday life. Meanwhile, United College SIEL has come to its third year of introducing different local social enterprises to students. By getting some first-person experiences, students can understand more about the ideas and mission of the social enterprises. They are also encouraged to observe the things happen around their communities, identify social problems and look for solutions. In fact, social enterprises are independent and self-financed organisations even though their goals are to serve the communities and solve social problems. The balance between achieving the goals and sustaining the business is a knowledge that every student should explore.
SIEL 2021-2022 cooperates with Kai Fong Tour again to organise a physical guided tour in Kwun Tong. Our tour guide, Ken, is a retired businessman who has been living in Kwun Tong for decades. He brought us to different "landmarks" and elaborated on the past, present and future development of the district and shared some interesting neighbourhood stories.
Ken has witnessed the urban renewal project at the heart of Kwun Tong District, the rise and fall and redevelopment of the industrial area. Participants listened to his sharing with great interest.
Students found the beautified back alleys of "Back Alley Project @Kowloon East" particularly interesting. The project was one of pilot projects of the government's "Smart City" initiative. The renewal of the back alleys has greatly improved the hygiene and safety which in turn helped to ease some traffic problem in the district. Students were attracted to the colourful street arts and took many pictures.
Before ending the tour, Ken brought everyone to a green space near Tsui Ping River (Tsui Ping River Garden, formerly Shing Yip Street Rest Garden) to share their thoughts and comments about the tour. The reprovision project is one of the sustainable building projects in Kwun Tong. During the sharing, students expressed that it was a meaningful experience to observe Kwun Tong from a new perspective. One of the students, who has worked in Kwun Tong for some years, told us that he didn't expect to have learned so much more about the place.