You See 360° – College Assemblies of United College, 2023-2024 Term 1 (Part I)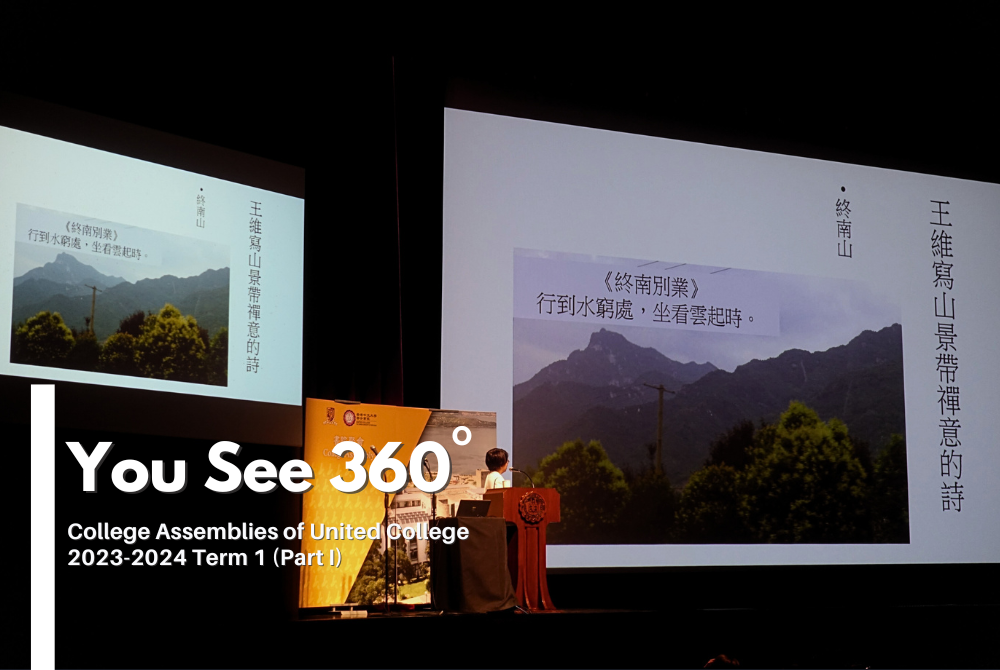 A total of 14 different formats of college assemblies would be held throughout Term 1 of 2023-2024 with the theme of "You See 360°". Let's recap the first to seventh assemblies:
【Sharing on United College GOAL Programmes by Students】
The first College Assembly was held on 19 September 2023 at Sir Run Run Shaw Hall. Professor Stephen H S Wong, College Head, has presented prizes to five winners of the United College Bomber Jacket Design Competition (click HERE for list of awardees and designs).
Afterwards, six groups of students who joined the College Globe Oriented Active Learning (GOAL) Programme in 2022-2023 had shared their fruitful time spent, and inspiring experiences obtained outside Hong Kong. These students had been to the University of York in United Kingdom, Harvard University and Williams College in the United States, University of Sydney in Australia, University of Oulu in Finland and Taiwan Toy Library Association. The College wishes that student could have a deeper understanding in College GOAL Programme via sharing of peers on their overseas studies and service-learning experiences.
【Fitness Workshop – Strength & Conditioning】
Different from the ordinary college assembly format, the College has organised our very first Strength and Conditioning Fitness Workshop for 100 students at the UC Thomas H C Cheung Gymnasium on 22 September 2023.
Dr Robin S T Ho of Department of Sports Science & Physical Education was invited to conduct the Fitness Workshop in English. Dr Ho introduced basic theories and explained how strength and conditioning is different from other interval trainings. With the provision of elastic bands and yoga mats by the College, the participants were able to perform some simple exercises to strengthen certain parts of their muscles according to Dr Ho's demonstrations.
【《Young Alumnus Sharing (1) 》 From wingwingyumyum to wingelbagel — The Power of Instagram and Start Your Business with $0 Cost】
The College has organised the first small-scaled assembly with an audience size of 30 students at the Si Yuan Amenities Centre on 27 September 2023. Ms Wing T W Wong (21/COMM), founder of the bagel shop 'Wingel Bagel' and college alumnus, was invited to share her entrepreneur experience during her undergraduate studies. Wing also prepared some of her bagel products and presented to students who actively participated in the Q&A section.
【"Student Life Charter" Signing and Introduction of Student Union, Six Resident Associations and Non-residential Halls】
Professor Martin C S Wong, Associate College Head and Dean of Students, briefly introduced the background and contents of UC Student Life Charters to over 1,000 students at the Sir Run Run Shaw Hall on 29 September 2023. Representatives of various student organisations signed the charter on stage with the witness of college guests, including Ms Lina H Y Yan, Chairman of the College Board of Trustees, Professor Stephen H S Wong, College Head, Professor Martin C S Wong, Associate Head and Dean of Students, Professor Lee Hung Kay, Associate Head and Dean of General Education, Professor Tang Sze Wing, Associate Head, Ms Crystal K Y Cheung, Associate Dean of Students and Warden of Adam Schall Residence, Dr Leung Tak Wah, Associate Dean of General Education and Warden of Bethlehem Hall, Mr Wong On Tung, Warden of Hang Seng Hall, Professor Faye S Y Tsang, Warden of Pak Chuen Hall, and Professor Eunice L Y Tang, Warden of Ping Fan Hall.
After that, the Student Union and the six Residents' Associations and Non-residential Halls introduced their cabinets and upcoming activities to the audience.
【Enchanting Explorations: Uncovering China Through Tang and Song Poetry】
Dr Cheung Shin Yee, Board Member of Hok Hoi Library and CUHK alumnus, was cordially invited to the College Assembly on 6 October 2023 at the Sir Run Run Shaw Hall, to share the China's scenery mentioned in the Tang and Song Poetry from the perspective of travel.
Dr Cheung had chosen a few famous poems of Tang and Song Dynasties, explaining the famous scenic spots mentioned within and elaborating with many photos taken at her visit. Her travel stories and detailed elaboration delivered a vivid impression to the participants.
Towards the end of the talk, Professor Stephen H S Wong, College Head, presented souvenir to Dr Cheung and invited other Board Members of Hok Hoi Library, including Professor Fung Kwok Pui, Ms Tuet Sun Fan, Dr Ng Chi Ho, Professor Lee Yun Woon, Mr Lo Foo Cheung, Mr and Mrs Raymond W S Lo, for a group photo.
【《Young Alumnus Sharing》(2) Imaginations of 'Strollology'】
Dr Sampson Y H Wong (07/GPAD), Lecturer of Urban Studies Programme of Department of Geography and Resource Management and college alumnus, was invited to share Imaginations of 'Strollology' at the second small-scaled assembly at the Si Yuan Amenities Centre on 11 October 2023.
Strollology is a new concept in Hong Kong which emerged during the pandemic. It aims to explore and uncover the hidden parts of the city through mindful walks. Dr Wong showcased a lot of photographs of Hong Kong landscape and recommended several routes for applying the Strollology to the audiences.
Dr Leung Tak Wah, Associate Dean of General Education and Warden of Bethlehem Hall, presented the souvenir and votes of thanks to Sampson at the end of the assembly.
【Sharing by Awarded Teams of 2022-2023 GSSA Competition and Short Chats with Young Entrepreneur】
The College Assembly held on 13 October 2023 was taken place at C1 of T C Cheng Building. In order to accommodate more students, C2 and C3 were open for students to watch live stream broadcasting.
In part one of the assembly, the College invited the two awarded teams of the Group Sense Social Innovation and Sustainable Award (GSSA) Competition 2022-23 to share their Sustainable Development Goals-related projects with the audience. Two teams, Cheer Cup (@cheercup.cuhk) and EcoSeeds (@ecoseed_cuhk), have shown great efforts in solving problems in the community. Cheer Cup aims to promote the use of reusable cups and reduce the use of disposable tableware; while EcoSeeds aims to reduce the amount of food waste by collection, sorting, reallocation and reutilisation.
The College also invited two young entrepreneurs of well-established social enterprises to share their experiences and difficulties in operating their business in part 2 of the assembly. The guest speakers were Ms Yip Hiu Wai (Ding Ding) (16/SOCI), college alumnus and founder of Festyle, and Mr Luke K L Tam, founder of Kaifong Tour.
Festyle and Kaifong Tour both aim to tackle problems in our community but in different directions. Festyle promotes healthy diet, responsible consumption, female employment, and gender equality. On the other hand, Kaifong Tour aims to strengthen the connection and cohesion in the different communities of Hong Kong, and promote the local community cultures.
Professor Lee Hung Kay, Associate Head and Dean of General Education, presented souvenirs to our guest speakers respectively. A group photo was taken with Ding Ding, Luke, Cheer Cup and EcoSeeds.