For the Development of Students' Physical and Mental Wellbeing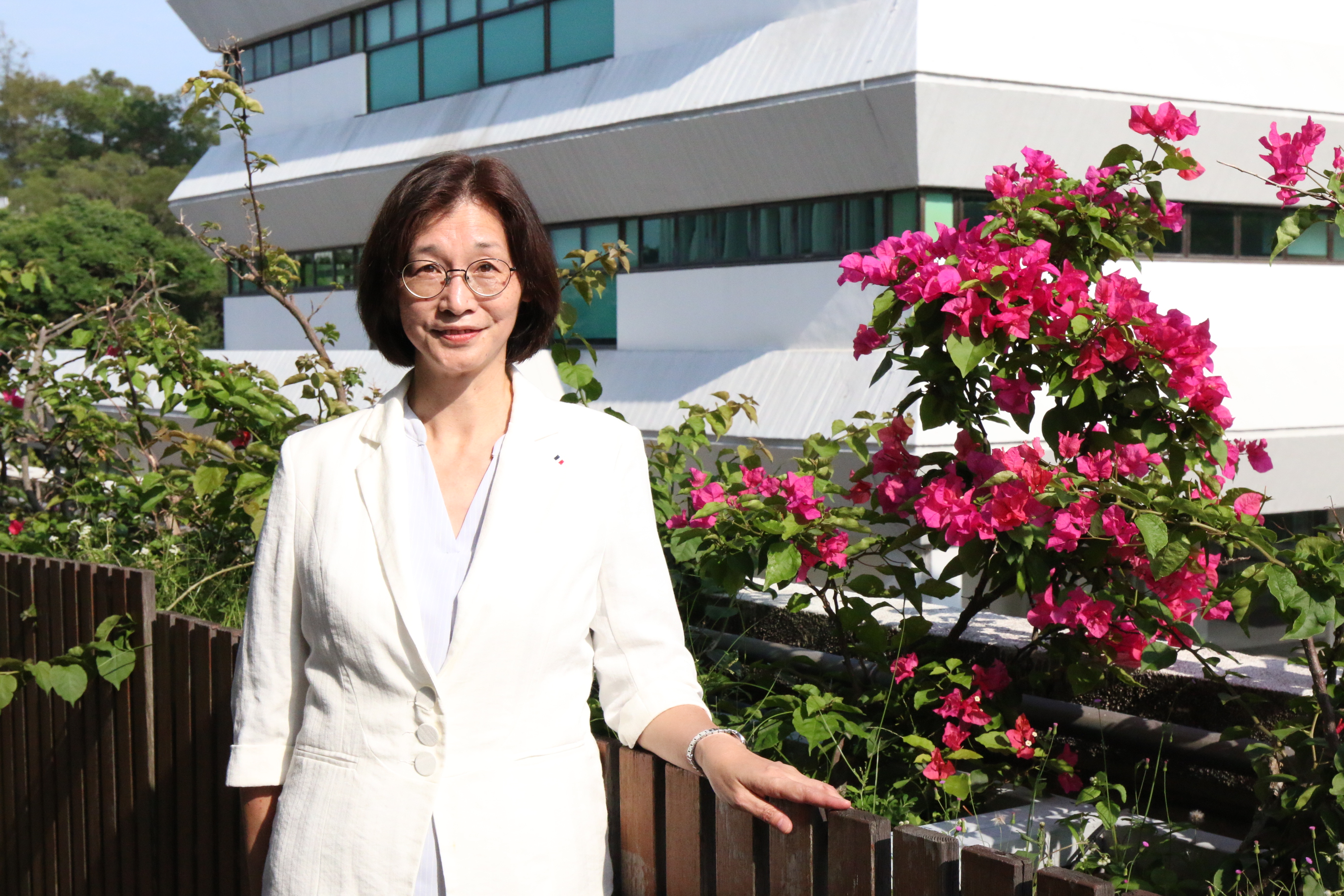 (Chinese) 文蘭芳(75/中文)
(English) Student Translator: Charlotte Ip (TRAN/Year 3)
In response to the College Head's cordial invitation, Dr Lau Yuk King from the Department of Social Work began her service as the Associate Dean of Students in mid-May 2021. While she considered the commitment a dream come true, she felt anxious at the responsibility.
Dr Lau joined United College in 2001 and has been part of the huge family ever since. "I have spent half of my life here." She recalled with a delightful smile. An alumnus of the Chinese University of Hong Kong, she is currently teaching family counselling in her alma mater. "I have developed a deep emotional attachment to the university. My students feel like siblings, and they genuinely are because I was once a student in the Department of Social Work, which made them my juniors. There's a natural affection beyond description."
Experiencing the College Spirit Through Involvements
Dr Lau has been highly involved in college activities throughout her 20 years of membership. One of the worthy highlights is teaching College General Education. "It is not an easy job. Frankly speaking, a couple of students dislike the subject, especially the component of Final Year Project where they must collaborate with peers of various disciplines. If they fail to form groups, they will be randomly assigned to one and the concern of compatibility arises. Now, a capable instructor will encourage students to confront the issue and initiate communication, upholding the purpose of education. Our students may not be familiar with social research, but it is our job to enlighten them with ways to think. The results don't have to be groundbreaking, what's essential is the process."
Amongst all of Dr Lau's college-related undertakings, the Canteens Management Sub-Committee is her longest commitment and one she believed as very important. The United College Canteen was criticised as the worst eatery in the university a long time ago. The reason, as Dr Lau pointed out, is the difficulty in finding a suitable food service operator. "There was a company which handled the staff canteen well, but not the student canteen. The college still ended up breaking the partnership because students' welfare is the priority. The United College treasures every student and always puts their well-being first, a point that I agreed having been around for 20 years." Scholarship is another item that clearly manifests the college mission. As a panellist of the selection committee for such recognition, Dr Lau exclaimed at the enormous number of awards that have been offered, adding that it reflects the college's dedication in claiming resources for students. "'First-in-the-Family Tertiary Education Admission Scholarships' is the financial aid I most appreciate. Families of potential awardees do not possess much social capital, therefore, having their children admitted to the university is indeed an accomplishment worth recognizing." The college recently established a scholarship designated to laud recipients' resilience thanks to a new donor's proposal. Students with special educational needs but still performed well academically were chosen as the target. "We thought they did amazing." Dr Lau explained. "We are constantly striving to conceive what type of learners deserve our cherish and credit. While rewarding the academically outstanding, we also seek to highlight those who persisted despite the circumstance. Promoting elitism is never the goal, but celebrating diversity is. This is what I very much like about the college."  
Awareness of Students' Physical and Mental Health
As a teaching staff of the Social Work Department, Dr Lau keeps close contact with her students. When asked about why she accepted the post of Associate Dean of Students, she recounted in a serious manner, "Conversing with pupils is something I often do. About one or two years ago, I started feeling their helplessness and powerlessness. Research from the field of Developmental Psychology reported that teenagers ought to be ambitious, enriched with imaginations of the world's possibilities and expectant of things to unfold in the best circumstance. Yet many plans cannot be realised in the current condition, leading to a strong sense of hopelessness." Thus, Dr Lau always encourages youngsters to seize the moment, study hard and equip themselves with the appropriate knowledge and skills to attain their goals. However, she also raised the importance of staff support. "If we also stay estranged, our juniors will only feel more vulnerable. Therefore, I have strived to devote myself to them for the past two years, seeking to chat and motivate them when possible." When the pandemic receded, Dr Lau went out to watch "Frozen II" and remembered Princess Anna saying, "When you see no future, do the next right thing" when she was alone. "I ended up posting the dialogue on my billboard right opposite to my computer, hoping that my students in Zoom can see it. I tried to inspire them from the smallest of places." It is with the aspiration that she could contribute to the students she took up the role.
Speaking of new events, Dr Lau confided that she is still brainstorming and planning with her colleagues and the Dean of Students' Office. The preliminary idea is to launch some student-oriented activities with the theme of "Wellness" and an aim to relieve young people's stress and offer them a listening ear. "We will be enlisting help from resident tutors as they are directly in touch with the youths. Wardens will also be approached as the six halls already include the entire student body. Rather than adopting a top-down approach in rolling out a series of events, we hope to consult our future participants' opinions on the constructive campaigns to be held and support their cause." 
To all alumni and members of the United College, if you treasure this family, do show your appreciation and participate actively in the upcoming activities!