UC Mini Art Fair 2023 | The UC Spectrum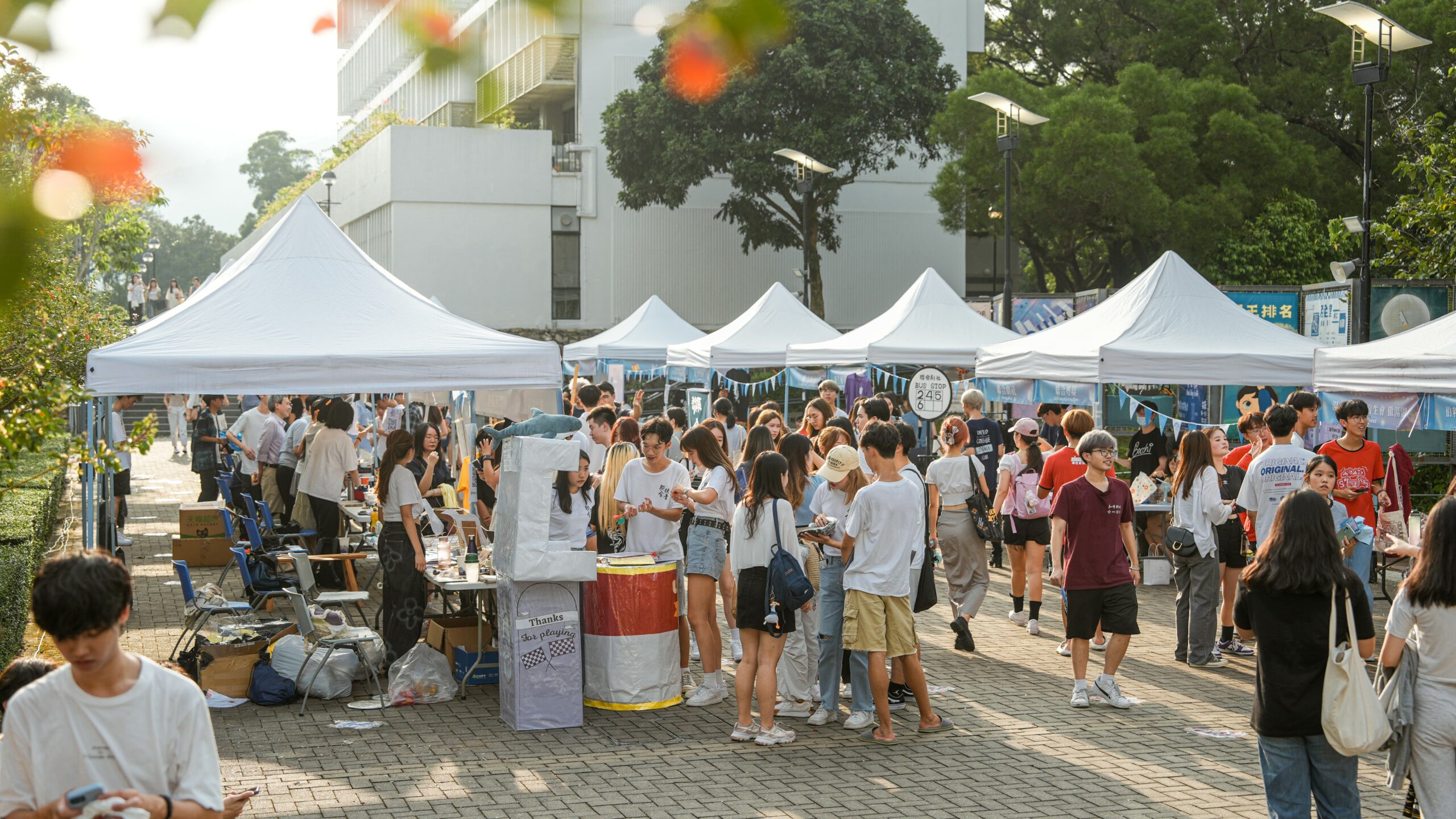 After the typhoon Signal No. 10 passed, the sun finally shined on the first day of semester. The UC Mini Art Fair 2023 was successfully held on 4 September 2023. The College prepared a series of activities to warmly welcome our students to gather once again beneath the UC Water Tower.
---
Create Opportunities to Know More About UC
The Mini Art Fair served as a promotional platform for student societies to connect with more fellow students, while other UC students can explore the wide range of activities offered by different units of UC and feel the vibrant and colourful College life. Over 20 United College student societies and college-initiated programmes (including Student Wellness Programme, Shum Choi Sang Mentorship Programme, UC Choir, Social Innovation and Experiential Learning Project (SIEL)) designed their booths and prepared souvenirs for the students. Students may redeem a college souvenir, the UCian phone cord, by visiting to 10 booths and completing their booth tasks.
Explore the UC Campus to Redeem Ice-cream
While freshmen are not yet familiar with the campus environment, those students who rarely return to UC may not have a chance to visit some of the places before graduation neither. To help the students be familiar with the campus, five checkpoints were set up around the campus. By completing tasks at each checkpoint, students could redeem a free ice cream.
Capture the Moment When We United
First day of semester embarked the start of a whole new year. It deserves to be cherished and remembered. The college arranged the UC instant photo booth for our students to capture the precious moment on the first day of school with friends. Students were excited to try on different accessories and take a series of hilarious photos with their friends. Three members of the college management team also tried out the trendy camera with joy!
Seize the Day and Enjoy Busking
The College specially invited Wanted Music a music band formed by three UC alumni, to have a music performance at the lawn of Adam Schall Residence. They performed numerous songs from dawn to dusk and even had an impromptu "Jam Session" with the College students, attracting a crowd of audience and elevating the atmosphere to its peak. 
Watching the sky transition from orange yellow to purple, while admiring the beautiful scenery of United College with music, the entire College spent the most chilled-out evening on the first day of school.