Feature Interview of Distinguished Athletes of United College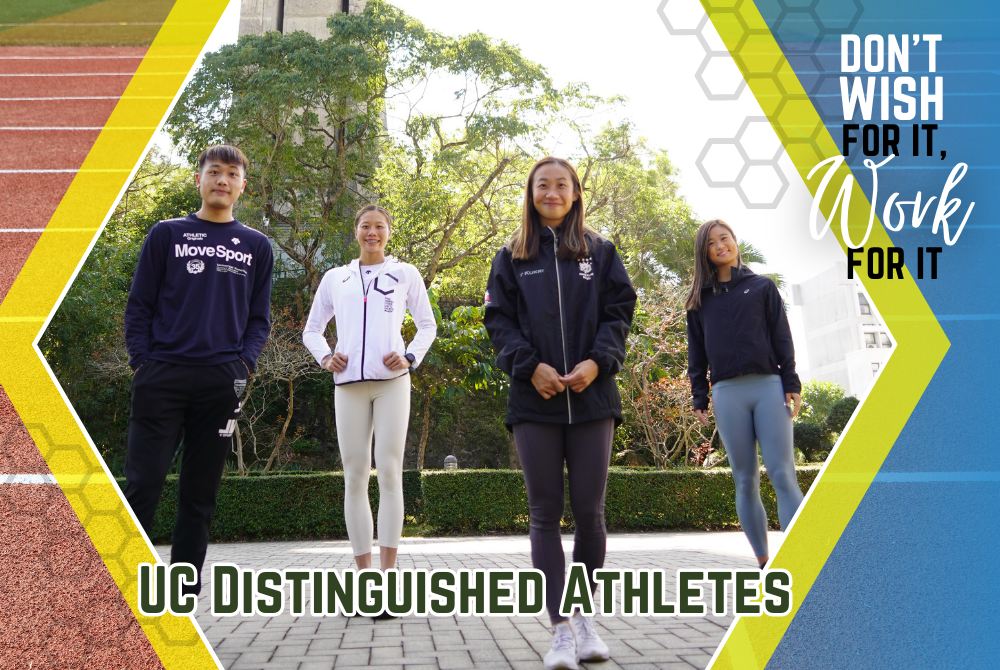 Interviewees:   CHONG Ka Yan (2016/PESH)
    LAI Ching Pong Jj (2019/ ESHE)
    CHOI Yan Yin Hilda (2019/GRMD)
    YUE Nga Yan Tiffany (2022/FNSC)
Student Translator: Ms Charlotte Ip (TRAN/4)
Physical Education (PE) is an important facet of education. Having traditionally attached great value to PE, United College (UC) has attracted many student-athletes to join her big family over the years.
Ample Resources and Heartfelt Care
The College endeavours to provide a variety of sports initiatives for students such as inter-hall competitions, sports scholarships, and the Athletic Meet, to name a few. Record-breakers will also be rewarded. An excellent sportsman takes not only talent and hard work but also opportunities and proper support. In Hong Kong, however, since volleyball is not classified as an "Elite Sports", the career of a volleyball player is especially tough.
Alumnus JJ Lai, a.k.a "The in Hong Kong Men's Volleyball Team", explained that elite athletes are eligible to receive professional training in the Hong Kong Sports Institute (HKSI) as long as they reach a certain threshold under the "Elite Sports" catalogue. Boasting abundant resources, HKSI provides athletes with a well-rounded support network, which includes accommodations, meals managed by dieticians, and physiotherapy. "But we didn't have them. Even as representatives of Hong Kong, we can't be trained in the HKSI. You can never be a full-time volleyball player in Hong Kong; there isn't a full-time team; it's upsetting. You can only seek opportunities abroad when you perform exceptionally well. This is the rather hard part, but the most fulfilling too because I did it eventually. A crucial factor comes from the scholarships from both the university and the college, which allow me to settle expenses like plane tickets, accommodation and secure opportunities to train under a professional team abroad. These experiences gradually opened up opportunities for me to practise the sport overseas."
Hong Kong triathlon athlete and college alumnus Hilda Choi also said, "My (orientation camp) group leaders all said UC is rich in resources such as scholarships. That was also why I chose UC at first. Also, the College's Goal programme allows for ample exchange opportunities; sponsorships are also generous. Many of my college friends visited different countries (through this programme)." Tiffany Yue, Hong Kong long jump athlete and a recent graduate, also assented, "The college is indeed very supportive of student-athletes. Apart from offering us a guaranteed hostel place, staff will also remind us of when to submit what forms and things we have to do." Hilda recalled that she used to enrol in a few events in the inter-school athletics meets on behalf of the university, which was quite tiring. But every time, the college prepared treats like luncheon meat and egg sandwich, lemon water and hot Hong Kong-style milk tea for them to regain energy. "There were times when the budget was tight, probably, that the sandwich became bread with butter! These may seem trivial, but they reflect the college's care for student-athletes," she recounted with a smile.
University Life in Retrospection
Life as a sportsperson is by no means mundane, despite having a tight training schedule. Alumnus Chong Ka Yan was a PE major and committee member. She said, "Luckily, people who study PE are very understanding and helpful. If I have to attend training or competitions, other committee members will share my workload." JJ also led an ordinary campus life — turning nights into days occasionally, chatting with friends after meals and having tea after class. "My fondest memory is at the UC canteen, where we dined every night after team practice. At that time, I hadn't adhered to a strict diet yet; I ate whatever I liked. The food was delicious, and the canteen staff were very friendly." Tiffany also agreed, "When I first entered the university, I often heard others criticising the food on campus, but I think, on average, UC serves the best eats! The minced pork rice was pretty good, and the staff were really kind to students. They recognised us. It was a place of kindness." But Hong Kong rugby union player Ka Yan smilingly begged to differ, "Perhaps we come from different generations. At my time, the UC canteen wasn't up to par. I remembered they served a type of sauce called 'Africa sauce'. No one knew what that was, so we dared not to try!"
Hostel life was also memorable. JJ shared that UC, located at the mountain top, is very spacious and comfortable. Tiffany expressed that the hostel environment is very friendly to students, where janitors are nice and clean their rooms regularly. She added that such a cleaning service seems to be exclusive to UC. Though the long jumper also broke off into a laugh, recalling, "But getting back at night is a nightmare. I need at least 25 minutes to walk from the train station back to Chan Chun Ha Hostel."  
In preparation for the Asian Games in Incheon, Hilda became a full-time athlete as early as her sophomore year. She said in a beam that the university's current policy structure is more refined with the Student-Athlete Learning Support and Admission (SALSA) Scheme in place. "Back then, my professors would follow up with many questions such as 'Are you competing elsewhere again?' or 'Do you know how to submit your assignments?', which put me in quite an awkward situation. When I first applied for a deferral, the staff had to review a lot of documents and ask for a reason. But on my second visit there, things went much smoother." For Hilda, what was most memorable in her years with UC had to be her first assembly. "The college song is played at the start of each assembly. My alma mater is Heep Yunn School, in which the school song, like the college song, is imbued with Chinese cultural elements. On my first hearing of the college song, I already found it powerful and sonorous but because it was sung in Putonghua, I only figured out the words later. In particular, these lyrics speak to me — 'We are all born benevolent; our natural gifts realised only through hard work; we perceive the present through the past; our collective mission manifested through passing the torch.' 'Our natural gifts realised only through hard work' applies to sports too. We are endowed with a flair for sports, but our potential can only be unleashed through persistent practice. The next line — 'we perceive the present through the past' — reminded me of my seniors in the triathlon team, who shared with us their competition stories, giving us plenty of scenarios to draw on. Therefore, when I first heard the college song, I felt immensely empowered and convicted. It left a deep impression on me."
Passion Drives Persistence
All our alumni looked optimistic and proactive, grinning from ear to ear the whole interview as they shared their stories, but their vicissitudes are surely not unheard of. As local band Beyond sang in their hit song Lover (情人), "however frequent the seasons change and the storms rage; however arduous the journey will be, my love for you will never change," JJ declared, "You won't ever become a full-time athlete without falling in love with your practising sport, otherwise, hardships on the way will only conquer you. Be it training, dieting, fitness or the like, they're beyond tough. If I hadn't gone down this path, this would've never been my lifestyle." Tiffany also admitted, "If I hadn't been an athlete, I would never have cut my calories." 
Ka Yan is a well-rounded sportsman, who had already been playing handball and basketball and running at the time she entered university. In the summer of her freshmen year, she saw someone playing rugby while running in Haddon-Cave Field. Drawn to this rather new sport, she took the initiative to ask her seniors if she could join them and soon began her journey as a rugby player. "Our career trajectory is quite clear. If the Hong Kong team coach is contented with your performance in the Tertiary Rugby competitions and premierships, you'll be invited to train with them. Then, if he deems you capable, you can stay. Some may say that rugby is gruelling that they worry a shortie like me would fall victim to the full-on hits, but it's, in fact, easy to play. A bulky person can hit, but the small and agile can dodge with skills. Having a particular advantage doesn't make you a winner, so the sport's highly inclusive. Training is no doubt strenuous, and you don't necessarily reap what you sow on the pitch. When confronting different failures or moments of letdowns, how can we keep at what we want to do? Surely you must love the sport itself to be an athlete, and so the sufferings are inextricably tied with the happiness, like two sides of a coin." 
Hilda also believes that the life of a sports player is bittersweet, "I am curious about my physical limits, so I never stopped upping the ante. Like last year, I challenged myself to cycle for 5 hours, travelling a total of 180 km. It was tiring but I realised my body could endure 5 hours of bike work, so I proceeded to think if I could shoot for 6 hours next year, or if, one day, I'll settle only after a 10-hour bike ride. I'm also interested in exploring my mental limits: How would I cope if fresh blood outdid us? Would I feel invalidated because they took the win? How can I deal with stress, competition, and adversity more maturely? During the pandemic, many athletes couldn't train. How can I keep myself in the zone and pull through? How can I ensure good planning and convey what I know to the juniors? That's a valley I'll have to climb over. Training is difficult, but giving up should never be the first option in the face of uncertain and adverse circumstances. You will find joy in hardships and a way out. I can explore the world with my feet through the numerous overseas training camps for us, where we'll travel to the rarely visited wilderness. The experience is so fulfilling, but you'll also feel how small you are."        
Apart from enduring physical and mental exertions, athletes are also subject to uncontrollable external factors. Owing to a multitude of reasons, Tiffany has never won any prize money despite breaking the Hong Kong long-jumping records nine times. "I started engaging in track and field in my primary school years, first in short-distance running. After the Diploma of Secondary Education (DSE) exam, I saw more promise in practising long jumping myself and switched to playing this sport professionally. Long jump, unlike other team sports, allows you to visualise your performance and progress. In 2018, I attained Rank 1 in Hong Kong, but since I lacked competition experience beyond the continental level, the Hong Kong Olympics Committee did not endorse my entry to the Asian Games despite the nomination of the Hong Kong Association of Athletics Affiliates (HKAAA). I was so upset by their decision, which back then should've guaranteed me a top 8 in the Asian Games, but still, I wasn't allowed to compete." An athlete's career life cycle is not long, thus every chance to compete counts. Luckily, in 2019, Tiffany won bronze in the Asian Championships, which earned her a ticket to the Asian Games. "Sometimes, all's well that ends well is true; perhaps it's the setbacks before that made success afterwards more gratifying and hard-won."
Career Development
The Individual Athletes Support Scheme (IASS) consists of a funding mechanism which will grant all full-time athletes a monthly subsidy of $7000 to over $40,000 according to their respective category and funding criteria.  However, the amount of subsidy varies with the athlete's performance. The reduced competing opportunities due to the pandemic in the past 2 years also affected the allocation of funds. Even if competitions are held, funding is allotted based on the number of participating countries, so there are quite a few limitations. Tiffany sighed, "Say there's an overseas training camp, if one of my teammates who's a full-time sportsperson can't secure a top 3 position, he/she can't train with the team, not even by opting for self-finance. Self-payment is only allowed if he/she stops being full-time."
Hilda has completed 8 years of professional sporting under various limitations. "Being able to compete in an 'Elite Sports' item for so long is a blessing; otherwise, how can I train all over the globe and partake in competitions like the Asian Games? This may have cost $1,000,000 or $2,000,000. Once I have become a full-time sportsman for 8 years, I am eligible for a pension that may amount to a $400,000 or $500,000 lump sum," said she. Ka Yan also added, "Once we enter the HKSI, we can play sports with no reservations. Yet since most local rugby players turn full-time after graduating from university, and rugby is characterised by strong collisions, not many athletes can compete professionally for 8 years and receive the pension."        
About the overseas sports industry, Tiffany commented, "The sports industry in Europe is very mature; for example, any sportsman who breaks the record of their own country or scores top 5 in the event will be rewarded with a cash prize. Associations to which the track and field athletes are affiliated will also pay for their training and representation in competitions. A refined system benefits athletes' development."
JJ is the first and only Hongkonger who plays professional volleyball overseas. Outside the territory, the regular volleyball season is classified into the national and professional seasons, with the former in the summertime, around June to August each year, and the latter from September to May next year. There, professional athletes are like celebrities, whose manager represents them to negotiate contracts. He confessed that competing in the regular season is essentially delivering paid services, so the pressure is incredibly immense. "Because of gambling activities overseas, your one move could be worth thousands. Let's say your team must be top 2 to advance to the CEV Champions League, and after that, you're expected to gain a certain score. As trivial as underperforming in a local league could sink your chances. They claim to conclude a contract, but the other party can terminate it at any time and even oust you at the expense of compensation. Then you'll be left jobless the next half of the season." JJ said he is a foreign player in the team, who are usually competent sportsmen living abroad or having partaken in mega events like the Olympics and FIVB Volleyball World Championships. He felt that the chance to train overseas is hard to come by. "All my foreign teammates are 2 meters tall. Some have already played professional leagues for a decade but never do they slack in the three rounds of daily training. I want to take a break but feel left behind. Luckily, my teammates shared a lot about their experience with me, which were hard-earned opportunities and became my cherished memories. I'll catch up and overtake them!"
Unfortunately, under the pandemic, the ballgame circle, as with many industries, was dealt a huge blow. Many businesses went bankrupt and thus could no longer sponsor teams; quite a few teams even declared bankruptcy directly. Afflicted by the depressing circumstances, JJ returned to Hong Kong and became a full-time coach at a local secondary school. "Inter-school sports competitions are in full swing in December. Since I've been coaching the students for some time, and they have clear goals to meet, I don't want to leave them midway. Thus, in the summer of 2022, I only signed a contract for half a season, spending time in between engaged in the Hong Kong Volleyball League–Division A1. In January 2023, I'm going to fly to Iceland for a half-season professional league. The school I work with has been very supportive of me and allows me to invite renowned local volleyball players to substitute for a few months until I return from Iceland. In August, I'll see if I want to play volleyball full-time or be a coach." 
Start Nurturing Your Interests Early
Tiffany believes that university years are the time to develop interests. If you find things you are passionate about, give them your best shot as soon as possible. For example, an athlete's prime is before age 40. The earlier you begin, the more time you have to unleash your potential, so a prompt start can prevent future regrets. "The CUHK offers a wealth of support for your academic and sports pursuits. Deferrals due to these aspirations are more than common, so don't shy away from taking chances." 
Ka Yan also encouraged students to step up and stick to what they like. "The key is time management, how you strike a balance among sports, studies, dating, family, and all aspects of life. The next step is learning to focus. For example, during training, I focus on practice, and during family time, I focus on enjoying the moment. Otherwise, the time spent won't be the happiest and finest."   
They say you can't have it both ways, but for Hilda, setting rational goals is the way to go. "To be honest, I've always prioritised sports. I wouldn't slack on my studies, but I would adjust my goals, not shoot for the stars, and ask for straight As. Perhaps a 3.3 GPA is acceptable to me, as long as I learnt knowledge and felt contented. Whether it's in academic studies, sports or other respects, such goals must be attainable, or else you'll be laden with stress and suffer from burnout. We can't expect ourselves to be experts in all fields, and we don't have to be one in all of them."    
Speaking of sports development in Hong Kong, Hilda feels positive about the current circumstances, where the outstanding achievements across multiple teams in the Tokyo Olympics successfully drummed up support for the entire industry. "Athletes are more recognised today compared to a decade ago; even retired athletes who re-engage to society are viewed in a positive light, no longer regarded as not having a proper job. Besides, more resources have been allotted in this respect. If you aspire to be a full-time athlete, it's high time to take this into serious consideration and make a prompt decision. Because you can't wait; opportunities slip in an eye's blink."         
JJ is setting off to Iceland for the professional league in January 2023, while Ka Yan, Hilda and Tiffany have all secured entry to the Hangzhou Asian Games in September and will be engaged in preparations. All our alumni have shown us that as long as we keep grinding, however long and bumpy the roads are, we will reach our goals. We hereby wish the four of them all the best with the new and exciting adventure!