Two-time UCian King Chan Navigates the Medicine Course through Trial and Error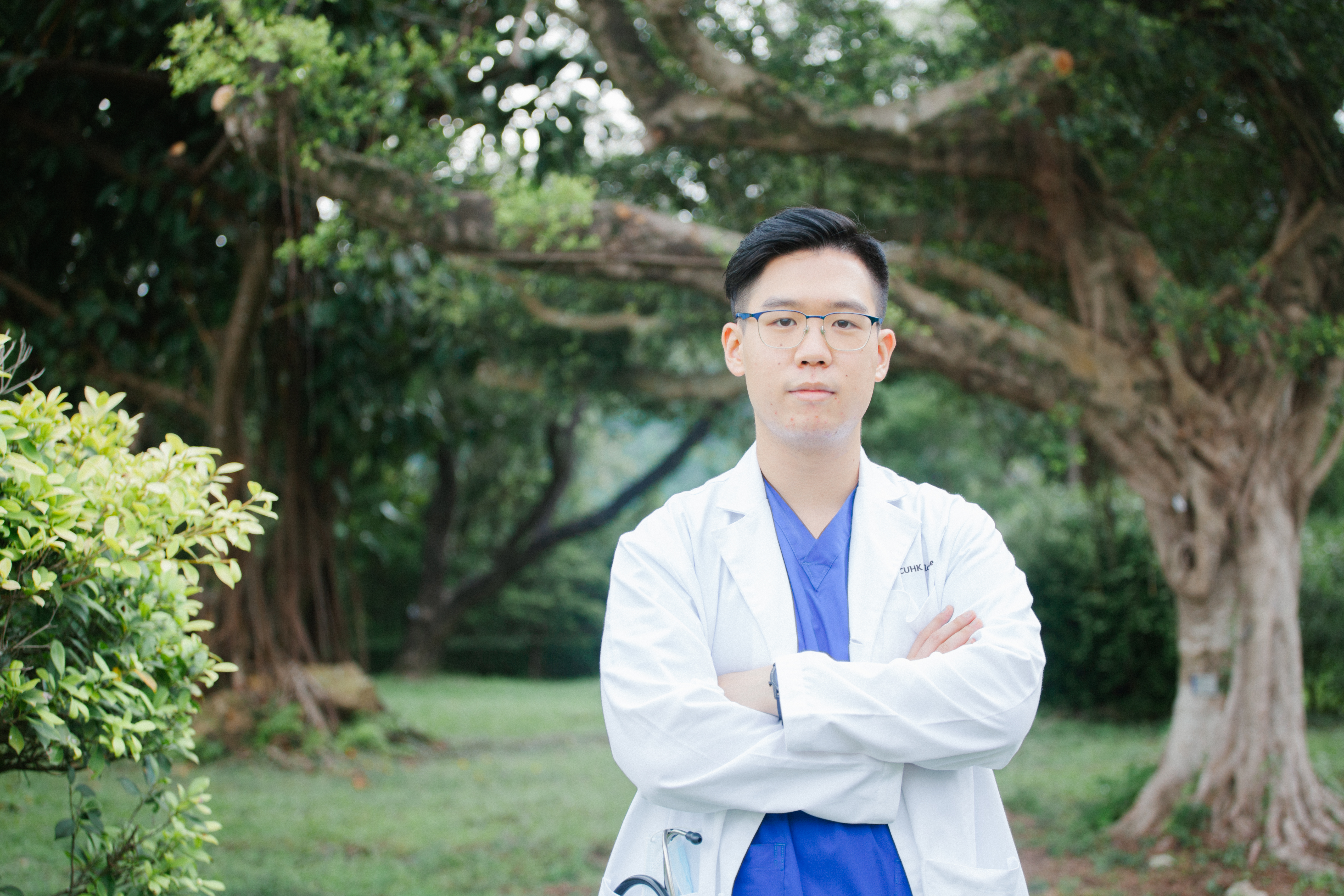 Student Translator: Vincy Y M Ng (TRAN/Year 3)
King Chan, a Year 5 medical student, has been the recipient of many scholarships and awards, including the most prestigious United College Ming De Scholarship and United College Dr Tse Yuen Man Memorial Scholarship. He is also the founder of the social media account 'Medi.cue', as well as an unorthodox student pursuing two bachelor degrees at The Chinese University of Hong Kong. A 'high-flyer' in the eyes of many, King appeared no different from the others as he rushed to this interview wearing an ordinary T-shirt and a pair of jeans. But from the moment he dons his dark-blue scrubs and his white coat, he turns into a doctor.
King has aspired to become a doctor since he was a child. However, the journey to becoming a medical student has not been easy for him, having to spend five more years than his peers. In 2013, his HKDSE results were inadequate for him to gain a place in the medicine programme, and he chose to study nursing instead. There, he was faced with immense pressure to maintain the top grades if he was to even have the slimmest chance of becoming a doctor. Many may think studying medicine after the completion of a nursing degree would be easy.   However, according to King, their job nature is completely different – whilst nurses focus on patient care, doctors are responsible for diagnosis, treatment and cure. After experiencing the life of a nurse, King realised that being a doctor was a better fit for him.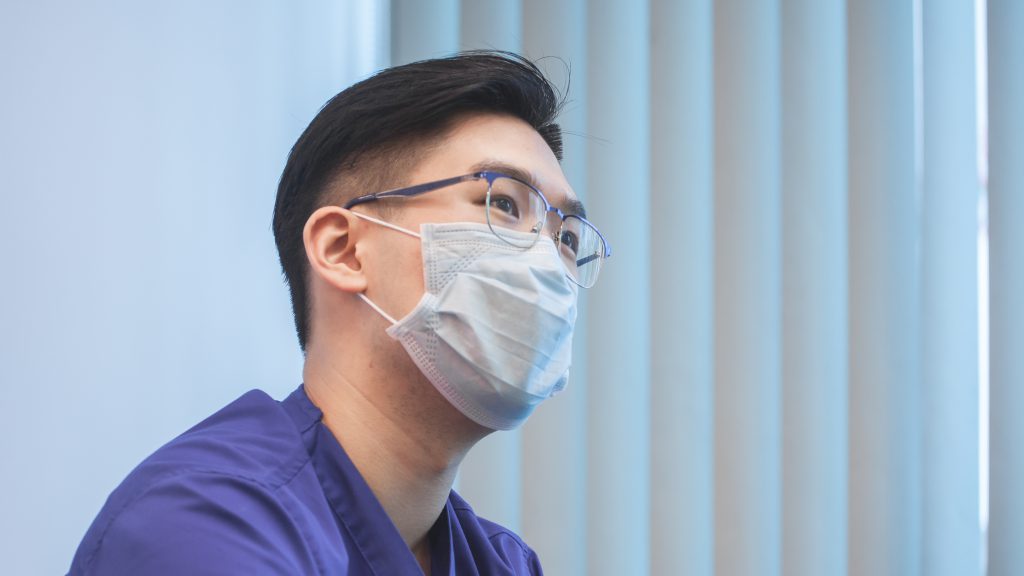 The Ming De Scholarship recipient speaks about his love for the UC Hilltop and Exchange Programme
Beyond juggling between his studies and internship during his nursing, King still actively participated in college activities, for instance as an active member of the Rotaract Club of United College, taking up the role of an emcee in the college's 60th anniversary celebration activities. Having excelled academically and being an active contributor at the college, King was awarded the United College Ming De Scholarship, the most honourable achievement at UC. He disclosed that he was simply 'giving it a shot' when applying for the scholarship. He was very nervous during the interview, and never expected to become a recipient of the award. When asked about his most unforgettable memory in United College, he said that it would have to be the UC GOAL exchange programme to the Netherlands. He took a local politics course there, which was a bit difficult for him. However, His willingness to step out of his comfort zone was awarded the opportunity to visit the International Court of Justice in the Hague and the Rijksmuseum. King also extended his stay to travel Europe with his family, and overall, it was a highly enjoyable experience.
Having studied nursing immediately followed by medicine at CUHK, King has spent more than 10 years at United College. He lived at Adam Schall Residence for four years and Chan Chun Ha Hostel for one year. He smiled when he reminiscent of the "good old days" at the Adam Schall Residence. He told us how he loved the spacious pantry on the second floor, the place where many of his group gatherings took place. When asked about the reasons for picking United College again during the pursuit of his second bachelor's degree, King confessed that he liked being on top of the mountain, feeling that he could oversee Tolo Harbour below. Living in UC also pushed him to scale the mountain and explore the campus more.
Seize the privilege of being a student – setting up Medi.cue and an app for remote diagnostics
The tough journey of becoming a doctor has allowed King to truly understand the challenges medical students face. As a relatively more experienced individual, he set up the Instagram account 'Medi.cue' in 2019 to share his study tips, with almost 6000 followers as of now. He mentioned that people usually perceive medical students as high-flyers, but not many notice the struggles of being one. Medical students may have to work as an intern in a hospital from 7am till the evening, with only a 30-mintench, and continue revising from dusk till dawn. King said that regular examinations and flash quizzes by mentors during internships have encouraged him to keep on grinding, though he never forced himself to be the best of the best. He simply strives toward being a good doctor.
Via Medi.cue, King also shed lights on theustrating moments whilst studying medicine, as well as some study tips regarding consolidation of knowledge through comics. He also plans to interview specialists, creating another pathway for potential medical students to learn more about the life of a doctor. In the future, King hopes to collaborate with the fitness community or influencers in promoting accurate workout information with his medical knowledge.
Apart from studying and running the account, King is also working with some of his doctor friends to create an application that provides remote diagnosis. However, with limited knowledge of the field, King tries to learn more about big data and artificial intelligence in his spare time. King mentioned that he loves to exhaust himself to avoid over-thinking, As he believes it is counter-productive. However, he agreed that relaxing is equally important. He said that balancing his studies, media management and business conducting is a process of trial and error. To fulfill these seemingly impossible missions, family support was indispensable in allowing him to explore different avenues freely. The privilege of being a student is that they are allowed to fail and start over again.